PMichael K Williams, who stalked the assailant Omar Little on The Wire, was tough, scary and brutal: he had a scarred face, a wide smile, he wielded a shotgun and wore a long trench coat. So viewers of David Simon's intricate television portrait of Baltimore's streets, docks, schools, and politics felt the rug being pulled away when they saw him kiss his boyfriend for the first time in season one episode four. .
It was a moment that subverted audience expectations and pointed out the complexity, ambition and depth that The Wire, which is often placed at or near the top from lists of the best TV shows of all time. This is not a character you've seen before, the show seemed to say. These are not your usual stereotypes and cliches. At a similar time, Idris Elba's drug boss Stringer Bell attended a business studies class.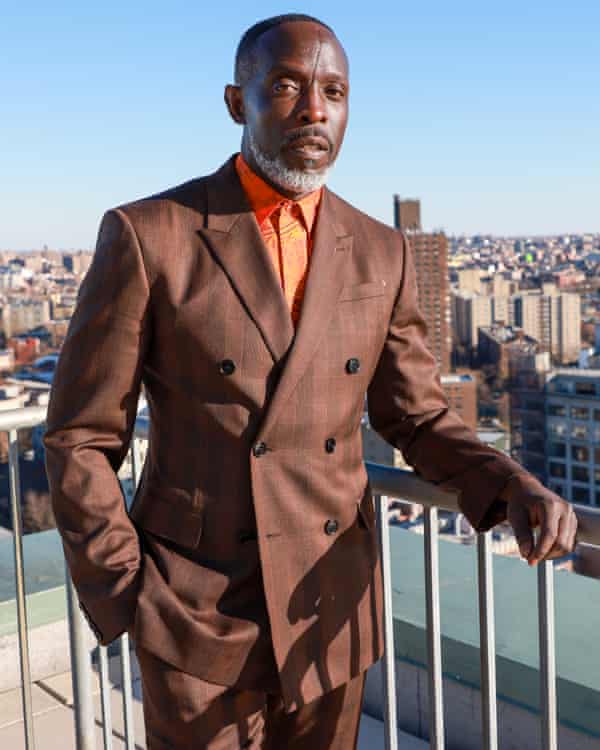 Omar's kiss was not in the script. "I remember someone immediately saying, 'Here are our grades,'" Ed Burns, co-creator of The Wire, told the New York Times. "That kind of intimacy didn't show much then, but Mike insisted and brought the character to life."
"Omar definitely helped soften the hit of homophobia in my community," Williams, who died Monday at age 54, said in 2019 of the East Flatbush neighborhood of Brooklyn where he grew up. "And it opened a dialogue, definitely."
Omar became the moral center of the show, to the extent that Barack Obama felt able to describe this professional thief as his favorite character. "That is not an endorsement," added the then presidential candidate wisely. "He is not my favorite person, but he is a fascinating character."
In fact, as Omar would say. A Robin Hood-style antihero who makes a living robbing drug dealers, he represents an idiosyncratic point of moral certainty in an amoral world. "A man must have a code," he says, "Don't twist it, I do some dirt too, but I never targeted anyone who wasn't in the game." In one memorable moment, he erupts in fury when he is attacked while taking his grandmother to church on a Sunday morning, having believed that "there is no need to worry, because there is no one in this city so low to disrespect a Sunday". Tomorrow!"
The iconography created for the character was exceptionally memorable. "Omar is coming!" the children yell when he comes whistling his unexpectedly menacing signature tune The Farmer's in His Den (known in the US as The Farmer in the Dell). You are given some of the most important lines in the program. "I have the shotgun, you have the briefcase," he tells a lawyer whom he considers as much of the drug world as he is, wearing a shameless, phallic tie over his bomber jacket.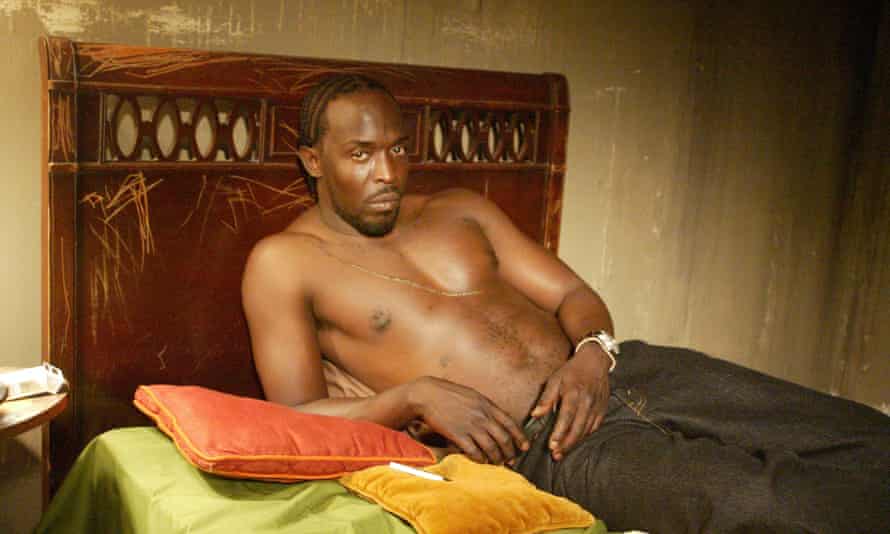 "If you come to the king, you better not fail," he tells his enemies after a failed attempt on his life, a line sold, as always, with Williams' indelible combination of threat and charm.
Omar walks the streets dressed only in his silk pajamas to search for Honey Nut Cheerios, his favorite breakfast cereal, protected only by his fearsome reputation. And yet, when he dies, he is murdered by an irrelevant child in a moment destined to illustrate the brutality and nonsense of life in the Baltimore district. His role on the streets is finally taken over in the final episode by another complex character, Michael Lee (played by Tristan Wilds), who illustrates the show's deterministic view that a person's life is inevitably shaped and controlled by social structures and institutions. under which it lives.
Despite Elba's stardom, many of The Wire's stunning young black actors, who, like Williams, had often confined themselves to generic roles in their early careers, were unable to find such substantial roles again. It took Williams a while, but he eventually moved on to other major roles on prestigious TV shows like Boardwalk Empire and The Night Of, as well as smaller roles in movies like 12 Years a Slave, Gone Baby Gone, and The Road. He received five Emmy nominations, including one this year for his role in Lovecraft Country.
But he was always inseparably associated with Omar Little, a once in a lifetime part. After starting to make a name for himself with The Wire, Williams, a former George Michael and Madonna dancer who was the son of a Bahamian mother and an American father, returned to his apartment in East Flatbush, Brooklyn, where he found locals who Una once he had harassed him and now he greeted him like Omar: "Nobody called me Mike … That's when the lines became blurry," he said.
It led to an identity crisis. "Mike is a beautiful man, but he is not a gangster," said David Simon. Williams struggled with cocaine abuse for the rest of his career, using drugs, as he put it, "in scary places with scary people."
"I was playing with fire," he said in 2012. "It was only a matter of time before I got caught and my business ended up on the front page of a tabloid or I went to jail or worse, ended up dead. When I look back now, I don't know how I didn't end up in a body bag. "His death is reportedly being investigated as a possible drug overdose.
Williams was so high when he met Obama in 2008 that he couldn't speak. But the meeting with the future president had a decisive impact on him. He later recalled: "Hearing my name come out of his mouth woke me up. I realized that my work could make a difference. "In addition to taking roles in productions that focused on the criminal justice system, such as The Night Of and When They See Us, he was the American Civil Liberties Union ambassador for end mass incarceration, and headlined and produced a documentary series on illegal livelihoods. Vice, black market – something he called his "most personal project".
Yet it was his incarnation of Omar that really pitted the US against the true human cost of carnage in some of its urban centers, and what it really feels like to be on the front lines. On Tuesday, Wendell Pierce, who played Bunk, his adversary in the Baltimore police force, tweeted a video clip 2014 in which he pays tribute to Williams while his co-star is with him.
Says Pierce: "He is one of the great American actors, giving voice and flesh to characters that most people would never have given the same humanity to. Opening a window to a world of men that we pass through or do not know… Art is the place where we reflect on who we are and it has made people think twice and give humanity to these men ". In that achievement lies the brilliance of Williams.
Omar's best scenes
He was scary, funny when the mood took over, and, for a male robber who steals drugs and works the streets of Baltimore, surprisingly moral. Here, Phil Harrison choose five of his best moments.
Bird's Trial (season one)
In one of the best court scenes in television history, Omar testifies against the Bell / Barksdale Heavy Bird. Bird's attorney, Levy, calls Omar "a parasite," who preys on the city's illness. Omar stops him in his tracks. "Like you, man… I have the shotgun and you have the briefcase. But it's all in the game. "The moral heart of The Wire lies in this unique exchange.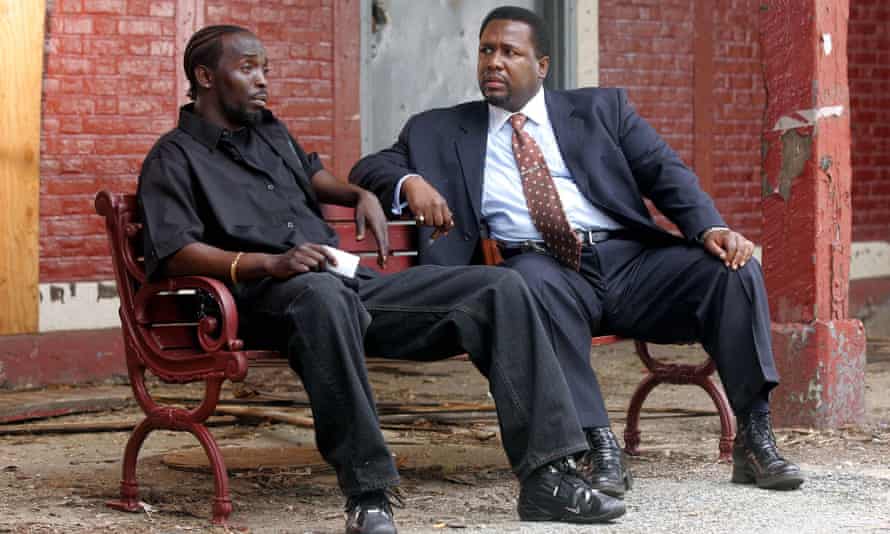 On the bench with Bunk (third season)
The ambiguity of Omar's lifestyle is clear in this brilliant two-handed with detective Bunk Moreland (Wendall Pierce). As Moreland explains the damage caused to the community by the drug wars, a variety of emotions cross Omar's face: anger, determination, even a touch of shame. It's a subtle and nuanced performance, Omar's face reflecting the trap set for all the residents of the East Baltimore projects. "The game is out there", as he says later, "and it is to play or make it play."
Omar vs Stringer (season three)
"If you come to the king, you better not get lost." Omar's anger at the Bell / Barksdale organization was fueled by his defiance of his primacy on the streets. But it also had its roots in the torture inflicted on her lover Brandon by his henchmen. Omar's Sexuality was a revolutionary writing, brilliantly accomplished. At the same time, he was an alpha male in one of the harshest neighborhoods in America and a gay man who saw no reason to care who knew.
Honey Nut Cheerios (Season 4)
He's just tired of a few cigarettes and some cereal for breakfast. But by now, Omar's name goes before him. Strolling languidly in silk pajamas, Omar, or rather his reputation, clears the streets. You get your Honey Nut Cheerios, your cigarettes, and, without even trying, a garbage bag full of crack blisters, too.
Death (fifth season)
Omar's death was sudden and horribly arbitrary. Despite inciting the most dangerous gangsters in Baltimore, he is killed by a boy who is so small he can barely put his fingers around the trigger of the gun he is holding. His end is ignominious: his body is not even properly labeled in the morgue. He was just another anonymous black victim of drug violence. Of course, we knew it was much more than that. Like, it was implied, they were all victims of the show.



www.theguardian.com
George is Digismak's reported cum editor with 13 years of experience in Journalism