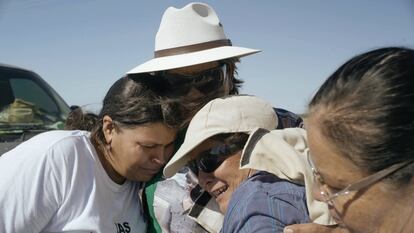 Bananas have been rotting at Mirna Medina's house for years without being eaten. "The house is always alone," he says as he picks up a bunch and throws it away. His son, Roberto Corrales, disappeared on July 14, 2014. He was 21 years old and was picking up while selling CDs in front of a gas station in El Fuerte, north of Sinaloa. She alone was in charge of looking for him, and found other women who shared his path. Mirna found Roberto three years later. Of the 93 bodies the group had managed to track down in those years, theirs was the only one they found incomplete. "I took it in one of those bags where they give you bread," he says without breaking in front of the table in his house, dominated by a full fruit bowl.
Mirna Medina is the founder of Las Rastreadoras de El Fuerte, a group of women who for seven years have put the body in a job in which they have even the Mexican state against them: to go out every week to look for their disappeared. "Since I went to the authorities and they told me they weren't looking for, I decided to go out into the street. I made a promise to Roberto that I would look for him until I found him, "says Medina. He is speaking to the camera of José María Espinosa de los Monteros (Culiacán, 32 years old) who for three months of 2016 followed Las Rastreadoras in their daily search. The result, I named you in silenceIt is a portrait as luminous as it is difficult to see, in which the vitality of these women overflows who throw their shovels into the trunks of their cars to walk among the dead.
"We don't just focus on the loss. There is darkness, but I think there is also a lot of light, "says Espinosa de los Monteros. The Trackers have in common the worst of tragedies, but they are also united by common memories, the previous life of truck trips to the coast during the summer, the hard-boiled eggs in lunch boxes prepared by their own mothers. In an hour and a half of film, Mirna Medina says that she says goodbye to the altar she set up for her son and her cat in case she does not return, she takes anonymous calls with clues, leads hectic meetings, where crying abounds, but also full of songs, laughter and life. "Despite the loss, there is a longing to live, that resilience to endure what they have to endure, the love between them, the group that was formed that today is a family," says the director, who presents the project after five years of production. The documentary is available from this Sunday until August 31 for free on the platform of Cinépolis KLIC, in a cycle promoted by the non-profit organization Ambulante to make visible stories about people seeking answers to enforced disappearances.
In Mexico there is an official registry of 90,000 people with unknown whereabouts, a figure that skyrocketed since in 2006 the government of Felipe Calderón put the Armed Forces in the front line in the fight against drug violence. The Rastreadoras are pioneers among hundreds of relatives who, faced with the authorities' inertia, act on their own account. Groups like yours have sprung up in Mexico: in Nayarit, Sonora, Michoacán, Coahuila or Oaxaca.
In the documentary, Medina says that in December 2014, when she was just beginning, she was detained and interrogated by the authorities. His group had found a grave with five corpses. "The fact that there were these women digging the ground was not good for them," he says. Today, Las Rastreadoras work together with the Public Prosecutor's Office and the Attorney General's Office, which provide them with some preparation in forensic archeology, but recruitment continues to be uphill. Espinosa de los Monteros recalls a moment of the filming in which the group returned to a grave that had been notified and discovered that the experts had not gone to pick up the remains. "Somehow nonsense is created, right?" He wonders. "What are they here for then? Both past governments and this one, it seems that everything happens at night ".
The director, who before returning to his native Sinaloa to launch himself fully into the documentary worked on two fiction shorts, took this job as a civil duty. The encounter with the violence of his State came to him very early, he affirms, when between anonymous figures and red notes it is so easy to fall into indifference. "Maybe it is a cliché, but as a citizen, it is a duty to try to do your bit to raise awareness. I feel like you come to a time when you have to ask yourself: what the hell can I do? "
One of the crudest moments in the film is not a find or a story, but an admission from Mirna herself, who states that "if the devil gives him a clue, he will grab his tail and go with him." Work in the shadow of the Government, dependent on chivatazos and anonymous calls, it is not harsh only because of the indifference, but because of the desperation that leads to dealing even with the perpetrators of the crimes on which they seek answers.
"There is a discovery in that gray area. It is painful to see the extremes they have to go due to the absence of the State ", affirms the director. The documentary was a search for the balance "between light and dark" that he achieved after a post-production process that took almost five years due to budget delays. The wait was worth it. Without aesthetic pretentions or make-up, with the camera at ground level, Espinosa de los Monteros achieves an abundant portrait of affection and respect that says as much in his images as when a transition clears the screen.
The story of Las Rastreadoras del Fuerte, named after the journalist Javier Valdez, assassinated in 2017, is a portrait of the forensic crisis in Mexico. But in the will to live of these women there is a pulse that exceeds misfortune, a lesson that the director summarizes as a lifelong learning: "They taught me to learn to see the love that exists in the people around you. I take this desire to claim my life as they claimed theirs to look for theirs ".
Subscribe here to newsletter of EL PAÍS México and receive all the informative keys of the current situation of this country

elpais.com
Eddie is an Australian news reporter with over 9 years in the industry and has published on Forbes and tech crunch.