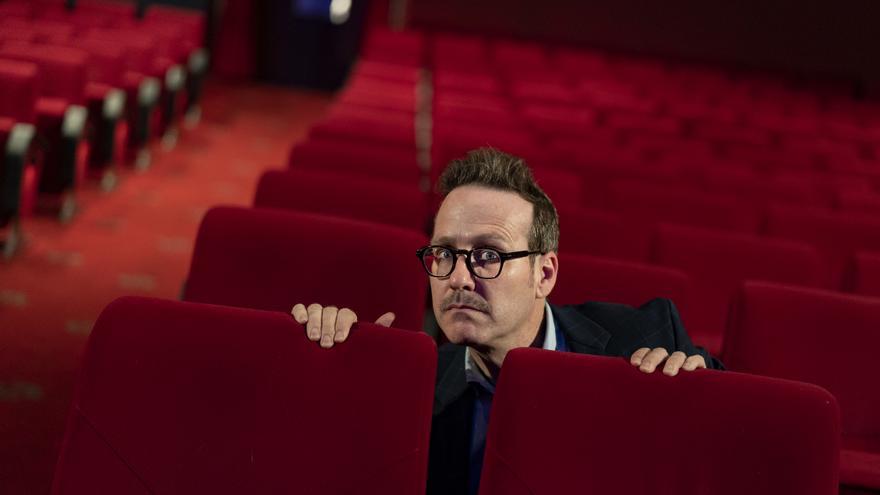 Celebrate the joke see its origin in the retirement of your old material through that wonderful Netflix special, Una y no más. How did it feel to let those gags fly for the last time?
Well, I'm not going to say it was a liberation, because I was very fond of those jokes. It has been many years with them. But I needed to face the challenge of writing something new. My previous shows were "safe ground," so I had to see if I was still able to do a monologue and make people laugh again.
Have you kept the same mentality and the same creative style?
I have always worked in the same way, writing things in isolation, in blocks, and bringing them together in a single discourse. After all, I always talk about myself, so I am the common thread of the jokes.
And how are you seeing the reception of the new material?
People laugh, that's a good sign. I have to say that I have been debugging the show as the months have passed. Keep in mind that we start in November 2019, which is already very far. But yes, he is enjoying it a lot and also at the end of the show there is something new that people are freaking out about.
We are definitely talking about Braulio. How did the idea of ​​the doll come about?
As a child I was a sickly child who spent long periods at home listening to the records of Mari Carmen and her dolls and I was fascinated by all that stuff. He had always wanted to honor the ventriloquist world and this was the best occasion to do so. Luckily, I have been perfecting the technique. In the first shows, imagine, people were left with a crooked ass. But now Braulio is overshadowing me. He has more and more space and time on stage.
It seems that the monologue is the format that best accepts your experiments.
It is the fastest way to connect with the public and to see if what you are doing is worth it or not. That is not given to you by any other discipline.
Would you do a sketch show again?
We would love to, but at the moment we have many fronts open. Ernesto (Sevilla) and I have just finished the Camera Café film, and our next project is to make another one entirely ours. But yes, the idea of ​​returning to the sketch format is a constant, we would love to recruit young comedians and make a return to our origins in comedy.
Speaking of upcoming projects, your debut in literature, Subidón. Available from September 8. What can we expect from this book?
Well, Subidón tells the adventures of a comedian from La Mancha to whom everything happens for a week. And obviously, there is a lot of humor. I wanted my voice to be there and to be noticed, that it was not a book written by another famous person.
Why did it take so long to see a book of yours?
The novel is a literary genre that I respect a lot, so I have spent a lot of time taking care of the details. Subidón is the result of five years of work, although you don't expect it to be Guerra Y Paz either. The book is rather short. I was able to finish it off during confinement, like so many other authors. This year I think we will not fit in the book fair (laughs).
Do you think it is difficult for a comedian to age well and adapt to the new demands of making humor?
I don't think so, in my case everything has been quite natural. I have always liked white and absurd humor, not only to avoid risks but because I really like it. There are jokes that have stopped being funny because that's the way it had to be, period. I do not think at all that we are now more limited than before. Humor is a means, not an end, and if with your joke you have offended someone you did not want, you must take responsibility.
Are you afraid of being canceled?
To me? Why would they cancel me, for wearing orange socks? (laughs). I just hope that if I get canceled, it will be someone I don't like. I'd be screwed if it was someone I look up to. Anyway, the culture of cancellation is essentially nothing more than stopping reading, listening to, or following a person, and it's not the end of the world, either.
Did you hear that John Cleese plans to make a documentary on cancellation culture to "wake us up"?
Yeah huh? Well, we'll have to see it. John Cleese must always be given the benefit of the doubt. I was lucky to meet him in Bilbao and he is a very interesting guy. He is conservative, a strong supporter of Brexit and very controversial, but still has a very lucid speech.
They tell me that you are going to be sober during this show, but to the others, what do you recommend drinking to see Celebrate the joke?
Man, beer pairs really well with humor. So I would recommend an Estrella Galicia or a really cool Estrella Levante.
If you could travel back in time and grab that boy from La Mancha who came to Paramount twenty years ago with a suitcase loaded with dreams, what would you say to him?
The truth is that I have been very fortunate to work with friends and to always do what I like. Honestly, I don't know how I did it, if I had to repeat this path again I wouldn't know how. So I would tell him that he is going to have a great time.

www.informacion.es
Eddie is an Australian news reporter with over 9 years in the industry and has published on Forbes and tech crunch.