There are dates that are never forgotten.
It's a rainy Thursday afternoon in downtown Mexico City and Ana Enamorado is in a hurry. But that's not new. Always in a hurry. Or, at least, since that day has been marked by fire in his memory, on January 19, 2010: the last day he spoke with his son, Óscar Antonio López Enamorado, who disappeared in the State of Jalisco. Hailing from Honduras, Enamorado moved to Mexico City to find his descendant. From that moment on, his life became a whirlwind of days of search, meetings, events, protests, acts, trials, talks. Now, almost 12 years later, he's still looking. But not just his offspring. Also other children, sisters, cousins, husbands, brothers-in-law, in-laws. Anyone who, in their immigration process, has disappeared in Mexico. Search, accompany, advise. And it does not rest.
In a while, you will have a meeting with representatives of the search commissions. In September 2020, a decade after Óscar's disappearance, he finally managed to prosecute the process, which the State would really start looking for. "After having hired independent lawyers, several things have been unlocked, and all the omissions of the authorities, the serious violations of Human Rights, have been discovered. All the data we had was left to be lost. Now we are trying to advance with what we can, but by now a lot of information has been erased, "he explains.
During the first interview, the cell phone rings four times. A family from El Salvador, worried because they haven't heard from their father-in-law for days, and they don't know what to do. Someone asking for legal procedures. Her phone, like her, never rests. You are always getting calls from people who need your help. Enamorado provides support in legal accompaniment, teaches them to navigate the hostile terrain of the Mexican bureaucracy. It acts as a compass in the tragedy.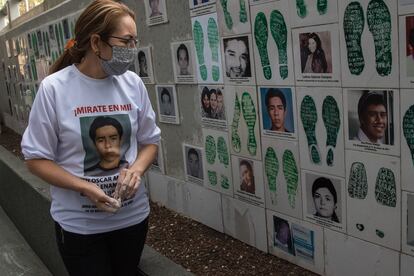 Along the way, Óscar's mother, 49, has become an international benchmark in the fight against impunity, against oblivion, in the search for the almost 100,000 people who have disappeared since 1964 in Mexico – 93,463, according to the last count of the National Registry of Missing and Missing Persons-, which holds the macabre record of being the country in America with the most disappeared, according to Amnesty International.
She is mainly dedicated to helping Central American families, who have lost track of their relatives as they pass through Mexican territory. He has established contact with people from Honduras, Nicaragua, El Salvador, Guatemala, but also with those affected from the other side of the Atlantic, with relatives of migrants from Algeria or Tunisia who have disappeared on their way to the European coasts. In fact, he has just returned from giving a series of conferences on it in Spain, invited by CEAR Euskadi. Two years ago he was also touring the peninsula, as part of the Abriendo Fronteras caravan.
—These 12 years totally destroyed my life. I was abandoning everything, because I did not find meaning in anything, there was no point in fighting. What I wanted was to find my son, and after my arrival here I focused totally on searches, on accompaniments, that has been my struggle. Obviously this changes the lives of families in a very drastic way, because we can no longer have a formal job, with fixed hours. That is no longer true. Our life is no longer like that. We have to live the times between jobs, searches and accompaniments. That's what I do, that's why I don't rest at all. I have limited times, from one thing I run to another. That is, at least, my life.
Oscar's disappearance
Óscar Antonio López Enamorado emigrated in 2008. His mother does not remember the day well: there are dates that it is better to forget.
At that time, he was 20 years old, and Honduras was an impossible country. They lived in San Pedro Sula. "I worked in companies for many years. Afterwards, I quit because my son was already entering adolescence and I started a business so that we could be together in some way. We were really well, my son lacked nothing, except security in the country. Violence burned at every corner and consumed the city. Óscar left a year before the coup, and the atmosphere was beginning to feel that tension, that static electricity that precedes the great political overthrows.
"The country was already strong, it seemed impossible to live in Honduras, especially young people who aspire to so many things, who aspire to grow. Oscar was studying and thinking about his future. As he grew older, he realized what was happening, that this was not a normal life, living taking care of himself, hidden, locked up. That was what motivated my son to leave, as many young people do, "he recalls.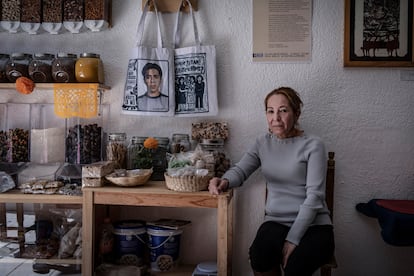 Óscar traveled to the United States because he wanted to find work and be able to study to be a lawyer. He arrived in the North American country, but there he met someone who convinced him to go to Jalisco. He promised her a better job, with more pay. He accepted and crossed the border to the south. Three months before their last conversation, Enamorado received a call. They told him that his son had crashed a van, that he had to pay bail. "I sent the money and called him through another phone they gave me to let me know that the transfer had already been made. That was it, "he recalls.
On January 19, 2010, her son managed to get in touch with her. "He told me that he was in a place that was like an island." But the call was cut off. And since then, silence on the other end of the line. After two years of useless fighting against the authorities of his country, that no one took responsibility for anything, Enamorado took his things, left his ex-partner, Óscar's father, in Honduras, since he believed that he was not doing enough to look for it, and went to Mexico.
It landed on October 15, 2012: there are dates that are always remembered.
Oscar's search process was plagued with irregularities and omissions, complaint. "I had a lot of information about how my son disappeared, where he was, where, with whom, there were phone numbers, people to investigate. There were several lines of investigation that the authority had to follow, but it had to be done immediately, and none of that happened. No progress, they didn't even trace phone numbers, calls, absolutely nothing. All they did was summon me to do the DNA test. The first thing the authorities do is think that the person who is missing is dead, they do not search while alive. I never go out to the fields to look for the dead, I go to look for lives ".
In 2015, in Jalisco, the authorities gave him the ashes of a body. They claimed that it was Oscar, but the remains were completely charred and did not provide any genetic evidence, no evidence with which to verify their veracity. Enamorado rejected that this was his son. "I call all this crimes of state. Disposal of bodies, cremation. We know what they call the death trailers, with more than 300 bodies that wanted to disappear ".
The oasis of La Resistencia
In this time, Enamorado has remained thanks to the solidarity of the people, to the support networks of other relatives of victims, to the organizations that work with them. This year, it has decided to create its own group, the Regional Network of Migrant Families. In just three months of existence, they have already had nine cases. And, in addition, it moves among a thousand other projects of social struggle. What The resistance, which could be the title of his biography, but in reality it is a political space in the center of Mexico City. An establishment that brings together four different initiatives: a coffee with only raw material purchased directly from Mexican farmers; a gallery where the creations of local rebellious artists are exhibited; a shop where artisans can market their products; and Fall in love with Ana: a line that Enamorado has created to finance the search for his son. It sells everything from bags with Oscar's face to mugs, to fair trade natural ingredients.
"I think that for her La Resistencia is a haven," explains Mariana Nahón, friend of Enamorado and in charge of managing the coffee. "Without this, everything was meetings, calls, and here life has brought us together people with very specific characteristics, with a social vocation. And Ana fit in, "he continues. "She is a very strong figure, at the same time warm and sweet. We lived through difficult moments with her, such as Oscar's birthday, and three weeks later she is capable of arriving with a cake, with the bread or coffee that you like, of having gestures of life and love ". She and Enamorado have known each other for just a few months, but there was chemistry, Nahón says. "I call her Foolish Ana, and she laughs, she says yes. It is multitask, and that allows it to stay functional. "
This Saturday, despite the heat, Enamorado wears a white coat. She takes refuge behind a computer, sitting in La Resistencia. There are two mobile phones on the table. Around it, political books, serigraphs, posters, drawings, handmade dresses, noodles, organic coffee. Expect an urgent call, alert, so it is likely that you will have to be absent during the interview. She is a person whose career has taught her to be jealous of her privacy. When faced with certain questions, he becomes uncomfortable and says that he does not believe that the answer is relevant.
La Resistencia is a long, not very wide, white-walled premises, but it served to house several families of the more than 500 Haitian migrants who arrived in the city from Tapachula a month ago. Enamorado got them to be welcomed into space, and later, they were referred to other shelters. He still maintains contact with all of them. It keeps a record with their names and the place where they were received: it monitors them to prevent anyone from disappearing them.
"The migrants came for her, but we lent her a hand in everything we can," says Reynaldo Tenorio, an artisan who sells his sculptures in La Resistencia, carved from cow bones and avocado hearts. Tenorio is worried. She fears that, due to Ana's political overexposure, someone will bewitch her partner: "I am from Oaxaca. There is a lot of witchcraft there, people who envy us hurt us. She is a woman who fights a lot, and there are a lot of bad people out there ".
There was a time when Enamorado's life passed more normally, focused on routine, on everyday pleasures: watching his son grow up, spending time with him. Now he can no longer conceive of a going back. He hasn't taken a break for 12 years, he hasn't had a vacation. "I travel but I don't enjoy it. All that life is over for me. I can't help thinking all the time where Oscar will be, how he will be. It is not a feeling of guilt, it is sadness ".
He says that when he finds his son, he will not stop his work, that he will continue working to locate missing persons. He also knows that he cannot live in Honduras again, that his future has been forever anchored in Mexico. The only moments when he stops is when his body cannot handle so much movement, so much stress, so much pain, and he suffers from pains, contractures. A chronic toll to pay on a road that seems to never end.
There are lives that are never forgotten.
Subscribe here to newsletter of EL PAÍS México and receive all the informative keys of the current situation of this country

elpais.com
Eddie is an Australian news reporter with over 9 years in the industry and has published on Forbes and tech crunch.