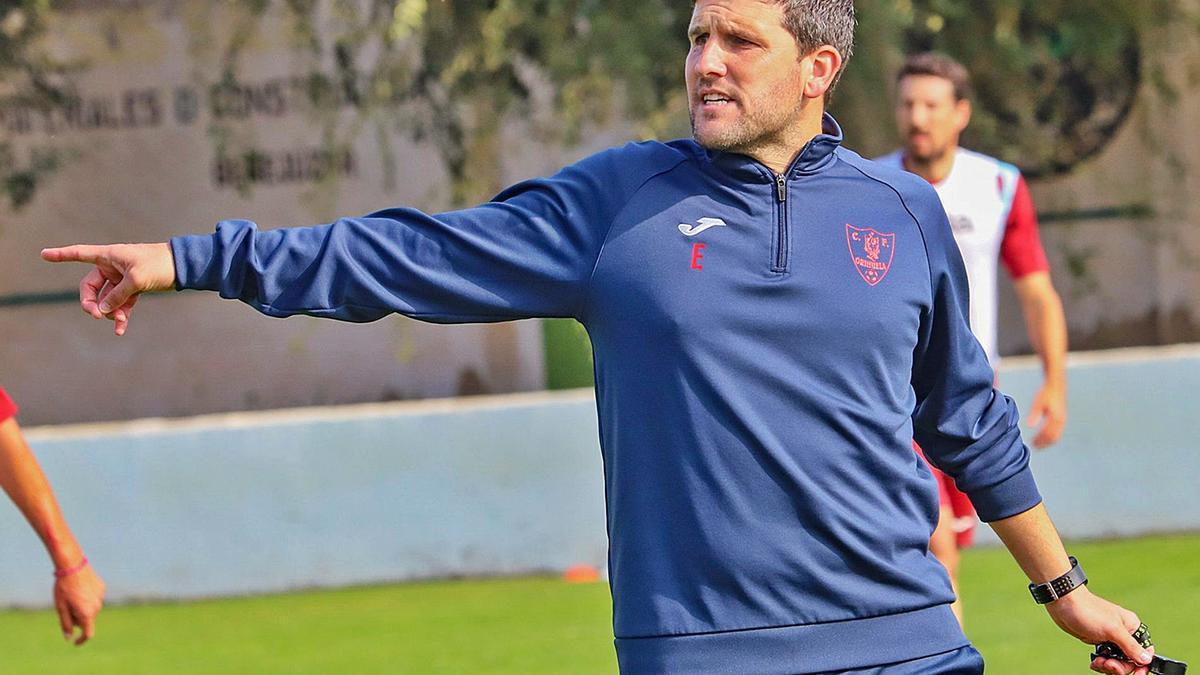 Gerard Albadalejo foresees an interesting and even derby on Sunday at Rico Pérez (12.00). The Orihuela coach arrived in December at the Vega Baja team and completely changed the face of the team. He is clear that humility and sacrifice are the basis of good results and he praises Hercules, whom he considers a clear candidate for promotion to professional football, while he prefers not to set goals for Orihuela.
THE SECRET OF SUCCESS
The Catalan coach believes that humility and work are the key to good results
"We cannot complain, we have started well (8 points out of 12) and we hope it continues like this", says the Orihuela coach, who is clear about where this key to good results is: "There are few secrets, it is about working with humility Every day, in each training session, try to get the players to the game in the best possible conditions and from there choose the ones that we think will bring us closer to victory. But always with their own identity signs that are humility, sacrifice and collective work.
A REMOVED TEMPLATE
Combination of veteran players with desire and footballers with projection
Albadalejo has made a squad practically from scratch. «Many things have changed, it is a totally new squad that has started from scratch and that is built with a lot of communication with the club looking for a mix of player with a lot of experience in the category but with enthusiasm and desire to do things well with young boys who want to break through in professional football. That combination together with the characteristics of being humble and hard-working on a day-to-day basis is working well for us at the moment.
PRAISE TO HERCULES
The coach considers his rival on Sunday one of the clear contenders for promotion
Hercules looks the same to me as he does to everyone. A very powerful team, a historic club that must be in higher categories and that is doing things well with patience and calm, building a solid block and that is on the right track. "That he is a candidate for promotion not only I believe, it is something that all football believes. It is as if they ask me if I believe that Barcelona or Madrid can aspire to win the First Division. The Hercules is always an aspiring to achieve great things wherever he is. This is a very tough competition with very even matches and they are working very well, "he says.
A MATCHED DERBI
Details can determine the final result
«I expect a very balanced game on Sunday, very complicated against the best version of Hercules and we working with great humility preparing our tricks to continue being strong in what we are strong and trying to work on what we think we can harm them to win the match. I expect a tight match and as usually happens in these types of matches, one detail can determine everything.
NO PUBLIC
"It is a difficult situation that is welcome if it is the way to end the pandemic"
It is also difficult for Albadalejo to understand football without an audience in the stands. «It is a difficult and complicated situation and there is no other than to accept it. We would love to play with the public both in Los Arcos and when we go abroad. We have played with the public in the last two outings, this will be the first that has not. It is a difficult situation for everyone but if it is the path that brings us closer to overcoming this pandemic, welcome, but obviously missing playing with the public, "he says. "The parties without people are different, strange. It is not the same to play with the public at Rico Pérez but it is not the same to play at Los Arcos. We know that the tension that the public gives you will not be there, but there is no other option than to adapt, it is one more factor in the competition, so it does not have to affect us.
A LONG ROAD
"You have to be patient because after the derby there will still be twelve games left"
The technician asks for patience. "We are both teams with eight points, it is still too early to say that we are up, this has just begun and there is a world left. Although many people are uneasy because they think there is little left, I am of the opinion of those who think there is still a lot left. Yes it is true that there are 18 games, but we are going for matchday five and if this were the second round of a league there would still be 12 games left after playing this one. It is important not to lose but this game is not decisive at all, just to make the way, "he says.
THE DEFENSE
Hercules, Ibiza and Orihuela have only conceded one goal
«We have only conceded one goal like Hercules and Ibiza. We have the teams a good defensive system, it is a set of the whole team and the way forward in the category, be solid behind, give up few chances to score and leave your goal to zero. That always brings you closer to victory and it is the path that teams must follow to win matches »
SHORT-TERM OBJECTIVES
The coach only thinks about winning each day
«The objective is to win every week. Setting distant targets is a mistake and more so now. You have to train and play because we don't know if the next day this will continue or stop, "says Albadalejo.

www.informacion.es
Digsmak is a news publisher with over 12 years of reporting experiance; and have published in many industry leading publications and news sites.