MADRID
Updated:
Keep

Yunior García Aguilera has become a terribly uncomfortable figure for the Cuban government in less than a year. He himself acknowledges that his works, as a playwright, have been critical, but it was in November 2020 when, together with dozens of artists, he mobilized to ask not only for food and medicine, but also for freedom of expression, demonstration and creation. It happened on November 27 before the Ministry of Culture. That action unleashed others, which led to the historical demonstrations of July 11, and later to the convocation of the Civic March for Change, scheduled for November 15. Coordinator and visible head of the Archipelago group, convener, was the center of reprisals, harassment, acts of repudiation …
This Tuesday, he left Cuba and landed a day later in Madrid by surprise, with a tourist visa that, for now, allows him to spend 90 days in Spain.
In the last twelve months you have participated in historic mobilizations against the Cuban regime. What has been achieved with them?
Something has happened that could be seen coming: a youth that behaves in an increasingly revolutionary way, that is more aware of the things they have to fight for, of the rights they have to conquer. And, in front of them there is a regime that is increasingly conservative, less open to dialogue, to recognize the difference, to be inclusive. A regime that is no longer afraid of being called by its name, dictatorship, because it has behaved like one of the worst dictatorships. During this year we have seen that contrast: a people increasingly willing to conquer their rights, and a dictatorship increasingly clinging to its privileges.
The regime has been surprised by the collective of artists, who until now protested through their works, but not in the streets …
It is something that was surprising, in terms of the size of the protests. Artists who had not protested the reality of the country broke the silence. That is always the beginning of something. In recent times something has shaken in Cuba, a country so monolithic, so stagnant, so paralyzed, managed to shake. And now we are closer to the changes that are needed.
A year ago, few people knew who Yunior García was. Today he is a person with great visibility, who greatly annoys the regime. How have you experienced this change and the pressure?
At first it was full of optimism, which was perhaps naivety. I thought that certain things could be achieved by a little more moderate roads. That with the dialogue between artists, dissidents and the government it could be possible. But they have not allowed it. They have treated us as the worst threat, and much worse even than those who used violent methods of struggle decades ago. They seem to be much more frightened by our methods, and we are a greater threat. They have been cruel to us, sometimes savagely.
What has been the worst for you during these weeks of harassment and repression before the 15-N march?
The most painful have been all those young people who do not have so much visibility, and who are totally unprotected. You have to worry about them, because some have lost their jobs, have gone to jail, and even some young mothers have been threatened with taking their children away … They can do anything against someone who is not visible. That is why everything possible must be done so that they do not remain invisible.
At what point did you realize that you had to leave Cuba?
It was on November 14, around 9 p.m. I called the Archbishop of Havana (with a friend's phone chip, since all the phones were blocked) and asked his forgiveness because I was feeling a lot of anger. I said, "I don't want to feel this. I have a lot of anger and I am afraid of becoming a monster if I let this anger win over me ». I called my wife [con la que ha viajado a España] and to my mother-in-law, I asked for their forgiveness because I didn't want them to go through that. I wanted to assume my responsibility that day alone. I wanted to go solo. I did not imagine that I had to subject them to that level of repression that we suffer at home. They told me that I didn't have to ask for forgiveness, that I had to raise my head and understand that what I was doing was fair. That restored my strength. If I stayed in Cuba, maybe I would not be a prisoner, they would not turn me into a symbol like Otero Alcántara or Maykel Osorbo. They wanted me in silence, humiliated, unable to leave … I had to break that. My only weapon is to be able to say what I think. And I had to go to a place where I could make use of that freedom.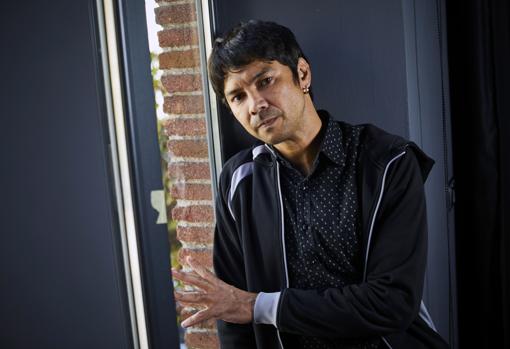 They have the right to feel bad and to judge me, because in some way I assumed a public responsibility. They have the right to question me. If I have lost the trust of some, I am going to regain it. I will do my best, everything in my power to be true to myself, and to the same principles that I have been defending until now. If I can't get it back, it doesn't matter, because it's not about me. It is not about Yunior García. It is about a people that, beyond the caudillismos of messiahs, what they have to find is their own capacity to contribute something, and then, together, to achieve a change in Cuba. The problem is not a person, a name, it is the people of Cuba themselves. And when it becomes aware of its power, which can be tremendous, there is no dictatorship that can hold up to a people that says enough.
The international community seems to be more mobilized with what is happening in Venezuela, or also now in Nicaragua, but relations with Cuba have normalized, despite its repression. When will this change?
I think this is due to the combination of an immature nostalgia for a time when there was a utopian hope for what the revolution could represent. That at some point it was that blue unicorn, which Silvio Rodríguez already lost, and which he may not be able to recover. And at the same time the regime has known how to expand its tentacles, its influences, the political 'lobby' … Perhaps there is no money to buy milk powder for children, but it immediately appears to move certain influences and achieve certain strategic moves at the level. international to get support. It will change when the world stops looking at Cuba with hypocrisy, with that naivety or that adolescent romanticism. Or understand that the regime has behaved like the abusive husband who misbehaves with his children, and while the neighbors turn up the volume on the radio so as not to get involved, so as not to get into trouble … what kind of person are you if are you silent and do nothing for those children?
The word dictatorship is very difficult for some politicians to pronounce. A minister of the Pedro Sánchez government, who did not do so, declared not long ago that words are not important. What would you say?
When you look at the dictionary and see the Cuban reality, there is no doubt what is there in Cuba. But, let's also respect each other's time. If you don't want to use the word dictatorship, you can always use the word tyranny.
You have said that you will continue to fight the Cuban dictatorship from Spain, what actions do you plan to carry out? How will you do it?
Making use of my freedom of expression, of movement … I am going to speak with whoever, especially, so that they do not stop looking towards Cuba. And it's not about supporting one side or the other. It is about thinking about the common good of Cuba, and about respect for human rights. It is about there really being the democracy that we have not had in 70 years (since 1952, when Fulgencio Batista staged a coup). And if the world can do something to accompany the Cuban people in their struggle, that is really going to make a difference.
He has said that he will return to Cuba …
Although the regime is celebrating my departure with bottles of whiskey, they will be surprised when I return. And I will do it recovered from those wounds, from that resentment. Because I don't want to do anything out of hatred. I need to do it from firmness, honesty and the civic principles of peace. I am not interested in separating anyone, humiliating anyone. But they have to listen to me, and to listen to all the Cubans who have not been able to speak up to now.
See them
comments

www.abc.es
George is Digismak's reported cum editor with 13 years of experience in Journalism