Updated:
Keep

Blanca Ferrando is 11 years old. He has an older brother, 13, and a younger sister, 10. They all sail in the Optimist class, so sailing is the favorite topic of conversation at home. They have been members of the Real Club Náutico de Valencia since they were born since their parents met there. Blanca has always been very good at sports. He plays basketball and soccer, and he likes cycling a lot, although he is really passionate about sailing. From the very day he got on a boat, he has always been guessed a natural talent.
She is very competitive and hard-working, she is always thinking about training and how to improve. Since he started, the results have accompanied him since he has been on the podium in practically all the regattas in which he has participated. The year he started competing in Optimist B, he already qualified for the Spanish Championship when he was only 9 years old. This year she has won in her category in all the regattas in which she has participated and has qualified for the Optimist European Championship, being the only sub 13 sailor to do so. She is an incredibly happy girl who enjoys everything she does.
How did you start sailing and at what age?
I started sailing at the age of 7 in the Náutico de Valencia. My older brother was sailing on Optimist so my parents signed me up for introductory sailing courses.
What attracted you to the candle?
My grandfather had a large sailboat in which I really liked going out sailing with him and enjoying the sea.
How do you combine studies with navigation?
I dedicate more time to studies during the week and I try to keep everything up to date since on weekends there are many hours of training and when we go racing it is difficult to find time. But overall, I'm doing pretty well at the moment.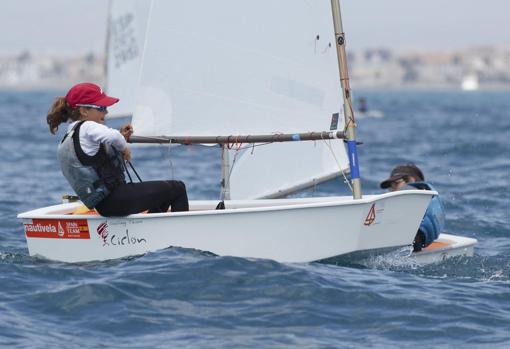 What would you like to be when you grow up?
Professional sailor.
How many championships have you won?
A Spanish Optimist Championship (sub 13 Fem.), A Spanish Optimist Cup (sub 13 Fem.), Two Autonomous Optimist A Championships (sub 13 Fem), two Autonomous Optimist A Championships (Absolute sub 13 Fem.), two Autonomic Optimist A Cups (sub 13 Fem.), two Autonomic Optimist A Cups (Absolute Fem.) and one Autonomic Optimist B Cup.
What do you enjoy the most about this sport?
The feeling of sailing is incredible, the competition with my teammates and the pikes and the jokes.
Are you respectful with the environment?
To the max. It's a shame to see how the Mediterranean is. Our coach teaches us how important it is to take care of the sea, he collects all the plastics he finds and we do it too. We always return to port with some residue in the pneumatics.
What kind of dinghy are you drawn to by the time you're done with the Optimist?
Many of my Optimist colleagues have chosen 29ers at the end of the Optimist. As it is a double class and I have a little sister who also sails very well, at the moment it is my favorite class, although I also really like kite surfing.
What is the candle bringing to your life?
A lot of fun, a lot of order and a lot of discipline… But above all a lot of friends and discover incredible places where I have been able to sail.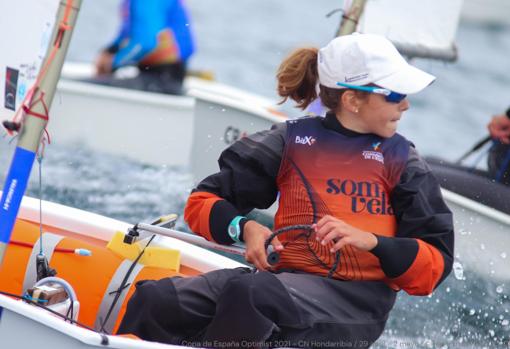 What goes through your head when you win?
I am a very competitive person, winning always makes me feel good and motivates me to keep training hard.
And when do you lose?
When I lose I try to learn from the mistakes made or the successes of my teammates and I think that if I make an effort the next time it may be different.
Who gives you advice?
A lot of people! My parents personally and all the coaches with whom I have been lucky enough to train, but especially my coach Javier Dusmet.
Who is your favorite sailor and why?
One of my favorites is Quique Urios. He sails now on 49er, and he always asks me how I'm doing and gives me great advice.
What do you like more to sail with a lot of wind or with little?
I am relatively light, so with light or medium winds I am fine, although this year I have grown a bit and now with strong winds I manage better, but I prefer to do it with little wind.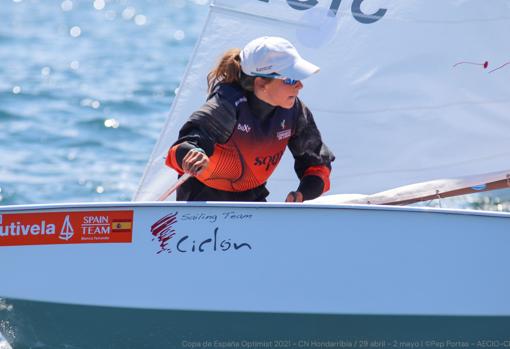 Are you very competitive?
A lot of.
Who do you like to win more, boys or girls?
To all!!! We all compete together so there is no distinction.
Do you like team working?
Yes, we are also now preparing the Optimist Team Championship, we compete in teams of 4 and it is hilarious.
What regatta would you like to win sometime in your life?
The Optimist World Championship.
Do you like the candle with foils?
If it is very fun and very exciting, the feeling of speed is incredible.
Would you like to dedicate yourself to sailing and be part of the Olympic Team?
That is my dream, to compete in the Olympics.
Until now, what have you felt when you have been on a podium?
When I always go up a bit of shame, then a lot of joy.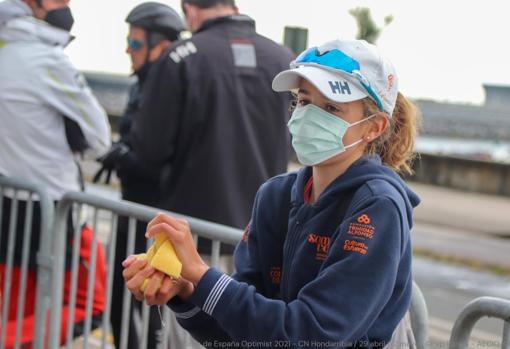 With whom would you like to share a quiet navigation along the coast?
With my family.
Who would you like to team up with in an important regatta?
With my sister in a few years when we both move to 29er.
See them
comments

www.abc.es
George is Digismak's reported cum editor with 13 years of experience in Journalism