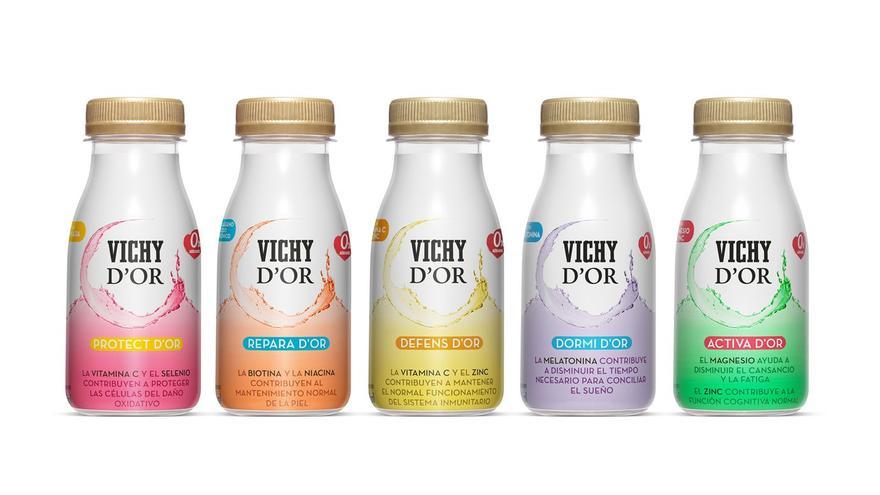 To look good on the outside, the important thing is to take care of ourselves on the inside. For this, it is essential to eat a healthy diet that provides us with the necessary nutrients, exercise and rest enough to obtain the necessary energy to face the day to day. To complement our diet, Vichy Catalan Corporation has launched the Vichy d'Or functional drinks, created with the combination of the quality of Vichy Catalan water and the purity of Font d'Or water, together with natural components, minerals and vitamins.
Its excellent formulas endorsed by health professionals make each product in the Vichy d'Or range the perfect solution for a specific need of the population. These functional drinks establish the new youth protocol, it is about taking care of yourself inside to reflect better external appearance. With Vichy d'Or taking care of yourself is a pleasure, since they are all 0% added sugar, gluten-free, or lactose-free, and they also have a pleasant flavor that makes them really appetizing and they are drinkable that are already prepared. Being liquids are quickly absorbed achieving an immediate effect.
Eternal youth
To protect against premature aging and combat oxidative stress, Protect d'Or is formulated with powerful antioxidants such as Selenium, Vitamin C, Oxynnea and pomegranate juice with 6 vitamins, which protect cells from free radicals caused by tobacco, pollution and solar radiation. 86% of consumers admit that they have achieved a more nourished skin, 81% ensure smoother skin and 78%, more hydrated. Its red fruit flavor makes it really delicious.
The functional drink Repara d'Or It is made with fruit juices and vegetable extracts, with collagen, hyaluronic acid and aloe vera. Contains vitamins and minerals such as biotin, niacin, vitamin B2, vitamin A and Zinc that contribute to the normal skin maintenance. This drink helps minimize the signs of aging. Easy to drink and with a peach-mango flavor. 88% of consumers admit that they notice wrinkles with less depth and a better tone of your skin.
With pineapple-coconut flavor, Defens d'Or is the functional drink that helps minimize cold, flu and allergy symptoms. Contains Zinc, Selenium, Folates, Vitamin B12, Vitamin C, Vitamin D that contribute to maintaining the normal functioning of the immune system.
For its part, Dormi d'Or, with apple flavor, has been formulated with melatonin, which helps to reduce the time needed to fall asleep and alleviates the feeling of jet lag. In addition, it contains passionflower and California poppy extract that have traditionally been used as painkillers and sleep inducers. The beneficial effect is obtained with the intake of a bottle of Dormi d'Or between 1 or 2 hours before going to sleep.
By last, Activa d'Or contains magnesium that helps reduce fatigue and zinc which contributes to normal cognitive function. In addition, it is composed of natural extracts of Eleutherococcus and Ginkgo, traditionally used as stimulators of the central nervous system. This functional drink is citrus flavored.
All Vichy D'Or drinks come in packs of 6 bottles of 200 milliliters and it is recommended to drink up to one a day. It is presented in a resistant format and its screw cap allows it to be transported comfortably without having to consume the bottle in a single shot.

www.informacion.es
Eddie is an Australian news reporter with over 9 years in the industry and has published on Forbes and tech crunch.