Israeli raid on West Bank's Jenin refugee camp leaves at least 3 dead
JERUSALEM — Three people were killed and more than 15 people injured by Israeli forces during a raid on the Jenin refugee camp in the occupied West Bank, the Palestinian Ministry of Health said in a Telegram post today.
The Israeli military said in a statement that "an armed terrorist cell" was struck by one of its aircraft during a raid on the camp. It said at least five "terrorists" were killed.
"Additional terrorists who fired and hurled explosive devices at the security forces were neutralized during the activity," it said.  
The dead were named by the ministry as Bahaa Jamal Lahlouh, 23, Muhammad Jamal Fulu, 28, and Muhammad Azmi Al-Hassaniyah, 34.
The Israel Defense Forces added that they confiscated weapons, military equipment and improvised explosive devices during the raid and its forces apprehended "eight wanted suspects." In a separate post on X the IDF said that armed men fled in an ambulance to the Ibn Sina Hospital.  
WAFA, the Palestinian news agency, reported that Israeli forces interrogated a number of paramedics at the hospital and searched ambulances in the vicinity. 
NBC News was not able to independently verify these claims.
Ambassador Alon Pinkas says deal to release hostages is 'going to be one to one'
Former Consul General in New York told  Andrea Mitchell in an interview that the deal between Hamas and Israel is "going to be one to one," meaning if one Israeli gets released, one Palestinian will also be released.
He described a complex network of communication behind a possible hostage deal, saying, "Hamas is talking to Qatar, to the Qataris, we've been talking to the Americans, we've been talking to the Israelis, will then divulge some information to the Egyptians who go back to the Americans and so on and so forth." He added, "this is not a negotiating table." 
On which hostages would be released and how many, he said, "so we're looking at 50, 60, maybe up to 100 people. That would include people with dual citizenships, several, several dozens rather, of foreign workers."
He said the deal "probably does not include IDF soldiers, whether male or female." 
"Hamas is asking for a five-day ceasefire, to which Israel reportedly has not agreed," Pinkas added. "Israel was saying three days maximum and even the three days are meeting some opposition in the IDF, which thinks we should, Israel should not agree to such a lengthy ceasefire."
Netanyahu: Indications that hostages had been held at hospital
Israeli Prime Minister Benjamin Netanyahu has said that hostages were being held at the Al-Shifa hospital in Gaza before the Israeli Defense Forces arrived to begin a military operation there.
"We have strong indications that they were held in Shifa hospital, which is one of the reasons we entered the hospital, but they were taken out," he told CBS News in an interview last night.
Netanyahu offered no evidence to corroborate the claim that hostages were held at the hospital, nor any new evidence that the site was being used as a military command center, an accusation rejected by Hamas and doctors at the complex. There was no firefight when the IDF arrived at Al-Shifa, he said, because Hamas' fighters had fled in advance.
Asked where the hostages are being held now, the prime minister hinted that his military is aware but would not confirm any details. "We have intelligence… but the less I say about it the better," he said.
On the question of a ceasefire — which has been called for at protests and demonstrations in the U.S. and across the world — Netanyahu repeated that this would only happen "if we can get our hostages back."
Photos: Protesters call for a cease-fire on a San Francisco bridge
On the bridge connecting San Francisco and Oakland, protesters calling for a cease-fire in the Israel-Hamas war held up traffic for a time while President Joe Biden was at the Asia-Pacific Economic Cooperation summit.
Police soon descended to clear the gridlock.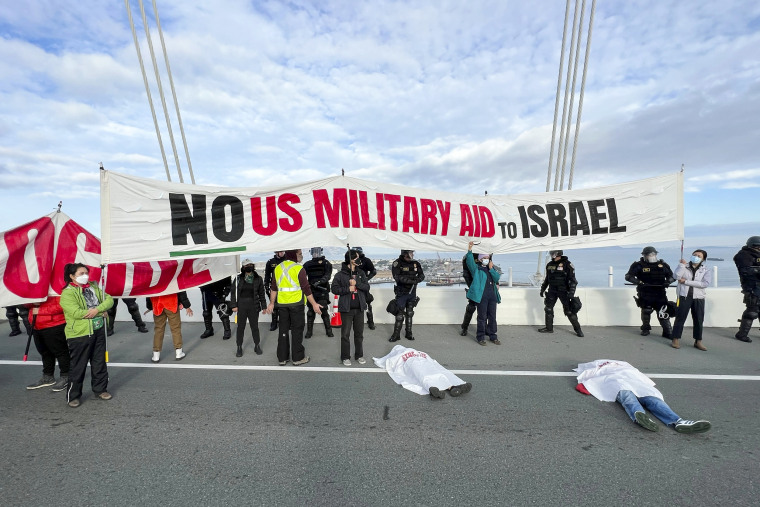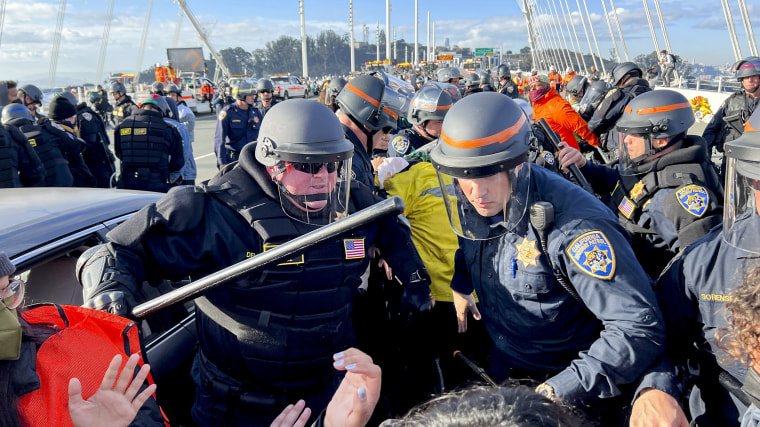 www.nbcnews.com
George is Digismak's reported cum editor with 13 years of experience in Journalism