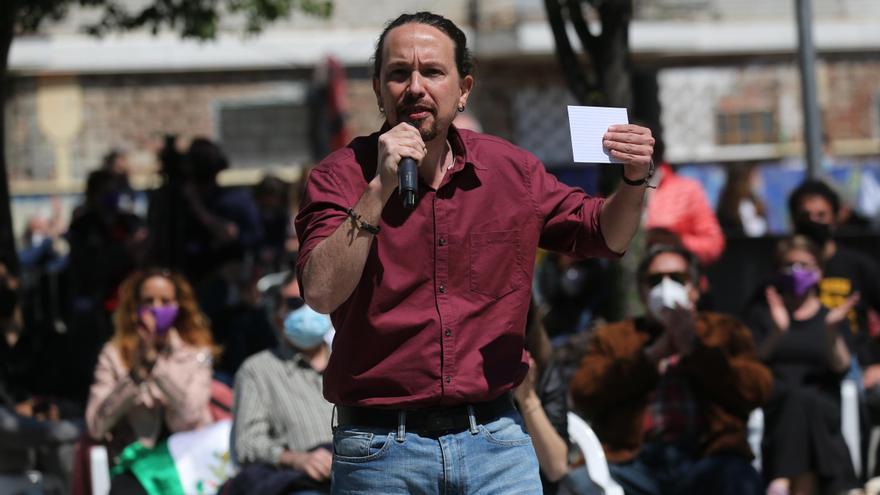 The candidate of United We Can to the Presidency of the Community of Madrid, Pablo Iglesias, has accused this Sunday the regional government led by Isabel Díaz Ayuso of "use the life of the Madrilenians as a bargaining chip and political gasoline to set Spain on fire and bring down the "central government."
"How is it possible that they said no to everything, that they changed their discourse every week and denied in a more vile way the orders not to transfer people from residences to hospitals that cost the resignation of one of their advisers, who could not swallow with what he called indecency and illegality? ", He explained about the Madrid Executive in his time as Minister of Social Rights.
In the first campaign rally, held this noon in Lavapiés, has called it "indecent" that there are people in an autonomous government "who try to take advantage of a pandemic to bring down their political rival and not pitch in." "That is the right and the extreme right," he added.
On the other hand, Iglesias has pointed out that these political forces hate their candidates like Serigne Mbaye, who "represents courage and not only because of their personal history."
"The brave have no need to insult or be arrogant. That silent value, of dignity, the 4M must be pronounced to send these arrogant people where they deserve, which is no other place than the opposition, "he said.
The leader of Podemos has indicated that the right wing also hate public education because "they can't stand the fact that the daughter of a CCOO leader from Galicia is vice president of Spain." "Can you imagine what it is for the powerful of this country that an activist like the racist is Minister of Social Rights? Can you imagine what it means for them that Mbaye is going to sit in the Madrid Assembly and perhaps also in the Madrid Government, coming from where he comes from?", has been asked.
In the opinion of Iglesias, they hate public education because "it is the condition of possibility that someone in a modest neighborhood can reach the government and be a reference in their country." "That is why they continue to segregate and destroy what belongs to everyone and that the son of a neighborhood family may have some possibility of measuring himself with them. Faced with that hatred, we must respond with education but firmly," he pointed out.
The former vice president of the Government of Spain has praised public services with several examples. "Any country understands that if vaccines are financed with public money, they will have control of them. Even in the United States, they understand that it is already well of the joke that the rich do not pay taxes; that roads, hospitals, public centers are needed, that the common is the only thing that protects us all. This is consensus in the world except in one place, Madrid. The right and the extreme right sail against all this and are an example of corruption, inequality and inefficiency with the worst data in all of Spain in the management of the pandemic, "he said.
Pablo Iglesias has reiterated that they will take their ideas "without complexes", such as prioritizing the defense of public education without nuances "because the Constitution says so", and private health with a free dentist. And they will also carry out a tax reform "to match it with what the Constitution says."
According to the secretary general of Podemos, that firmness and lack of complexes led the Government of Spain to weigh those who told them that "some shitty reds were never going to enter there." "They said that there was no majority for an alternative government to the PP. We presented a motion and even our enemies applauded our work of fundamental dialogue so that Sánchez was president of the Government, "he said.
"They do not support the firmness that we show every day. It was not easy to build the ERTES and that it was a communist minister who has been at the forefront of that with dialogue between employers and unions. Because it is proof that she can be the best president of this They thought that the Minister of Equality was not going to dare to confront all those opposed to feminism, than to remove the law of 'only yes to yes'. They did not imagine that we were going to implement a Children's Law to draw attention to the scandalous abuse of children by ecclesiastical representatives. Someone tell them: 'You, Eminences, you have to ask for forgiveness, you have not been good Christians,' "he continued.
Therefore, Iglesias has asserted that they will not enter a future government in Madrid to do the same as the PP. "That is why they crush us. We are aware that the social advances in Spain are made by brave and firm people. They cannot be beaten if we ask for their forgiveness, if we have complexes, but by showing them that we are more," he indicated.
The candidate of the purple formation has also accused the current regional government of "giving away millions of euros" to the media two weeks before the elections and these of "cheating every day and with the polls." The referee is bought. , has criticized.
"In the face of their arrogance, selfishness and cheating, we respect law and order because it is the only thing that people have to survive. In front of those who steal and lie to continue using the public, they will be able to buy all the arbitrators, but not the dignity of the people. We are very close. They always tell me that I am finished, but we are going to show them that it is possible, go ahead, that we are closer every day, forward that it can be done, "concluded Iglesias.
Isa serra: "We gamble that the madmen of Vox do not enter"
Iglesias has been accompanied by other members of his list to the elections. His 'number two', Isa Serra, has affirmed that those who are playing the Madrilenians are elections is that neither the fan of Ayuso nor the madmen of Vox, who feed on hatred and fear, should not enter the regional Executive.
"Who benefits if you don't go to vote? Who do you want to continue doing what they want, the powers that Ayuso governs for. That is why they say that if they are all equal, that if neither fascism nor antifascism, that if politics is worthless … I am not asking for a blind vote of confidence, but to vote and end the right wing and Ayuso's policies"Because we are not all the same and the proof that United We can do and have done everything possible so that we are not in the institutions," he said.
Serra has had a moment to remember that she has been convicted of helping to stop the eviction of a person with a disability on Tribulete Street years ago. "Despite their setups, lies, convictions, I am absolutely proud to be there defending the evicted and I always will be," she stressed.
Serigne Mbaye: "Madrid will be the grave of racism"
One of the protagonists of this electoral act has been the candidate Serigne Mbaye, who was spokesman for the Manteros Union. "Vox threatens to deport me because I am a black man who has joined the UP list to reach the Assembly. It is the racism that we suffer every day. We suffer persecution, police harassment accentuated by the speeches of the PP and Vox" , has said.
"They don't want us but we are the ones who build Madrid, the ones who make Madrid advance, the working class. We are all of us who work and do not make it to the end of the month and we need public services such as health care. We are the ones in solidarity to accompany our colleagues in critical situations abandoned by the Community. Madrid will be the tomb of fascism, with an ambitious project by United We Can. It is a great pride to represent the struggles of all the objectives, "he said.
Finally, in the Nelson Mandela square, Mbayé has remarked that on May 4 to vote you have to vote "to show that Madrid is not racist." "A Madrid that says no to racism. Tall and strong, Madrid will be the grave of racism," he ended amid shouts from the public.

www.informacion.es
Eddie is an Australian news reporter with over 9 years in the industry and has published on Forbes and tech crunch.