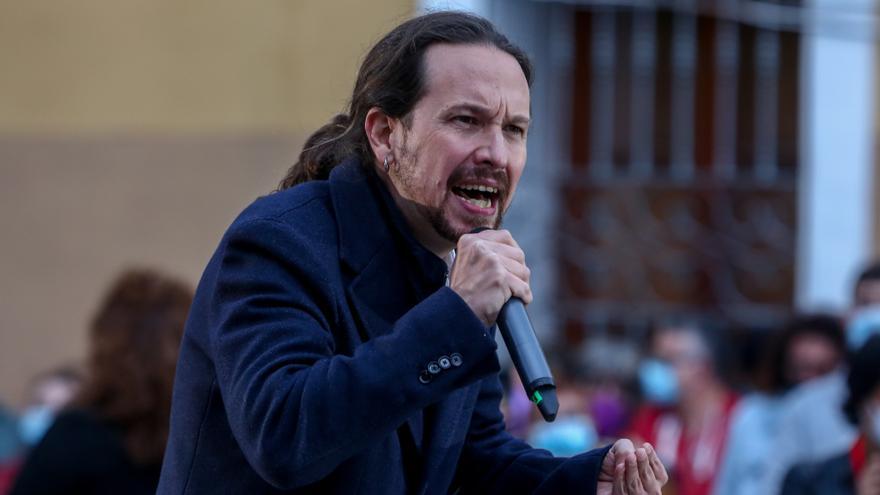 The candidate of United We Can to the Presidency of the Community of Madrid, Pablo Iglesias, has indicated this Saturday that he does not expect the Justice to outlaw a party like Vox in Spain, and has defended a "democratic response as a solution to fascism" andn the May 4 elections.
In an interview in La Sexta collected by Europa Press, asked about a possible outlawing of Vox, Iglesias recalled that with current legislation that issue would correspond to the courts, but that "solutions to fascism rarely come from the law"and that the key to defeating them is political mobilization and the" democratic response. "
That is why he hopes that on May 4 the people of Madrid will give a "response to fascism that will magnify democracy." "We are living in a situation of increased tension and dangerous violence. But more and more people assume that this is about democracy against fascism ", has wielded.
The leader of Podemos recognizes that yesterday he experienced an "unpleasant situation" when he received a letter with death threats and bullets and that it was "very hard and unacceptable" for Vox to say that they were making it up. Therefore, he has been proud of "stand up to the extreme right" and leave a debate on the Ser chain in which the Vox candidate, Rocío Monasterio, was, and never go to any in which she appears.
"Yesterday the campaign changed. To fascism we must give a response not only judicial, but a democratic response at the polls and on the 4th we will see that. What happened was important because the democrats cannot normalize these situations. accept racism, machismo or that a station is filled with a poster that is a copy of those of Nazi Germany. They call me pigtails, rats, dehumanizing me like breeding ground so that a madman can give me a shot, "he asserted.
"Unprecedented mobilization"
Iglesias has indicated that after what happened yesterday, many people have understood that these Madrid elections "will prevent fascism from entering the institutions", so he believes that this "will generate an unprecedented mobilization and there will be a democratic government and a left coalition ". In addition, he feels "proud" that it was his party that started it. "standing up" to Monastery.
We received four bullets and it is our fault; that is blaming the victim
The former vice president of the Government of Spain has also criticized the response to what happened in yesterday's debate in the Ser given by the president of the Community and the mayor of Madrid, Isabel Díaz Ayuso and José Luis Martínez Almeida. "We took four bullets and it's our fault. That is blaming the victim. It cannot be that the PP opens the door to the extreme right. This is not condemning violence, this is like saying that we have asked for it. The PP is placing itself outside the law. Governing with the extreme right will not be accepted in any European country and in Germany there is a democratic cordon to the extreme right. What is happening here is extremely serious, "he added.
Along these lines, Pablo Iglesias has declared that lying "cannot be normal as a political weapon." Lying, racism or machismo is not acceptable in a democracy. There are things that must be nipped in the bud before they continue to grow", he added about Vox.
About pacts and More Madrid
Asked about possible post-electoral pacts, the former Minister of Social Policies thanked the Socialist candidate in the Telemadrid debate, Angel Gabilondo, would extend his hand, which he sees as a rectification after he began his campaign thinking that "saying or doing right-wing things could attract a certain electorate." "But to win on the right you have to do different things on the right. We must assume that we have to rule together", he pointed out.
Regarding Más Madrid, which polls give more votes than Unidos Podemos, Iglesias prefers to wait for the results of May 4. He has also extended his hand to this party so that from that date on "there will be a democratic government that will put an end to fascism and that privileges education and public health." "The mistake of the past is to fight among the left because that demobilizes", has argued.
The candidate of the purple formation has returned to defend his tax reform so that the rich pay more taxes in Madrid because in his opinion the money will come from it, "that does not fall from the sky", to invest and improve health and public education. And he has warned Gabilondo that If they govern and that does not change in two years they will not vote again. "If you make right-wing and austerity policies, in the end people vote for the original, not the copy," he predicted.
On the other hand, Iglesias has insisted in the interview that between March and June of last year his Ministry gave orders to disinfect residences through the UME and that this was processed by the former CHIEF, Julio Rodríguez, and that they have all the documentation and text messages that prove it.
Asked if the hotel business would close in case of coming to power, Iglesias has responded that they will do what the health authorities say and that Ayuso "has given zero euros of direct aid" to this sector, while the Government of Spain has protected them with 7,000 million direct aid and ERTEs.
State of alarm and political future
Regarding the end of the state of alarm, the now candidate considers that if on May 9 the coronavirus data continues to be worrying, it is necessary to "assume the necessary legal provisions." "If the data forces us to take more restrictive measures, it cannot be politicized and all parties have to agree," he hopes.
The secretary general of Podemos has confirmed that if the left does not govern, it will remain in the Madrid Assembly, "where the citizens place it." However, he believes that they will win and if they govern well these two years they will revalidate power in 2021 thanks to their "firmness" and their "stubborn style." Furthermore, if the numbers are given, there is no question of not entering the coalition government.
Finally, Iglesias has acknowledged that he left the Vice Presidency and appeared in the Madrid elections to "stop fascism" and for the fear that Justice would disable Isa Serra. In addition, he has said that he had been talking about his succession with the Minister of Labor and now also the third vice president of the Government since the summer, although the 4M accelerated the decision.

www.informacion.es
Eddie is an Australian news reporter with over 9 years in the industry and has published on Forbes and tech crunch.