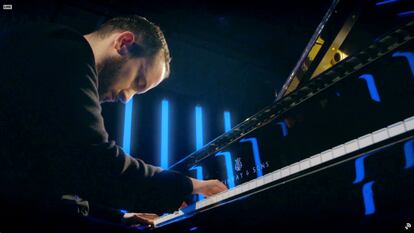 Oscar Wilde used to say that the critic's punishment and reward consist in seeing the dawn before the rest of the world. That must have been experienced by Eleonore Büning, in May 2010, when she stated, within a portrait of Igor Levit in the Frankfurter Allgemeine Sonntagszeitung, who not only had everything it took to become one of the great pianists of the century, but he already was. The article caused a stupor. Levit (Nizhny Novgorod, 34 years old) had come to Germany with his family from Russia when he was only eight years old. He had been trained in Hannover, although he had not yet obtained a degree at the Hochschule für Musik und Theater. He had just started looking for an agency and lacked a record label.
Büning had met him, in 2004, during Kissinger's Piano Olympics. He was a chubby, talkative kid who made funny jokes, but won second prize. However, it was on a trip to China six years later that it struck him. He saw his concerts in poor halls with impossible pianos (in Qingdao he played an old Baldwin with some broken keys), but always before an audience that cried with joy. Thus was born the Levit phenomenon. A pianist who builds the music in his head, before putting his hands on the keyboard, but when he does so he is able to transmit to the audience what he plays with total intensity, regardless of its complexity or difficulty.
"I see everything and I perceive everything during a recital, I am with myself and with others at the same time, I detect the atmosphere, the mood in the room. And if I realize that I am losing the public's attention, then I try to get it back ". Levit says so in his book Fun concert (Carl Hanser Verlag), which he just published in collaboration with journalist Florian Zinnecker. A monograph that allows us to understand his ability to transfer that magnetism from live performances to internet broadcasts, but also to records. "We planned the book as a kind of travel diary, where I could go answering the questions Florian asked me. But the pandemic altered everything, "Levit acknowledges by telephone to EL PAÍS.
The book begins in December 2019 and ends in the fall of 2020, but it also describes previous events that it combines with personal reflections. An ideal chronological disorder to understand the obstacle course that has been his rise as a musician. He talks about his accidents with Sokolov and Barenboim. The former attacked his limited palette of dynamics and articulations, while the latter told him to trust his instincts less and mature. But he also remembers the fascination he aroused in colleagues like Hélène Grimaud, who told him he was special. Indeed, Levit did not fit the mold of virtuoso to use. And his brief stint at the prestigious HarrisonParrott agency is a good example of that. "They had a template on how to build artists and how they should run their careers. But that template didn't work for me ", he acknowledges.
In 2013, Levit found the ideal agent in Kristin Schuster. Patient, talkative and extremely intelligent. With the ability to guide the artistic impulses of the pianist towards realistic projects. Some were striking, such as their American presentation, which did not take place at Carnegie Hall, but at the Park Avenue Armory, playing the Goldberg Variations, by Bach, inside a show by the artist Marina Abramovic. But perhaps the most important person in Levit's public life is the one in charge of his public relations, Maren Borchers. He met her in 2011 and soon became indispensable for a musician who also maintains an intense media activity related to politics.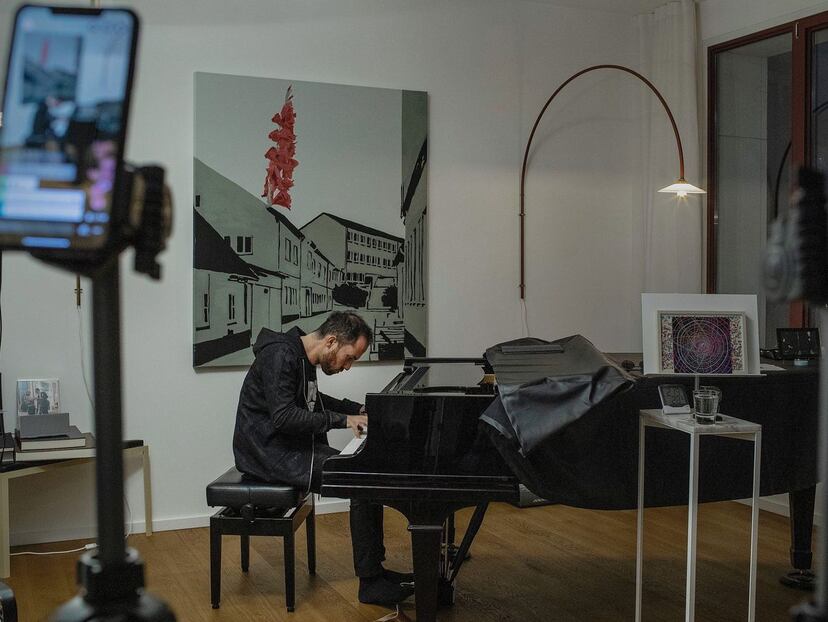 Levit is very active on Twitter and he has become a prominent figure against the rise of the far right, racism and anti-Semitism in Germany. His political position, close to Los Verdes, sometimes splashes his public performances. He came to pronounce a plea against the election of Donald Trump just before interpreting the Passionate Sonata, by Beethoven, in Brussels. Levit does not shut up in the face of hateful displays and injustices. And his run-ins with the German extreme right led in 2019 to several death threats that he made public and reported to the police.
Anselm Cybinski is another relevant figure in the pianist's career. A producer who in his transition to Sony Classical discovered, in 2011, a pianist who played the Diabelli variations, by Beethoven, with an unknown energy. But the talks about record projects were a disaster. The pianist does not fit into the scheme of a big record company like Sony. But Cybinski insisted and in 2013 he took a risk with an unusual premiere: a double compact with the last five Beethoven sonatas.
The result is a success. Levit manages to convey part of that urgency that he inoculates in his live performances on his records. In 2014 he recorded the Partitas of Bach, followed with a monumental set of variations that included the Goldberg and the Diabelli, but to which he added a very significant rarity for Levit: The people united will never be defeated, the series composed by the virtuoso Frederic Rzewski based on Sergio Ortega's protest song against the Pinochet military dictatorship. This recording garnered the prestigious Gramophone Award for Record of the Year. He then continued with a personal project entitled Life and dedicated to the premature death of his friend the plastic artist Hannes Malte Mahler, with works by his personal idol, Ferruccio Busoni, and even Bill Evans. Nothing strange for a musician whose heroes include rapper Eminem and jazz pianist Thelonious Monk.
Sony released in 2019 its celebrated box with the integral of Beethoven's piano sonatas. And on September 10th he will publish his new release, a triple disc dedicated to Shostakovich, with its monumental 24 Preludes and Fugues op. 87, to which he has added another personal challenge: Passacaglia on DSCHby Ronald Stevenson. "I usually have a list with the works that I want to record, after having played them in concert, and when we thought of Shostakovich I thought it was time to add Stevenson's work," he acknowledges. Both works have been scheduled this year. And on October 21 he will play the complete collection of preludes and fugues by Shostakovich at the Palau de la Música Catalana. "They are two and a half hours of recital, but this cycle only works when it is played in full," he says.
Levit takes on challenges impossible for other pianists. And Stevenson's work is a good example. It is made up of more than 300 variations of Dmitri Shostakovich's musical acronym: DSCH (re-e flat-do-si, according to German musical notation) and includes three 85-minute parts with a portrait of the world that encompasses music, history, politics and geography. "It is the most international work ever written for piano. It is utopian, but also political. And their performance is a true community experience. A giant work of a giant composer. I am very happy to have recorded it, as it has become a central part of my life, "he explains, fascinated, while regretting not having been able to meet the composer, who passed away in 2015.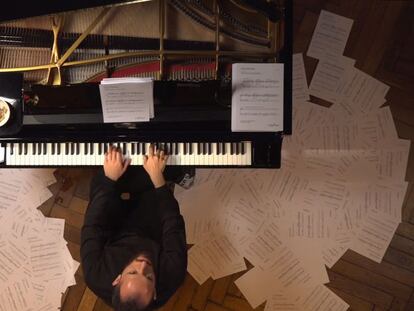 The outbreak of the pandemic came two weeks after finishing his recording of Stevenson for Sony. He was in Hamburg on March 10, 2020 to play the Elbphilharmonie and celebrate his birthday with friends when everything stopped. He drove back to Berlin to start the lockdown. But he had an idea. He announced on Twitter that, given the impossibility of listening to music together due to the closure of all the concert halls, that afternoon he would do a broadcast from the living room of his apartment. And after receiving some technical rudiments and buying a tripod for his mobile, he undertook on March 12, at 7:00 p.m., a series of Fun concert or domestic concerts with the Sonata Waldsteinby Beethoven. There were 52 evenings transmitted by Twitter almost every afternoon and generally from the living room of his apartment, chaired by a painting by his friend Hannes Malte Mahler and with Edwin Fischer's old Steinway.
The media coverage of their domestic concerts was immediate and they were followed by tens of thousands of confined listeners around the world. "Obviously I couldn't see people, but I knew they were there. I could tell they were listening to me and that gave me a lot of energy and hope ", he confesses. Even, one of the concerts was broadcast from the Bellevue Palace, at the express invitation of the German President, Frank-Walter Steinmeier. And soon he began to think of an even greater challenge: playing Vexations, by Satie, a short and enigmatic piece, from 1893, consisting of a theme with two variations that must be repeated 840 times. The chronicle of that broadcast, which was followed by almost 200,000 people on YouTube, and lasted about 16 hours straight, makes up one of the most fascinating parts of Levit and Zinnecker's book. Borchers was a decisive support for the pianist, when designing a system of leaves that Levit was throwing to the ground. A way to gauge the feat and avoid the hallucinations that other pianists had experienced.
Levit ends the conversation with this newspaper by taking stock: "This year has been terrible for everyone. There's no doubt. But at the same time, I have enjoyed incredible freedom. I have joined a truly amazing digital audience. And I have had the opportunity to play what I wanted from my home, for whoever wanted to listen to me and without any limitation of time. It is very difficult for me to summarize everything in one headline, but I think it has been the most decisive year of my life ".
Discover the best stories of the summer in Revista V.



elpais.com
Eddie is an Australian news reporter with over 9 years in the industry and has published on Forbes and tech crunch.