Matías Fernández Burzaco
Argentina, special for BBC World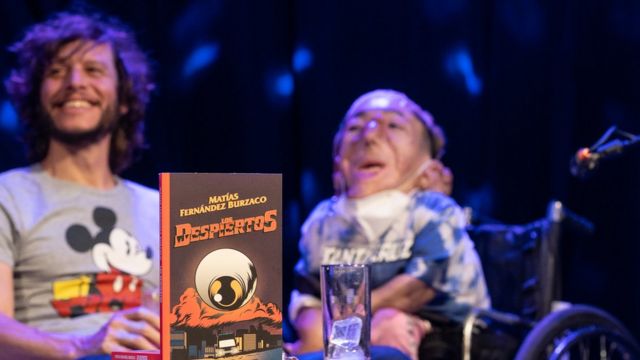 In August 2021 we published a text written by the Argentine reporter, author, musician and creator Matías Fernández Burzaco, which was widely commented on on social media and triggered a dialogue between Matías and members of our audience.
Many expressed their interest in knowing more about him, his life and his work.
"2021 was the best year of my life," Matías tells BBC Mundo when we contacted him to follow up on him.
He says so because he published two books – the autobiography "Formas proper, diary of a body at war" and "Los awake" (a collection of stories from his nurses and night caretakers) – he appeared for the first time in public as a rapper, he composed dozens of songs and is preparing to debut as an actor in a film by director Luis Ortega, son of the famous singer and actor Palito Ortega.
"I don't stop creating, my head doesn't stop," he says.
And it shows in everything: in the way this 23-year-old man -one of the 60 people in the world diagnosed with juvenile hyaline fibromatosis- speaks, writes, sings, acts and lives, expressing his thoughts and emotions in rhythm machine gun.
"Fernández Burzaco does not look at the world with fragility but with strength, he dumps it in these pages sifted by the non-transferable experience of living in a difficult body, and tries to find an answer to a question: how can one endure all this?" Own forms the renowned writer and editor Leila Guerreiro.
What follows is the first chapter of this book in which Fernández delves with sincerity, tenderness and humor into his illness and his gaze on it.
1.
I wake up when the respirator goes off, and I always open my eyes like I'm scared off. My mouth doesn't open or close too much, so I chew with my mouth open and make strange noises. One night Dad said to me: shhh, shut up, don't make noise while you eat, and I started crying on the plate. I can't stand being alone for five minutes. If I need something, I can't move and do it. I really care about my hair. The kinesiologist says I'm limited edition. My dog ​​threw me out of the wheelchair so many times that it doesn't even come close to me.
On my chest I have a nodule that looks like a tit. There are days when I wake up with half my face numb. The shoes I use are four years old now, and still new. My legs have been the same since I was born. At four, he said he was God: "Being weird gives you powers," he thought. He ate dirt.
I like to scare the kids to make my friends laugh. I drew, above all, human silhouettes, until my arms were of no use to me anymore. My parents bathe me and rub soap on my dick. Mom asks me not to shave my hair so as not to show the nodules, "even though they are cute." He also tells me: "To me you are going to be a baby all my life."
I once had an erotic dream about her.
I had a kinesiologist who, instead of taking me to buy cookies at the kiosk, would stop at the corner and make me talk to the whores. A male nurse who would grab me by the testicles and ask me every half hour if I wanted to pee. Another who wanted to masturbate me with gloves. Another who took cocaine and painted the walls of my house very quickly. Another who had been a soldier during the dictatorship.
My current nurse —Vero— dumps my pee on the bidet.
My current kinesiologist —Fernanda— sees dead people when their fever rises.
If I lean forward, I drool. I never cry, but tears fall without my realizing it and they have to be wiped away with a piece of paper. It's hard for me to pronounce the r. I had no fears until I had them all at once. I spent a lot of time in hospitals. In the hospital, going from sector to sector lying on a stretcher is like going from one dream to another. I don't believe in God, but if I am left alone and call my mother or my nurse and no one comes, I ask him to urgently send me someone. I am still, the disease locks me up.
I have nodules on my back. When I ask for headphones or to swab my ear, they don't find the hole in my ear.
My mother's name is Gabriela and she is a dancer. My dad's name is Juan and he owns a computer store. They have been separated since I was two years old. My older brothers are twins: they are twenty-four. My blond brother's name is Agustín, he plays the guitar, he composes. My dark-haired brother's name is Juani and he aspires to be a successful businessman or soccer player.
They take me everywhere and I tell them they are like my Uber. I live at home with mom and with them. I also have a little brother — the son of another of my father's partners — who is fourteen years old and his name is Joaquín; he's studious, farts in my face and steals my computer to play games. He comes three nights a week to sleep at my house.
I don't know what I'm doing here.
I thought about getting into the wheelchair —which has a motor—, speed up, get to the train station and turn it off in the middle of the tracks.
Sometimes, in various supermarkets, I hid candies, chocolates and alfajores on my back, I lay down on the chair and left without paying. I play the PlayStation and win even if I don't get to all the buttons. I rap at such an electric speed I can't seem to breathe. When I want to piss or shit, I shake my paws. If they tickle me, I yell Mom or Dad. When they ask me what's up with the girls, I blush and say: calm down. I'm also afraid of getting hot looking at a little girl with a small body similar to mine. In Mom's classes there are many and I see them from behind a plant.
They cut my food small, but I would like to devour giant pieces. I fell many times with the chair, facing the ground, but I never broke anything: the blood jumps, but the nodules protect.
Every night, I wonder if I'll be alive the next morning.
I'm weird, I'm deformed, I'm going to tell it all.
2.
The first question everyone asks is: "Was he born that way?" The answer is no.
"You were a baby who had nothing at all." You were born by normal delivery: Mommy pushed just twice and you came out. You had long eyelashes, a pink face, you were hunk. And morrudo. Until … well. You were always beautiful and calm anyway.
A little while ago, I asked you for a soaking bath. He sat me on the chair and now hoses me like a plant. Soap rubs on my nodules, but they don't come out. They never come out. They are glued. I don't really know what happens to my body. My chest is a rugged landscape of pink mountains. I can't look at my dick. I never touched my feet, nor my back, nor my hips, nor my face: I never touched myself. There are parts of my body that I do not know.
It is March 2018. On January 30 I turned twenty years old.
My disease is called juvenile hyaline fibromatosis —fhj—, it is genetic and autosomal recessive: my parents both have the gene for the disease. I make more collagen than normal, more skin, more connective tissue, and that's how these round lumps are born, the nodules, which are benign tumors, the balls that you see in the photos and in the videos that I appear. The disease modifies my whole body and does not allow me, among other things, to walk. It invades the body of skin — inside, outside — and I look like a melted man.
The thing — this thing — began to manifest itself at eight months of life.
Mom doesn't give me an exact date.
He tells me that when I was a child — I don't know how young — I would stretch my leg to put on a pair of shorts and I would bend my knees and they would be bent. She tried to stretch them: they came back. He did not crawl. And I had a lump of skin on my chest that was not a wart.
They took me to Garrahan Hospital. There were several studies, international specialists came, they took photos of the lump. The specialists here went to congresses abroad, took the images, said look at this strange thing, does anyone know what the fuck it is? A cyst, a fat ball, a whimsical pimple? Until I was diagnosed with the disease. It was the dermatologist Margarita Larralde de Luna: she said juvenile hyaline fibromatosis, and differentiated it from systemic hyalinosis, which is fatal.
Mom tells me that when she found out, she was crying down the colorful hospital ramps; dad didn't speak. Meanwhile, my body was changing. I started to have gingival hypertrophy, for example: the meat grows more in the gums, the chin swells. Subcutaneous nodules appeared.
Now, on my knees and legs, I have internal nodules, which crush my joints. The outsiders don't bother that much, but they're ugly, squishy, ​​fluffy. They generate folds — hideous, sweaty places — in which, if not cleaned, a white pasticcio becomes. Inside the nodules there are veins, arteries, a little bit of life. Although they operated on me several times, they came out again. That is why I cannot stretch my legs or walk.
The disease does not move through the vital organs or the blood, it does not affect the nervous or hormonal systems. The brain works. Although the body lives to not function. There are only sixty-five cases in the world, two in Argentina: Mayra Ordóñez and myself. I saw her once. Mom tells me that she wrote with a boy from France and a woman from Spain, who had the same thing. I never knew. Have they grown?
I am twenty years old and my body is the size of a six year old boy.
The disease has no cure. Nor does it improve.
I sleep hugging nurses and a respirator, because I have sleep apnea. A mask fits into a long, thin hose, which connects to a device that blows me air under pressure. For a few seconds while I sleep, I stop breathing. Due to the nodules and reduced mobility, my chest is small and does not expand. The respirator – bipap is the technical name – helps me. Also, just in case, I have an oxygen tube next to my bed. I never needed it.
I study journalism, but I don't like any subject. And —bonus track— I have an anxiety attack every day. The sky makes me dizzy. Since I travel in the chair, I don't put my feet on the ground. I am not afraid of falling, but I am afraid of fainting or dying a heart attack: if they left me alone, no one would notice. I suffer from dizziness, stitches in my chest, shortness of breath, tingling and sweating all over my body.
However, they say that I am the prototype of tenderness, that I am a genius, a warrior, someone with a very great power of adaptation, that I am an envoy of God, a fallen angel, that I have a million good people around. They say, or believe, that because I'm in a wheelchair I'm a good person, that I can't be a son of a bitch.
I never asked the doctors who saw me anything. They talked to "the daddies."
Nor did I want to talk to Mayra, the other one, the one who is just like me.
"You dodge, you dodge, you dodge," Mom says, running my hair with her painted fingernail. I could not do anything. Look, I insisted: that you swim in a special pool, that you go to a rap workshop, that you see your little friend who was hospitalized outside the hospital, that you dance in the wheelchair with others, that you play soccer with the motorized one. You saw a disabled person and you asked me to cross the sidewalk. That scared you. I wanted you to dance with me.
It is 2018 and I realize that the disease did not exist.
Remember that you can receive notifications from BBC Mundo. Download the new version of our app and activate them so you don't miss out on our best content.

www.bbc.com
Eddie is an Australian news reporter with over 9 years in the industry and has published on Forbes and tech crunch.