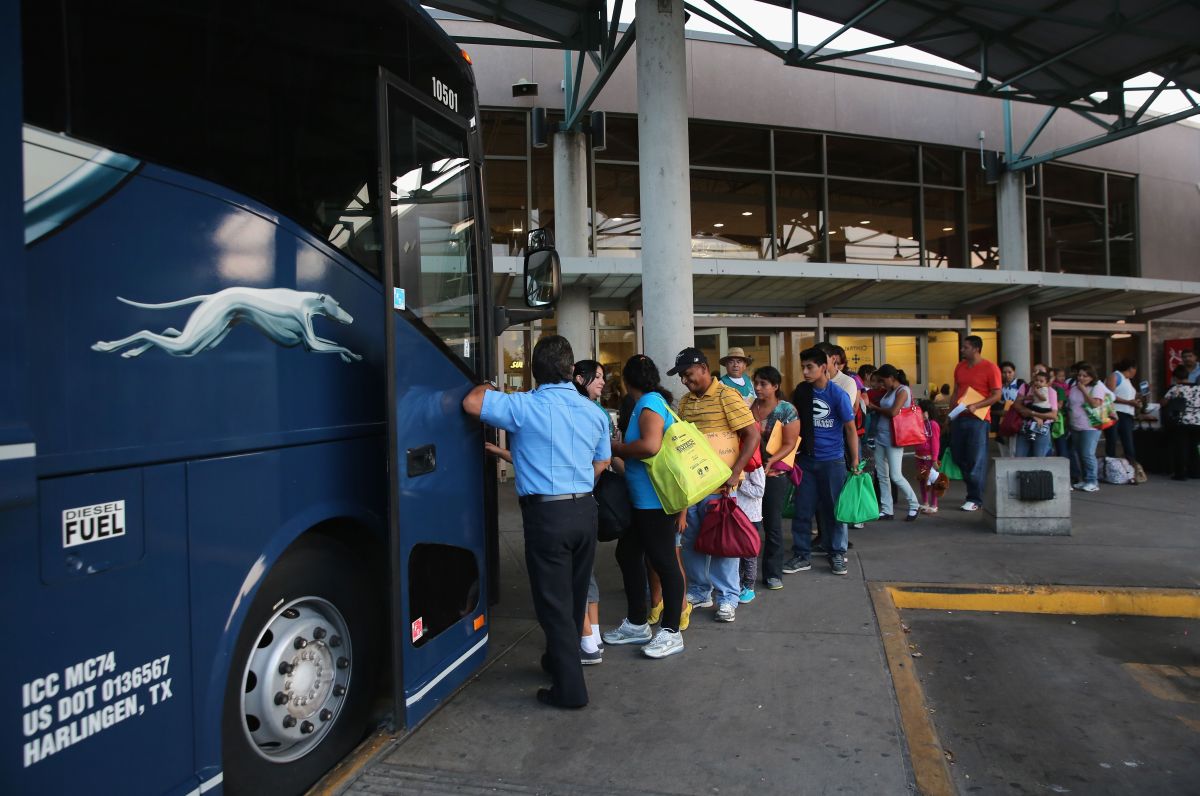 On January 11, 2018, Edgar solano, a Hispanic immigrant residing in California, had to go to a bus stop to return from work after his car broke down.
While standing in line at the terminal Greyhound In the town of Indio, in the Coachella Valley, he was approached by plainclothes federal agents, asked a few questions, and shortly thereafter handcuffed and transferred to an immigrant detention center.
Solano was placed under deportation proceedings and in that bitterness almost three years passed, until this week, when a Los Angeles immigration court concluded that the Customs and Border Protection officers (CBP) who arrested him in 2018 based on "his Latino appearance" and thus proceeded illegally.
The court, which ordered the deportation proceedings against Solano to end, said in its ruling that, before he was detained, the officers "only knew his name, his place of residence and his appearance," but that "they did not they are appropriate factors to establish the requirement of reasonable suspicion ".
The ruling was issued by the Executive Office for the Review of Immigration Cases, the body where the decisions of the immigration courts are appealed, and a body dependent on the Department of Justice.
"A reasonable CBP officer should have known that he or she was violating the Fourth Amendment [de la Constitución, que protege a las personas contra detenciones arbitrarias] by stopping him solely on the basis of his Latino appearance, "reads the ruling, obtained by NBC News.
[Fue "violada" por un guardia de prisión que le dijo que nadie le creería por ser inmigrante. Terminó deportada]
CBP has not commented on the ruling or responded to requests for comment from NBC News on the case.
More than two months in a detention center
On the day of his arrest, Solano, who resides in Los Angeles, was doing repair work in Indio. Because his car was not working, he decided to take the 9:25 pm Greyhound bus back to Los Angeles from Indio. The bus was more than an hour late.
When he finally arrived, Solano was in line to board when two plainclothes men approached him and asked for his name and address.
Solano answered them, but the men, who did not identify themselves, asked him to show identification, according to court documents. He replied that he preferred not to, because if he was late he would miss the last bus of the night to return home.
One of the men ordered him out of line, took him by the arm and led him to an unidentified van, while the other man indicated to the bus that he could leave without him, according to Solano's lawyers.
According to the Civil Liberties Union (ACLU)Only when he was brought to the van with handcuffs on did the men identify themselves as immigration agents. By then, agents had already violated the Fourth Amendment to the Constitution and other regulations, the ACLU said.
A series of court rulings in the past have held that immigration officers cannot detain a person without reasonable suspicion based on facts, and the courts have found a consensus that suspicion cannot be based simply on ethnicity.
When questioned by agents that night in Indio, Solano admitted that he had no documents authorizing his presence in the United States. He was arrested and spent more than two months in a detention center before obtaining a bail hearing, which his family paid for.
[Este menor fue deportado sin poder pedir asilo. Ahora un juez pone en duda expulsiones así durante la pandemia]
ACLU attorney Eva Bitrán, who represented him along with the Lucas & Barba LLP law firm, said this Friday: "As the Court correctly concluded, Mr. Solano's arrest based on racial profiling was an outrageous violation of his constitutional rights ".
"We know, however, that such arrests are common practice. We hope today's decision serves as a warning to federal immigration officials that their illegal practices will not prevail, "he continued.
The ACLU told Noticias Telemundo that Solano has decided not to comment to the media about his process.

eldiariony.com
Digsmak is a news publisher with over 12 years of reporting experiance; and have published in many industry leading publications and news sites.