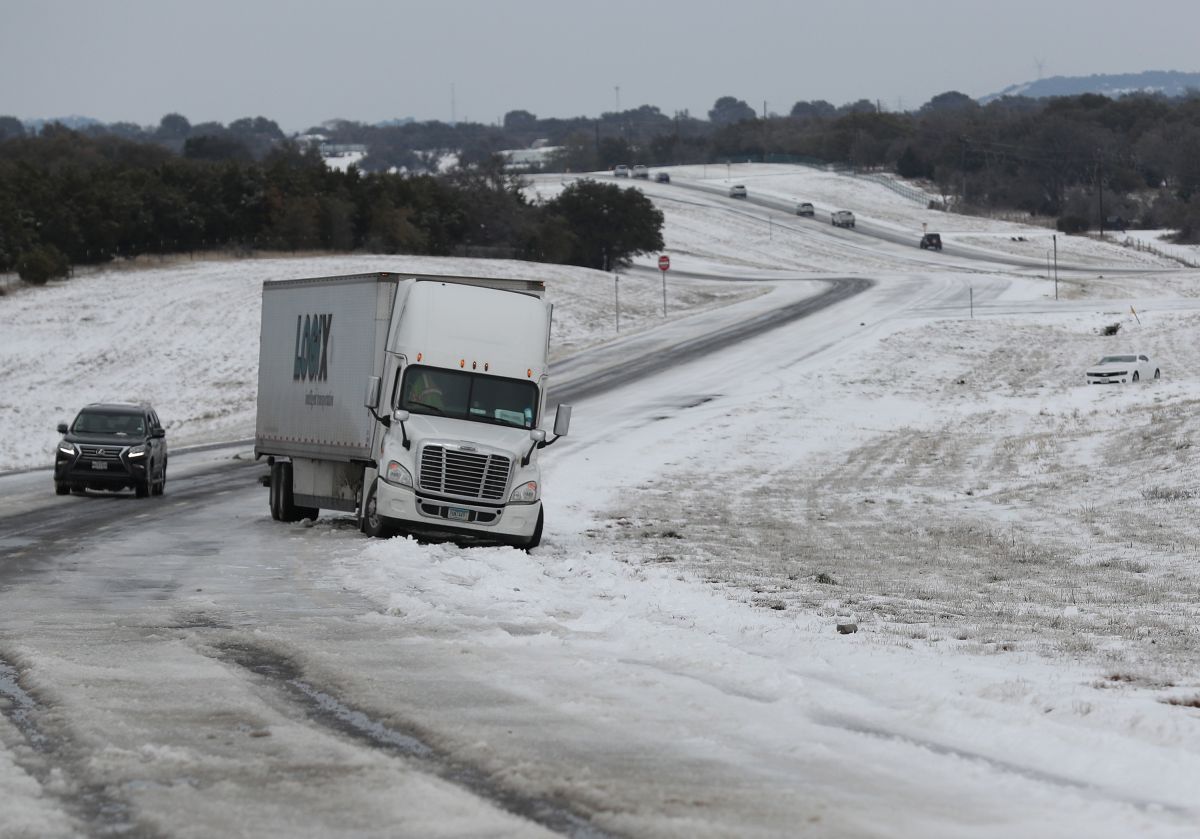 A trailer truck stalled in the snow in Killeen, Texas
Foto:
Joe Raedle / Getty Images
They were "more than five hours" locked in the trailer of a refrigerator truck traveling through Texas, crowded together with more than 150 other immigrants. When someone broke the lock and opened the doors so they could breathe, they had almost given up hope of surviving.
Javier Salazar, Bexar County Sheriff (which includes San Antonio)explained Thursday night that his department had received a few hours earlier an alert that a trailer was loaded with people in conditions almost impossible to bear, near that Texas town.
When the agents approached, they found him parked at a gas station, with people leaving there and several fleeing towards the forests of the area. amid prohibitive weather conditions due to the cold wave that has hit the state this week. At least fifty people were arrested, according to authorities, who, however, lost track of another 100 or more.
A crude tale
"Another ten more minutes and we don't count it.": This is how one of the two migrants who were aboard that truck, contacted exclusively by Noticias Telemundo to learn about their odyssey, lived. They both asked not to reveal their identity and their location for fear that something would happen to them.
The two immigrants say that each of their travel companions paid between 6,000 and 8,000 dollars to enter the United States. Those who crossed them made them cross the frozen waters of the river in Laredo, and then loaded them into the truck.
"I think we were close to 200, 250 people inside the trailer," says one of the two. His partner explains that in these situations there is no time to think much. "The desire of one is to arrive ", he assures," you get on and now ".
The trip to San Antonio had to take about two and a half hours, and at first everything seemed to be going well, they say. But after more than twice that time, they were still locked up there, they add.
"We started to run out of oxygen"
"We started to run out of oxygen, and many people began to despair," says one. "Many people were already almost fainting, I had to pick up several"he says too.
["Queremos una reforma robusta para los indocumentados", dice el senador Bob Menéndez]
That was when the situation became untenable. Several began to beat the truck, and even tore part of the insulation to get more air. "I spoke to my son and sent him the location of where we were, and I told him that maybe he would no longer be able to get out of there"says one of the two interviewees.
The Bexar County Sheriff said his men received a call for help from someone who was likely inside the truck itself. According to the version of the two immigrants interviewed, it was the driver of another trailer that was with the first one who opened the doors of the trailer for them to get out. And that's when the sheriff's deputies came to the scene, attending the mass escape scene that now worries the authorities due to the uncertainty about their conditions, they said.
"Most of the people we think are here in the bush," he said Thursday night at a news conference. "Many of them just have a t-shirt and jeans"added. This week, snow fell in several areas of Texas and very unusual low temperatures were recorded throughout the state, a situation that left millions of people in extremely difficult situations, for example without power for days.
One of the two immigrants who agreed to speak to Noticias Telemundo says he's fine now. "Thank God we are alive," says one of the two.
[Comienzan a regresar los solicitantes de asilo varados en México]
Salazar assured that the intention of his department is not to "deport" immigrants who fled. "For us these people are victims, and we are going to treat them as victims," ​​he said.
The sheriff voiced the same concept last week after his office learned of a case similar to this, with at least 80 people allegedly locked in a truck. Investigators found that trailer near the Mexican border four days later; However, of the migrants who asked for help from within there was no trace and they remain unaccounted for.
With information from the journalist Vladimir Flores.

eldiariony.com
Eddie is an Australian news reporter with over 9 years in the industry and has published on Forbes and tech crunch.