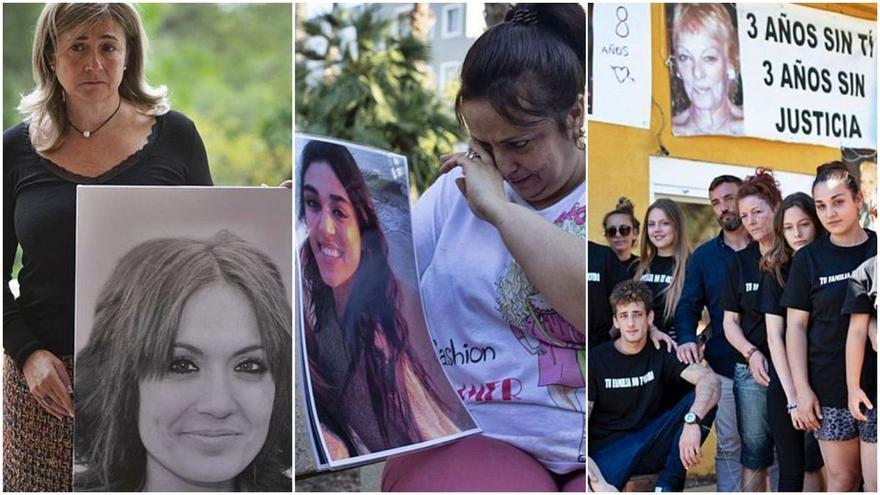 Mario Benedetti said that "After all, death is just a symptom that there was life." Beyond the simple biological truth, there is another indisputable fact: the way that death comes, and who it takes with it, will brand those who remain. Grief, that necessary process of personal reconstruction after the loss of a loved one, may never be completed and families will be left stranded in one or more of the phases in which this transition to the new reality without the absent. They are the impossible duels.
"Undoubtedly, the most traumatic griefs are associated with the loss of a loved one, because with it, we lose a part of ourselves that pushes us to a task of personal reconstruction aimed at learning to live without the one who is no longer by our side. There are four ways in which a person can die: natural, accidental, suicide or homicide; each of these forms will give rise to a more or less complex type of grief in the survivors ", explains the doctor in Psychology, clinical psychologist and emergencist Mariano Navarro.
And it is precisely the last two that inflict the most damage on families. And the ones who trip the most when it comes to overcoming and accepting those deaths. In suicide cases, "due to the existence of a feeling of shame and guilt, mostly irrational, that engulfs you and tortures you recriminating you for not having realized the situation of your loved one and not having been able to help him in his suffering, "explains Navarro.
"In the second, the murder, because the person responsible for the death is a third party, someone who has decided to take the life of your child, your mother, your partner, ending their existence and destroying the lives of all those who they surrounded him, "he explains. In this case, there is an advantage, if any positive term can be used when analyzing a blow like this: the frustration and anger that are produced in every duel are focused on the cause of that excruciating pain.
But, when the criminal's egoism, transmuted into evil, leads him to not even reveal what he did with the body, where it is, completely block the duel, curtailing one of the most primitive and primitive instincts and rights of the human being: that of burying the loved one.
Living deaths
The murderers who keep silent and perpetuate the disappearance of their victims, such as Marta Calvo (2019), Wafaa Sebbah (2019) or María Luisa Reig (2011), always kill twice: the victim herself and their families. "In those cases, the suffering of families can become chronic, determining the rest of their lives and avoiding the elaboration, and even the beginning, of a normalized duel ", emphasizes the clinical psychologist.
You know well what you are talking about. It is the psychological support of Marisol Burón Flores, Marta Calvo's mother. Your case doesn't need much introduction. One day, she wrote to him from her mobile that she was going home with a man and sent him a location. It was the early morning of November 7, 2019. He never saw her again.
First, she had to deal with those who did not believe that it was a disturbing disappearance, then she had to face a desperate search and after three weeks, she learned that Marta was dead – through a means of communication that woke her up without any regard – and that the man who had denied him to his face that he knew his daughter was responsible for her murder. And of his dismemberment, he said. Then the lies followed. He endured eight months of agonizing search for his daughter's body in a landfill he had never reached. Without results. Anger and helplessness continue to devour her.
"Duel? I haven't even started it. I can't …". Live on a constant roller coaster. Despite the rational evidence of his death, his mind continues to fantasize that he will return. "As long as reality does not force me, as long as I do not have her body, I keep clinging to cases like that of the Olot pharmacist. She was kidnapped for two years. Why is it not possible that it also happens to Marta? I'm going to put it off until they give her back to me dead. "As soon as she's up, like she's sunk to the bottom of a well.
"They took it from me overnight, without even being able to say goodbye and on top of that, that psychopath killer of women knows where he is and does not say it because the law protects him"Rage is devouring her from within. It is the third of the five phases and she cannot advance.
Anger and frustration have reigned for ten long years in the hearts and minds of the sisters and children of María Luisa Reig. Since the early morning of June 1, 2011. The only defendants, María Luisa's eldest son, Pedro MR, born from the rape suffered by his mother when she was just a 14-year-old girl, and an abusive ex-boyfriend, Antonio GV, alias Scarface, investigated eight years earlier for trying to beat her to death, only spent three months in prison. The judge and the prosecutor said that the evidence "had weakened" and they were released without bail. Four months later, the judge closed the case. And so it goes a decade later.
"Is it free to kill in Spain? What kind of Justice do we have? They are still alive, with their lives, without anyone pointing them out, and Mari has been dead for ten years. It is impotence, courage, anger, frustration … ", empties his sister Carmen Reig.
Like Marisol, "at first, knowing that the few remains they found told us she was dead, I thought I saw her on the street. One day, on the Albufereta beach, I couldn't stop looking at a woman sunbathing near us. It was her! " You know it was a fantasy, the one you cling to until your knuckles are bloodless because it is a resource that allows you to "not having a body to bury, a place to go to bring her flowers and mourn her."
Until a year ago, they had the house where she was murdered. There they gathered to mourn her. Every year without a single fault, from Alicante to Albalat dels Tarongers. "Now not even that. Last year, the pandemic, and this … The bank has taken it. No more".
In his case, the duel has not been possible either. "I remember her every day of my life. And his other children, the same. I think about her and where her body will be. I dream that one day your son will have the humanity to say so. Without a place to mourn her or see her murderers condemned, we cannot close the wound. "Her voice cracks. Time muffles but little else.
"Her things are there, waiting for her"
The testimonies are repeated like drops of water. "I wake up every morning with Marta on my head and that's how I go to bed. Her clothes are stored, her things, intact. Waiting for her …". Now it is Marisol who speaks, but it could be Carmen or Soraya Taibi, the mother of Wafaa Sebbah, the youngest of the three. Only 19 years old.
Wafaa disappeared without a trace on November 17, 2019. Ten days later and nine kilometers from where Marta was murdered. The young woman, who lived with her mother and her two younger brothers in Pobla Llarga, had been living in Carcaixent for a couple of months, in the home of a guy who has been investigated and ruled out by the Civil Guard as a suspect in her disappearance. This week will be 18 months. And there is not a single hopeful breakthrough in the investigation. Not for the better, not for the worse.
"I think about her every day, every moment … Sometimes I think how her hair will be now, if she has gained weight, because she was very thin, if she is eating well …". Again the fantasy that tries to displace reality. Soraya clings to hope. "I hope she comes back soon. I keep dreaming that she is alive". So much so that he can barely pronounce the word "dead." In fact, today is the first time you have used it in the many conversations you have with me. And it does so by turning off the voice. "This feeling is horrible. That it does not happen to anyone else, I only ask that. Knowing nothing is worse than knowing that she is dead."
Even so, Soraya affirms that "she continues to trust the Civil Guard. The head of the UCO promised me that he would return it to me. And the judge in person summoned me to tell me to trust, that they are working and that he guaranteed me that they would not stop looking for her. "
"Sometimes I can't even breathe, I try, but I can't …". She has two other children who keep her on her feet. The youngest turned 14 in May and the oldest is 18. It's only been a few months since they started to float. They stopped studying. They got angry with the world and with their mother, because she only had eyes, ears and thoughts for Wafaa's absence. "I'm not well, but I have returned to work and I don't want to take pills. For them". Gone are the months when he stopped cooking, when the house was upon them, but not the pain that continues to lacerate his insides.
Another voice, but the same message: "There are days that I wouldn't get out of bed. The pain is indescribable, 24 hours a day, seven days a week. But I get up for her; I fix myself for her; I comb my hair for her; I breathe for her … for her, but also for my little son and because I want to go to the end, until this murderer is sentenced to a permanent reviewable prison. For Marta and for all the others he hurt. Now, with the covid, I have taken care of myself in a way that you cannot imagine, because I could not afford to get sick or die. I have to remain standing to do him justice. To her and to all the others. "

www.informacion.es
Eddie is an Australian news reporter with over 9 years in the industry and has published on Forbes and tech crunch.