Last night the first constituent session of the new cabinet of ministers of the German government. The canciller Scholzinformed them that for his part he will continue to hold political consultations with Angela Merkel and he suggested that they do the same with their predecessors. "We will continue exchanging ideas, including on politics," he also explained in public in an interview with German public television ZDF. The objective is to gain efficiency and occupy equally the 16 ministries that have divided the three parties that make up the 'traffic light coalition', enough, as the federal president reminded them in the appointment ceremony, "to take responsibility for our country, in the one inhabited by more than 82 million people ». The figure may seem
reduced, especially compared to governments such as Spain, which has 22 ministries to govern over some 47 million inhabitants and which are divided between only two parties, when in Germany there are three to distribute. Scholz, however, values ​​the team as "ready to make a new start."
Only one minister, the Interior Minister, doubled his portfolio transfer. Horst Seehofer handed over the keys to the modern building in front of Berlin's Hauptbahnhof to the Social Democrat Nancy Faeser and, since Vivienda becomes part of another office, it was also seen with Klara Geywitz. In return, the Ministry of Economy merges with the responsibilities of Climate in the hands of the also vice chancellor and number two of the Government, the green Robert Habeck, which will allow to apply climate policy in a transversal way through economic policy and will allow savings in the budget. "Do it well, do it better," former Economy Minister Peter Altmeier told him.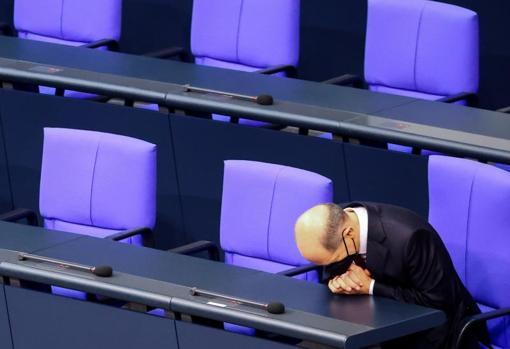 The relationship between the ministers of the three parties, in any case, is potentially conflictive because they even hold opposite positions on various issues. The first conflict arose yesterday, in relation to foreign policy. While the Greens emphasize the responsibility of their electoral candidate, Annalena Baerbock, who already occupies the portfolio, the Social Democrats explain in the corridors that the foreign policy leadership will be led personally by Chancellor Scholz. This is how it was described, without going any further, the leader of the SPD parliamentary group, Rolf Mützenich, which in an interview with Deutschlandfunk stated that this matter will be controlled "especially from the Chancellery." The deputy of the Greens Omid Nouripour later expressly contradicted that assessment: "Discrediting Foreign Affairs from the cook-waiter logic is not normal and does not generate trust, it is better not to cultivate other people's gardens." To avoid conflict, Scholz has placed in the Ministry of Chancery Wolfgan Schmidt, your trusted man, whose main mission will be to cushion the shocks from that position.
Pamper agriculture
Among the new ministers he began to gain profile this Wednesday Cem Ozdemir, in the portfolio of Agriculture and Food, who arrived at Bellevue Palace by bicycle, ready to set an example, and who later proclaimed his intention to become a defender of farmers and empty Germany. "Agriculture shapes our country," he said, "is the guarantee that rural areas continue to live and that people continue to be worth living in." "They are the ones who put the food on our table and we have to help them in the process towards better animal welfare and climate protection," he added.
This Government does not have a Ministry of Public Works, most of which fall under the Ministry of Transportation. "I do not come to turn things upside down, but to continue with the good," said the new holder of the portfolio, Volker Wissing, which he received as a gift from his predecessor, Andreas Scheuer, a helmet and shovel in the colors of the German flag. Wissing adheres to Scholz's slogan of "seize what you get."

www.abc.es
George is Digismak's reported cum editor with 13 years of experience in Journalism