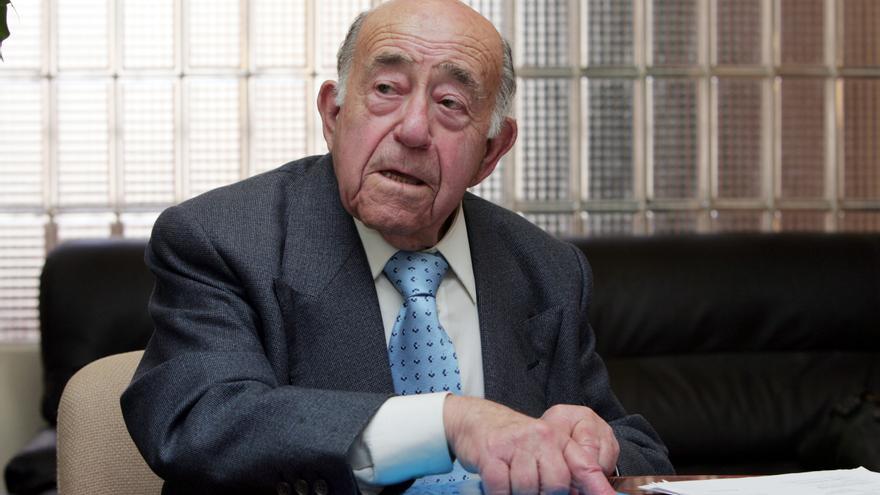 Born in Melilla, he chose the path of the priesthood with special dedication, always focused on helping others. Those of us who have had the great luck of meeting Don Juan, when walking through Alicante with him it was practically impossible not to stop every few steps as many wanted to express their affection in person.
That helping others in Don Juan's case was, however, far beyond the usual. Through academic research and teaching, this Doctor of Theology managed to contribute very actively to promote, for decades, knowledge and dissemination in a myriad of areas, including two interlinked: art and European studies.
Indeed, as a sample button, Don Juan was one of the promoters of the Museum of Contemporary Art in Alicante. He always remembered with enthusiasm and longing his support for Eusebio Sempere so that the project, back in 1977, was a reality. It was for him a culmination of years dedicated to the history of art, with numerous publications including his doctoral thesis in Philosophy and Letters.
On the other hand, in perhaps the most international dimension of Don Juan, many knew him as President of the European Diplomatic Forum, an initiative that emerged in 2000 in collaboration with the Secretary of State for European Affairs, the Diplomatic School and the Alicante City Council. and to which we were lucky to be invited on multiple occasions. In this context, we met this intellectual who knew, like few others, to promote an initiative as intelligent as it is necessary: ​​to speak, during 26 Days, about Europe, about the European Union, at the highest level, but also with the active participation of young diplomats. from all continents.
The Conference began with a special emphasis on the enlargement of the Union, with diplomats from the candidate countries being the first beneficiaries. Shortly after, the meetings would focus on other achievements and challenges of the EU, combining the depth of the presentations with an element that Don Juan cared for like no one else: friendship. Inspired by Jean Monnet, whom he always quoted, he was convinced that friendship was the essential nucleus for building the Europe of the 21st century.
We attest that his name is still very present in the Community Institutions, on the shores of the Mediterranean, as well as in other latitudes. He had important national and international recognitions, and inspired numerous diplomats. His determination and optimism were part of his unique character. Despite the most complex challenge, he never stopped giving encouragement to whoever needed it.
Our recently deceased father and grandfather, Ricardo Díez Hochleitner, along with his beloved wife Ascensión, formed a deep friendship with him that quickly included the entire family. Both shared a passion for education and an eagerness to find solutions to global challenges. They also shared the conviction of the human capacity to overcome the latter.
An extraordinary man has left us. Today we want to send an emotional memory with our deepest condolences to Don Juan's family loaded with the affection and admiration of those who, as Carrera's diplomatic father and son, were lucky enough to meet him and work with him. His friendship will always remain and his example will guide us. Rest in peace.

www.informacion.es
Eddie is an Australian news reporter with over 9 years in the industry and has published on Forbes and tech crunch.