Note to readers: EL PAÍS offers the Future Planet section for its daily and global information contribution on the 2030 Agenda. If you want to support our journalism, subscribe here.
For Liz Chicaje Churay (Boras de Pucaurquillo, Peru, 1982) each award she wins carries the memory of her ancestors. They died in the dense jungle of the extreme northeast of Peru, during the rubber rush a century ago. "It is a sacred place for us because our grandparents fled here, they were tortured and did not reach their goal," recalls the Bora leader who this month has been awarded the Goldman Environmental Prize for defending this tropical strip of almost one million hectares near the Colombian border.
The sacredness of this place has kept Chicaje, for 20 years, at the forefront of his defense against illegal mining and logging. "We grew up listening to the stories of how we had to take care of our forest," says the activist, who since she was a teenager accompanied her father to meet with other indigenous leaders. "He always said that we should not let anyone take our territory from us, that we never faint in our fight. That marked me since I could remember ".
For more than two decades, the Boras, Yaguas, Ocainas and other indigenous peoples who live very close to the limits of this area, fought for it to be protected with the creation of the Yaguas National Park. After four years at the head of the Federation of Indigenous Communities of the Ampiyacu River, in 2018 Chicaje succeeded. That hard work led her to become the second defender of the Peruvian Amazon to be awarded the Goldman Prize, or 'Green Nobel', which is added to the human rights award that France and Germany gave her in 2019.
"Sometimes people think that without doing anything I won these awards, but it is not like that," he laments in a phone call. "I had to leave my family for a whole year to go to the communities or to the city to meet with politicians," he remarks. In fact, when he assumed the presidency of this federation, he was waiting for Cielo, the youngest of his five children. "At nine days after my baby was born, I made her travel everywhere."
Although in that busy race he convinced 23 of the 29 surrounding communities to create the national park and obtained the support of seven indigenous organizations, he also ran into opposition from some leaders. "It was a bucket of cold water, because in the end they had personal interests and selfishness won out over them. Some had even joined forces with the gentlemen who work in mining and illegal coca. They wanted to enter my communities and I had threats so that I would not continue to get involved in the issue ".
Those who defend the Amazon like Chicaje are subjected to this type of intimidation to stop their fight. So far since the pandemic in Peru, at least eight environmental defenders have been killed, the majority being indigenous. When speaking of the threats she received, the Bora activist evokes the courage of Benjamín Rodríguez, an Ocaina leader with whom she was nominated for the same award, but died in July of last year from covid-19. "He was a very important person for me because when they threatened us, he said: 'Whatever it is, I'm going to die being a leader, I'm going to rest defending the rights of our peoples and their territories," he recalls. "I will always keep his strength and conviction in my mind, because that inspired me to be stronger."
But to defend this territory with that same conviction, you first have to understand it. "Many times we ourselves do not know at what level its destruction affects us," Chicaje emphasizes. "We cannot go back 10 or 15 years when these forests were being deforested, because we need their nature to have pure air, clean water and not contaminate ourselves."
Yaguas National Park is the most diverse place in freshwater fish in Peru, hosting almost two-thirds of the species that exist in the country. It also houses more than 3,000 species of plants, 500 of birds and 160 of mammals.
Although the Yaguas National Park is not inhabited by communities, it offers irreplaceable benefits for those closest to it. According an inventory of the Chicago Field MuseumThis is the most diverse place in freshwater fish in Peru, housing almost two thirds of the species that exist in the country that ensure the feeding of the populations. It is also the habitat of more than 3,000 species of plants, 500 of birds and 160 of mammals, including some that are in danger of extinction such as the giant otter. As if that were not enough, peatlands abound, a particular type of wetlands, which place it among the 10 forest reserves that store the most carbon in the country.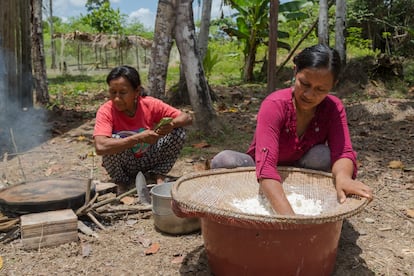 However, the immense value of this natural bastion was ignored by those who made the decisions from Lima. "When we went to the capital to speak with the congressmen, you saw that they were definitely unaware. We had to walk with our maps to tell them: look here we are and here we do not have a state presence. What happens?".
To put an end to this ignorance, scientists and NGOs left evidence of what was at stake in this area, in particular, in economic terms. According to calculations by the Strategic Conservation FoundationFor example, the illegal mining and logging that operated there was going to affect 157,067 hectares in the next 20 years. On the contrary, the National Park would bring benefits that would exceed 20 million soles (4.2 million euros) in the same period. It would also prevent around 1.5 million tons of carbon from being lost in the next two decades, equivalent to 8.3 million soles (1.7 million euros).
The fruits of this bet are already being seen. Three years after its creation, the Yaguas National Park preserves 100% of its tropical forests intact, according to the Peruvian government. A few months ago, Chicaje was able to fly over it in a small plane. "It made my heart very happy. I used to talk about this place because of the stories of my ancestors, but when I did this flyby I realized that it is such a beautiful space, with so many habitats that today are increasing. I am proud and happy because the effort we made was not in vain. Defending our forests is for life ".
Although she now runs a women's cooperative that produces and processes cassava and no longer chairs the federation, Chicaje remains steadfast in defending indigenous rights and advocating for greater understanding among her communities. "My fight is so that there is no more separation between indigenous comrades. So that we understand why it is important to take care of this forest together ".
You can follow PLANETA FUTURO in Twitter, Facebook e Instagram, and subscribe here a nuestra 'newsletter'.



elpais.com
Eddie is an Australian news reporter with over 9 years in the industry and has published on Forbes and tech crunch.