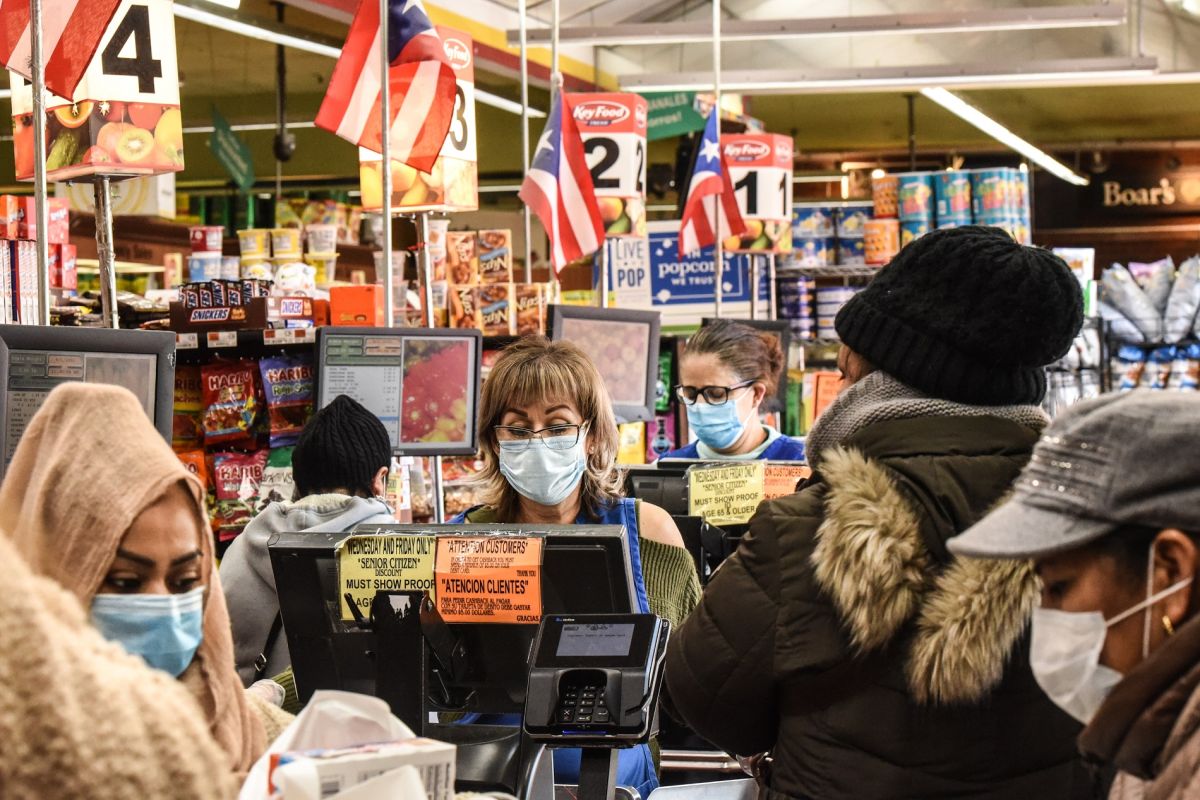 Foto:
Stephanie Keith / Getty Images
In his recent open question session of citizens, the president Joe Biden said that vaccinated people would not have to wear a mask, but his experts at the White House are concerned about the rejection of millions to be immunized against COVID-19 and the power of the Delta variant.
Because of this, the Centers for Disease Control and Prevention (CDC) could order facial protection indoors again, because vaccinated and unvaccinated people are mixed in those spaces. This action would be more protective of those who refuse to accept immunization, because the contagion of coronavirus with the new variant is much more aggressive in people without some antiviral protection.
Amid new coronavirus cases even among Capitol and White House employees, according to The Washignton Post, senior officials discuss the next steps to take on facial protection.
"The high-level discussions reflect the growing concerns across the administration about the threat from the Delta variant.", indicates the report. "An idea criticized by some officials would be to ask all Americans to wear masks when vaccinated and unvaccinated people mix in public places or indoors, like in shopping malls or movie theaters."
In his town hall in Cincinnati, Ohio, for CNN, President Joe Biden said that people who are vaccinated should not wear masks, but those who choose not to get vaccinated should.
"Those older than 12 years who can be vaccinated, if they are vaccinated, they should not wear a mask," he indicated. "If you are not vaccinated you should wear a mask. So it's going to get a little tight in terms of, well, whether mom or dad are honest that, you know, Johnny got vaccinated or not. That will raise questions".
President Biden defended his vaccination plan, since it has been the way in which the pandemic has been stopped "in its tracks" in much of the country, but asked those who resist immunization to come for their dose.
"We have lost more people in the United States, more than six hundred and thirty thousand people, than in all the major wars we have fought," he said. "What I tell people who are worried about a new pandemic is to get vaccinated. If you are vaccinated, even if you 'catch the virus', in quotes and without quotes … You will not be in a position where your life is in danger. So it's really something basic. "
Children protected
The president pointed out that it is possible that the children, not being all vaccinated, would have to wear masks.
"The CDC is going to say that what we should do is… those under 12 should probably wear a mask to school. That's probably what is going to happen ", he expressed.
He defended the vaccination plan imposed on teachers.
"I understand your concern, really. My children are adults now, but my grandchildren, and I have one who is only one and a half years old. So, you know, I understand it, "said the president. "The criticism I initially received when I said that teachers should get vaccinated, line up first. The vast majority of teachers are vaccinated ".
The Delta threat
The debate about the future of the COVID-19 pandemic in the US intensifies as cases increase, since in the last two days there was an increase of more than 10,000 new cases, since on Tuesday 46,000 were reported and a day next 56,000.
Deaths have also nearly doubled, from 271 to 416 in the same period, according to reports from the CDC and Johns Hopkins University.
Arkansas, Missouri, Texas, Nevada, Oklahoma, Colorado, Florida, Louisiana, Alabama and Mississippi are the entities that report counties with the highest increase in new cases of COVID-19, especially of the Delta variant with more than 50%.

eldiariony.com
Eddie is an Australian news reporter with over 9 years in the industry and has published on Forbes and tech crunch.