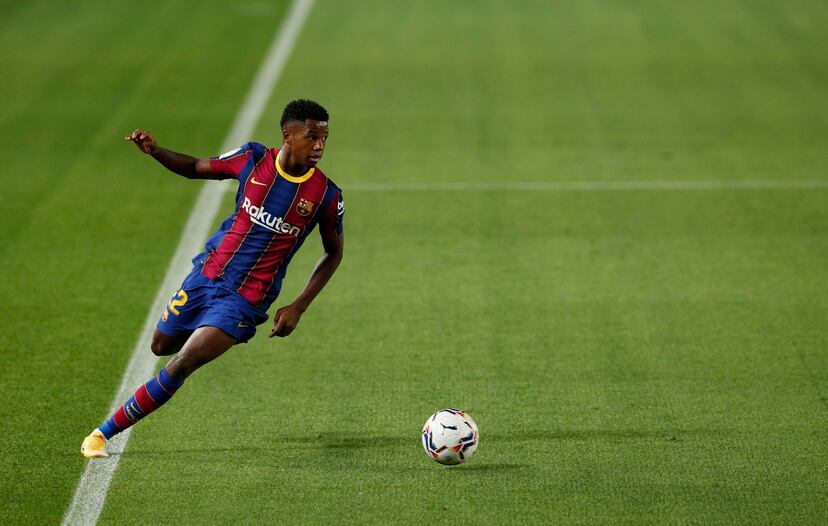 "Don't worry, I'm going to recover well," Ansu Fati warned those close to him. The words of the 18-year-old Barcelona forward surprised the French doctor Bertrand Sonnery-Cottet, an orthopedic surgeon, who solved the knee problems of Karin Benzema and Nabil Fekir, and a disciple of Professor Gerard Saillant, to whom Ronaldo had entrusted his battered knees. Still without a clear roadmap in the recovery of the meniscus tear in the left knee, suffered last November, Ansu Fati and his father, Bori, advised by the Barcelona medical service, traveled two weeks ago to Lyon in search of a second opinion. "He has no pain, but his knee swells. And it is not known why ", they count in the environment of the footballer. "This is Barça, the best club in the world, how can a solution not be found?" Asked Bori. Then Ansu's astonishing serenity appeared. "I'm going to get well and I'm going to play again. Do not hurry up".
Sonnery-Cottet was puzzled. The French doctor, who operated on more than 100 athletes, including rugby player Sébastien Chabal and basketball player Kévin Séraphin, had never seen anyone with that level of maturity. "And he's 18 years old!" He exclaimed. Ansu Fati knows that in his boots is not only his future but also that of his family. However, the azulgrana does not lose confidence. "He knows that it is an injury that is not going to frustrate his career. The recovery is slower than normal, but you have to be calm ", emphasize people close to the footballer. After returning from France, Ansu Fati began, last Friday, a demanding job to see how the knee responds. "If in 15 days it does not improve, we will see what solution to take," add the same sources.
On November 7, in Barcelona's win against Betis (5-2), Ansu Fati injured the internal meniscus of his left knee. Two days later, Dr. Ramon Cugat, a knee specialist, performed an arthroscopy. And in January he underwent a regenerative biological treatment, also by Cugat, under the supervision of the Barcelona medical services.
"His career is not in danger"
The initial idea was for Ansu Fati to reappear in the first team in April. It will not be like that. "It is not necessary to look for guilty, neither in the doctors nor in the recuperators", emphasize the relatives of the Barcelona forward. "The operation went well. His career is not in jeopardy. It is a matter of seeing how your injury evolves. These problems do not evolve in the same way in all athletes ", assure other medical sources. "The problem is not the age of the footballer. But yes, in young players you have to try to save the meniscus. But if he does not improve, one possibility may be to operate on him ", explains Dr. Jordi Ardévol, who worked for Barcelona for 15 years.
The idea of ​​the Barça player is to dribble into the operating room. You understand that you have to do what you can to preserve the meniscus so as not to shorten its stroke. Ansu Fati became the second youngest footballer in history to make his debut for Barcelona, ​​when last season he replaced Carles Pérez in the match against Betis. In the Barça first team he has played a total of 43 games, with 13 goals and five assists. In September 2020, he made his debut with the Spanish team against Germany. In the next match, against Ukraine, he was dispatched with a goal and an assist. This season, with Ronald Koeman on the bench, he had earned a place in the starting eleven until his knee cracked last November. He has been out for more than four months and has missed 33 games.
It is not the first time that Ansu has to resort to calm. In 2015, when he played for Infantil A, in a derby against Espanyol, the Catalans broke his tibia and fibula. He was sick for about 10 months. "At that time, he also took it very calmly. He has a privileged head ", say those who know the Barcelona forward. He still does not have a return date to the Camp Nou. The wait, however, does not despair Ansu Fati.
You can follow SPORTS in Facebook Y Twitter, or sign up here to receive our weekly newsletter.



elpais.com
Eddie is an Australian news reporter with over 9 years in the industry and has published on Forbes and tech crunch.