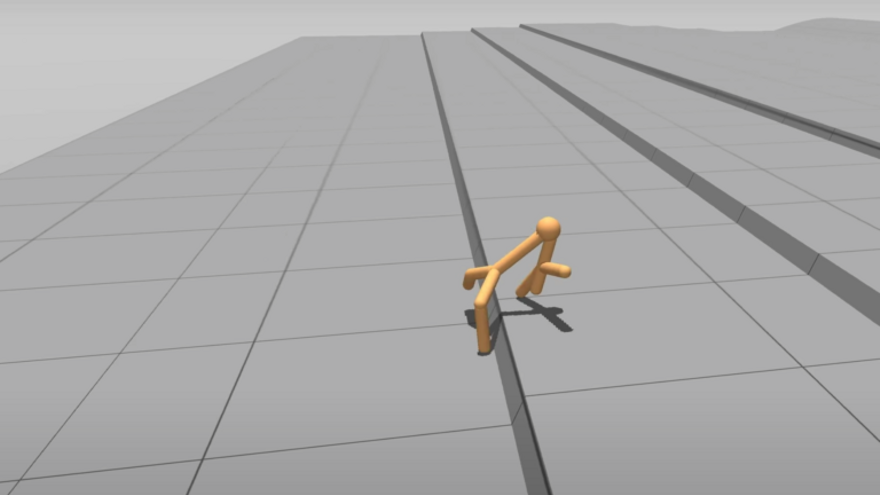 Scientists at Stanford University have developed a simulation of how bodies become intelligent and discovered that intelligence is physically embodied and is not just a brain function.
They verified this by creating virtual artificial intelligences that perform tasks in simulated environments to mimic the biological evolution of the mind and body.
Their findings, published in the journal Nature Communications, suggest that incarnation is key to the evolution of intelligence.
The team introduced virtual artificial animals, which they called unimales (universal animals), into a simulation, initially so that they could learn to walk in a virtual environment specially designed to provoke learning.
Universal animals
Universal animals The virtual creatures developed various walks based on the terrain of their environment, and in subsequent experiments, the unimals competed in even more complex tasks.
Those who had learned to walk on variable terrain, adapting their morphology to the environment, learned these complex tasks faster and performed them better than those unimals adapted to flat terrain.
For researchers, having bodies affects the evolution of intelligence: "what we learn in life can be accelerated simply by changing our morphology," explains Surya Ganguli, one of the researchers, in a release.
"We are so focused on intelligence being a function of the human brain and specifically neurons, that seeing intelligence as something that is physically embodied is a different paradigm," adds Fei-Fei Li, another of the researchers.
Related topic: They create the first Artificial Intelligence solution at the human brain scaleRelated topic: They create the first Artificial Intelligence solution at the human brain scale
Virtual mind and body
Virtual mind and body The researchers explain that, in nature, intelligence always manifests itself embodied in animals that perform tasks for which their bodies are well designed.
That's because the intelligence of each animal species has evolved along with its physical form as it interacts with its environment.
The Artificial intelligenceOn the other hand, it does not have a body: it is developed on microchips integrated into computers. However, it is enhanced when it is part of a body, according to what was discovered in this research.
The researchers note that this discovery 'opens the door to large-scale virtual experiments to gain scientific insights into how learning and evolution cooperatively create sophisticated relationships between environmental complexity, morphological intelligence, learning, and control. of tasks. »
The team's algorithm, called DERL (Deep Evolutionary Reinforcement Learning), could help researchers design robots optimized to perform tasks in real-world environments, the researchers note.
"If we want these (robotic) agents to improve our lives, we need them to interact in the world we live in," explains the study's first author, Agrim Gupta..
The same but different
The same but different The experiment they designed to reach this conclusion is similar in some respects to the simulated environments that have been used in the past to test evolutionary algorithms. Explain about it Techcrunch magazine.
It is about setting up a virtual space and placing simple simulated creatures in that environment, consisting of some virtual geometric shapes that move randomly.
From the thousands of forms these simulated creatures take, the 10 that twist the most are chosen and a thousand variables are made of them, repeating them over and over again.
The most likely result is that in no time a handful of virtual polygons will be obtained by making a fairly acceptable walk on a virtual surface.
However, all of that is old, explain the Stanford researchers, who developed a more robust and variable simulation.
Further away
Further away They were not simply trying to create virtual creatures that walk better and better, but to investigate how these unreal creatures learn to do what they do and if some learn better or faster than others: it is like witnessing in real time how intelligence spontaneously arises in a virtual environment that mimics the real world.
To find out, the team created a simulation similar to the old ones, introducing their virtual creatures into it, initially just for them to learn to walk.
The simple shapes in this experiment had a spherical "head" and some articulated limbs resembling branches, with which they developed a series of interesting walks.
Some staggered forward, others developed an articulate, lizard-like gait, and a different group developed an agitated but effective style reminiscent of an octopus walking on land.
So far, everything happened as it had happened in previous similar experiments.
More complex tasks
More complex tasks However, on this occasion, some of these unimals grew up traveling through different orographic configurations, with rolling hills or low barriers that they had to climb over.
And in the next phase, the unimals from these different terrains competed in more complex tasks to see if, as is generally thought, adversity leads to greater adaptability.
The surprising thing about this experiment is that the top 10 unimals in each environment easily solved tasks that ranged from navigating new obstacles to moving a ball, to pushing a virtual box uphill or patrolling between two points.
Competitive advantage
Competitive advantage This was where these virtual creatures really gained a competitive advantage, the magazine notes: unimals that had learned to walk on variable terrain learned their new tasks faster and performed them better than their cousins, who only walked in environments without relief.
After trying 4,000 different morphologies, the surviving unimals had passed, on average, 10 generations of evolution, and the successful morphologies were surprisingly diverse, including bipedal, other three-legged (which do not occur spontaneously in the biological world) and even quadrupeds with and without arms, the researchers emphasize.
"In essence, we discovered that evolution rapidly selects morphologies (biological structures) that can learn faster, allowing behaviors learned late in life from early ancestors to be expressed early in their descendants' lives. », The authors write in their article.
Virtual selection
Virtual selection It's not just that they learned faster, they add, but also that the virtual evolutionary process selected body types that would allow them to adapt faster and apply lessons more quickly.
On flat terrain, an octopus can move just as quickly, but the hills and ridges introduced into the virtual environment were created by the researchers to give virtual creatures a consistent, fast, stable and adaptable morphological configuration.
This orographic configuration was decisive for some of the unimals to achieve a significant advantage over the other virtual creatures.
Their bodies, versatile thanks to diverse orographic experience, were better able to apply the lessons their "minds" were testing, and they soon left behind other virtual creatures who had not been through that experience, according to the researchers.
Robotic suggestion
Robotic suggestion This means that it is possible to program virtual creatures capable of developing their movement capacity from scratch, without human intervention, only through learning acquired in a properly developed virtual experience.
The experiment shows that there is potentially a real benefit to mind and body evolving together in the universe of creatures and virtual objects, the researchers conclude, assuming that this will be the case in human evolutionary complexity as well.
Reference
Reference Embodied intelligence via learning and evolution. Agrim Gupta et al. Nature Communications volume 12, Article number: 5721 (2021). DOI:https://doi.org/10.1038/s41467-021-25874-z

www.informacion.es
Eddie is an Australian news reporter with over 9 years in the industry and has published on Forbes and tech crunch.