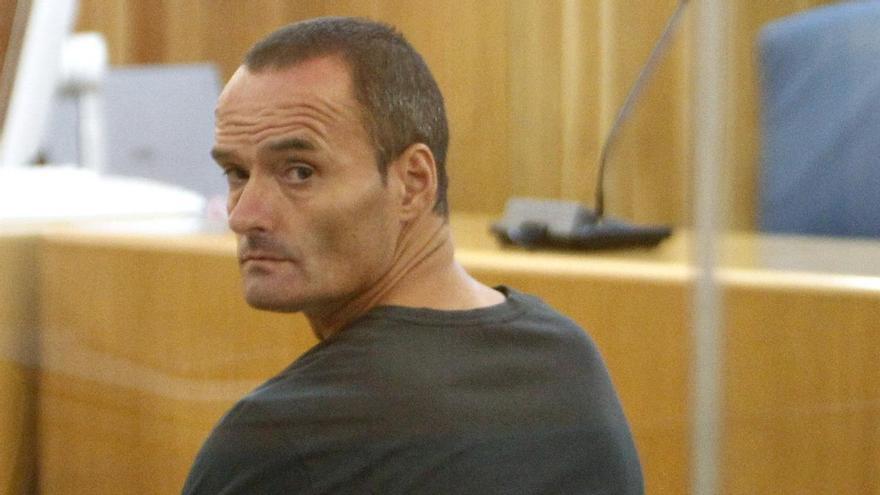 Penitentiary Institutions has agreed to transfer another five inmates from AND to prisons closer to the Basque Country, including the former leaders of the military apparatus in the early 2000s Juan Antonio Olarra Guridi, Jon, and Ainhoa ​​Múgica Goñi, Olga, who will enter the Logroño prison.
Both were arrested in 2002 in France. Olarra Guridi is considered ETA's military chief after the arrest, a year earlier, of Francisco Javier García Gaztelu, Txapote, and both he and his partner, Ainhoa ​​Múgica Goñi, supposedly belonged between 1995 and 1997 to the Madrid command, one of the bloodthirsty of the band, and also to the Donosti and Levante commando.
Along with the transfer of two former leaders of the terrorist gang from Granada prison to Logroño, Prisons has also agreed to the approach by Miguel Santiago Izpura García, Arkaitz Goikoetxea Basabe and Ignacio Crispín Garcés.
Juan Antonio Olarra Guridi and Ainhoa ​​Múgica Goñi were arrested in Talence, near Bordeaux, in September 2002 and after serving their sentences in France, they were handed over to Spain, she in 2007 and he in 2010.
Both meet 30-year sentence for the crimes of homicide, attack, damage, injury, deposit of weapons and explosives And, according to Penitentiary Institutions in the statement that informs this Thursday of the transfers of the two ETA inmates, they accept the penitentiary legality and have submitted a letter in which they reject the use of violence and take responsibility for the damage caused to the victims of their crimes. .
From the Murcia prison to the Zuera prison in Zaragoza it will be approached Miguel Santiago Izpura, in prison since January 18, 2000. He is serving an accumulated sentence of 30 years for the crimes of murder, attack and havoc.
Izpura was one of the ETA members expelled from Mexico in 2000 and was sentenced to almost 50 years in prison for the murder of Civil Guard captain Luis Ollo Ochoa, on May 27, 1984 in Pamplona.
According to Prisons, he served three-quarters of his sentence in April 2019 and accepts prison law.
For its part, Arkaitz Goikoetxea Basabe will leave the Villena prison in Alicante to serve the remainder of his sentence in Logroño.
Responsible for the Vizcaya command, he entered prison on July 27, 2008 and is serving a cumulative 40-year sentence for the crimes of murders, attacks, ravages, robbery with violence, possession of explosives, illegal arrests, damages and documentary falsification.
Among the attacks for which he has been convicted are the explosion of a car bomb against the Civil Guard barracks in Legutiano (Álava) in which an agent died, that of Calahorra (La Rioja) causing eight injuries, two of them Civil Guards, and Durango (Vizcaya).
Prisons indicates that it has submitted a statement of separation in which it regrets the damage caused, assumes its responsibility and expresses its willingness to repair it.
The fifth and last transfer agreed this week and the only one of the ETA prisoners who this time will enter a Basque prison, specifically in Basauri, in Bilbao, is Ignacio Crispín Garcés, who will leave the Zuera prison in Zaragoza.
Crispín Garcés entered prison on March 24, 1998 and is serving a cumulative 26-year sentence for the crimes of attack, deposit of weapons, threats, belonging to an armed gang and illegal possession of weapons..
He served three-quarters of his sentence in September 2017 and accepts prison law, rejects violence and undertakes to face civil liability.
In the 1990s, Crispín Garcés was part of ETA's Araba command to which different actions are attributed between January 1997 and March 1998, the date on which he was disbanded.
The General Secretariat has also decided the change of destination of the preventive inmate Gorka Palacios Alday, who will move from the Murcia II Penitentiary Center to Madrid VII, in Estremera.
The AVT has once again denounced these five new transfers, of which four of the ETA members accumulate thirteen murders, among them, and show their concern about the "important nuclei" of ETA that these massive approaches are causing in some prisons in northern Spain .
In this way – they assure – in prisons such as Logroño there are already 20 ETA members and in that of Zuera (Zaragoza) there are already 12, while they warn that the Government "continues to empty the prisons in the south of the country in which there are only 26 ".

www.informacion.es
Eddie is an Australian news reporter with over 9 years in the industry and has published on Forbes and tech crunch.