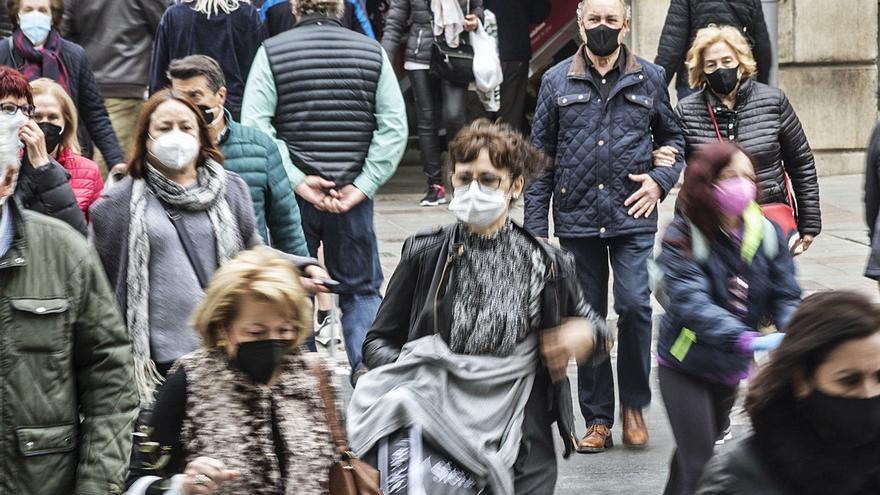 Noelia Hernández, 20, a Labor Relations student at the University of Alicante, continues to observe macho attitudes in society, "people who think that men are better, that they are above women. With the passage of time we have improved in salary and in promotion to hierarchical positions but it is still difficult and reconciling is very difficult. A huge step, they point out, is the extension of paternity leave to 16 weeks, equating it to maternity leave, great news for the noveldense María José del Campo, who had twins Chloe and René four months ago, with a pregnancy marked by covid restrictions although her husband was able to attend the delivery at Elda Hospital. This month you will enjoy parental leave. "We will be able to share parenting better because, except for moments like breastfeeding, they can do the same and sometimes better," he says about caring for children. He claims that they form a team and do the same tasks.
Laila Sebai, 26, a French and Spanish teacher for foreigners, thinks that the pandemic It is a double-edged sword for equality. On the one hand, the stoppage in our lives allows us to rethink attitudes but on the other, it believes that increase in the use of new technologies due to confinement and Restrictions have a "reversal" part because of what is consumed on the internet, especially if it is pornography, because it "devalues" the role of women. She is also critical of reggaeton, "it is what young people learn, that materialization, that submission, that women are below. I see it on a daily basis, in students and nephews, with more macho behaviors than my brothers, who weren't ».
"There are still macho attitudes, unfortunately it is the culture we have always had," says Alba Muñoz, a 23-year-old commercial and psychology student. He appreciates it subtly on a day-to-day basis, even from young girls themselves with "my boyfriend helps me" comments. Elisabet Berenguer, 43, a hairdresser, is surprised by what she hears from some teenage clients, who "say that their boyfriend loves them so much that they prevent them from wearing a short skirt or having social networks. In the times that we are, they have that thought.
At the age of 15, Elizabete Elouirari, a housewife and mother of two children, married. "Still there is a long way to go for equality. There are men stuck in antiquity, who are pasotas at home ». Daughter of a Moroccan mother, the advancement of women in the Maghreb country stands out, where a 19-year-old cousin who is going to study law and a Muslim aunt live "who does not cover herself, dresses as she wants and puts on makeup." Of Spain believes that it should be more egalitarian when it comes to dealing with the problem of gender violence "because it pulls more for women" when there are also cases of abusers, although in general she thinks that "there are men and men, but we do twice as much."
Ricarda Ortega, 91, affirms that "equality has to exist but it does not exist. The man is never satisfied, if you work outside as if you work inside, he does not value what the mother does with the children ». Ricarda said that her husband was a hard worker but he did not know how to fry an egg and "one day I told him to turn off the butane and he removed the whole artichoke." The old woman, who recalled that in her youth "you couldn't even go into a bar to drink a glass of water because if you did, you were a whore", thinks that progress has been made: "now there are even truck drivers. But they charge the same.
Ana Penalva, 24 years old and a Mechanical Engineering student, points out that there are barely five female students in the classes, but she does not attribute it to the fact that there is discrimination that prevents them from accessing according to what training, "but they don't like numbers so much, that's why I do not understand that there is talk of facilitating the access of women to Science ». Maria Do Santos, a 28-year-old resident of Family Medicine, points out that in the health field she notes quite a lot of equality «but at the social level and in other jobs there are things that need to change because it still seems that the woman is a bit the one who takes care of the family, and some have to quit their job "or even suffer the glass ceiling that prevents them from moving up. Mar López, 24, a student of Environmental Sciences in Elche, relates that there are daily gestures "that we think are not sexist, such as the man having to invite the first date, or when a family is in the car, they usually drive the car. father and not mother ». María Rodríguez studied Labor Relations and works as a piano teacher. She states that she has seen selection processes in which candidates are asked more personal questions about their family environment than they are, such as whether they have children or hope to have them. "And it is believed that they cannot perform a job of physical effort", highlights María Rodes, also a graduate in Labor Relations.
Sacri Amoraga is 33 years old and looking for a job after working in the hospitality industry. Although in his field he has not suffered from unequal wages or hours, considers that there is "some discrimination" against women and that "the issue of maternity leave still influences employers." The Uruguayan systems analyst Mariela Linares runs a fish stall and does not feel that discrimination either, but she thinks that at a general level it exists, that there are women trained to reach more hierarchies and salaries. Edna Valencia, from Colombia, a cleaner, sees more inequality in her country than in Spain, but she also sees it in the Spanish wage system. At 66, María Calvo has it clear. «According to them, we will never be like them, and the house is for us. When a widowed man immediately looks for a woman to clean him. He believes that the grandparents who stay with the grandchildren allow many men and women to work and that they have a salary prevents them from enduring situations such as abuse in the past.
Marisol Ayguardé, 78, would have liked to be a teacher, but at age 13 "they made me teach me the craft of sewing." believes that women can do the same job as men and sometimes they are discriminated against because of their gender. "I have three boys and I educated them to help their wives at home. The men of the past helped the fair thing, "he adds. Azucena Llanes, tarot reader, perceives that "the covid has triggered machismo and differences at the level of salary and hours." On the other hand, Mercedes Beviá, a coupon seller, believes that some progress has been made with respect to her youth but sees equality far away, which she illustrated with an example: bald women. "People look at them on the street and men without hair do not attract anyone's attention."

www.informacion.es
Eddie is an Australian news reporter with over 9 years in the industry and has published on Forbes and tech crunch.