Eric Adams, current Brooklyn Borough President, became the winner of last June's primary election for the Democratic nomination for Mayor of New York City, with 404,513, which meant 50.4%, in a very close final contest with Kathryn García. Although the 60-year-old politician appears to be the eventual successor to Bill de Blasio, since the vast majority of voters in the Big Apple are of Democratic affiliation, he must still confirm his victory in the general elections of November 2 against the Republican Curtis Sliwa, and 8 other candidates, such as the socialist Catherine Rojas.
And in order to continue convincing voters, and recognizing that his triumph occurred in large part, thanks to the support of the Latino electorate, Eric Adams sat down to talk to The NY Journal on some concerns that surround the Hispanic community, which represents nearly 30% of New York's population, and that it suffered disproportionately from the onslaught of the COVID pandemic, gun violence, lack of employment, and the neglect of federal and state aid programs at the worst moments of the coronavirus crisis.
About your fight to regain public safety, one of the great demands of New Yorkers, the Democrat gave his word that Hispanics and African Americans will not again be victims of those dark days, which some denounce that are still valid, in which the questionable and abusive police strategy of "Stop and Fresh" (stopping a person briefly to search for weapons or prohibited items), became a tool of discrimination and abuse against minorities.
He also assured that the support received by Hispanics will return, not only promoting small business assistance plans, increasing the brake on 'la migra', keeping New York as a Sanctuary City, improving affordable housing and education options, but having Latinos among senior officials who will speak into your ear in decision-making, and in the City agencies, that finally represent the diversity of the Big Apple.
New York has been abused for years by the police's "Stop and Frisk" practice, and their mention of using that tactic to fight crime has caused concern. What can you say about this?
"First you have to understand that I was a leading voice in the city to stop the abuse of 'Stop and Frisk'. Under the Bloomberg Administration, I testified in Federal Court that the NYPD was abusing Stop and Frisk. The Federal Court judge credited my testimony as a reason to render his verdict against the Police Department. I also used my organization '100 Blacks in Law Enforcement Who Care' to expose how the Police Department was abusing 'Stop and Frisk'. And then when I went to Albany (as a legislator), the police kept keeping innocent people in their database who had been arrested, but who did nothing wrong, and we passed a law, demanding that that database of people be destroyed. innocent people. Also, when the patrolling police officers had a quota of a number of people who had to stop with 'Stop and Frisk', I passed a law in Albany that eradicated that quota system from the Police Department. I want to share this to show that no other candidate understood the 'Stop and Frisk' problem like I do, and how the abuse of 'Stop and Frisk' happens. Now when I say that we are going to have the right way to use it, what I mean is that we are going to 'stop and question'. That is, if a civilian is walking home and sees someone with a gun, if he calls the police, and wants the police to come and stop that person and question them, it can be done. But it does not mean that they are going to arrest people ".
How can you guarantee that under your mandate the NYPD will not commit this type of abuse against the Latino community?
"There are people who may have logical reasons to load a weapon, for a particular action, and when the reason is explained and proven, then there is no reason to stop it. But when someone calls a policeman and he says: 'I cannot go and stop and question that person, that you as a civilian are seeing with a weapon, or committing a crime', that puts the citizens and the police in danger. And since people do not fully understand the constitutional authority to be able to stop and question someone, they believe that the abusive way will be the way it is going to be used all the time. But I want to say that I'm not going to let that happen. My police officers are always going to have to use their body cameras, which means that every time they stop and question someone, the entire incident is going to be on video. So we can use it to identify officers who are breaking the law, and we are going to hold them accountable for their actions, but we will also see the officers who are doing it correctly (stop and question) and are going to have authorization to do so ".

Can you give us your word that as Mayor of New York the NYPD will not turn that tactic into a tool of abuse, as it has?
"Yes, I give my word, absolutely. As Mayor, I will be in charge of the Police Department, and I can say that those officers who abuse 'stop and question' people are going to be removed from the Police Department immediately. "
What are your first steps as Mayor to help the Latino community?
"The first thing I have to say is that I can't finish thanking the Latino community enough, because when you look at the vote count, you see that I clearly received the majority of the votes from the Latino community. They heard my position on crime. They heard my position on managing COVID and on how to end inequities. They listened to me and supported me, and I really am very proud of that. Therefore, I am going to make sure that, number 1, we have (Covid) tests and appropriate vaccines, we support their small businesses, that we give importance to English as a second language programs, give them support in schools and assist members of the Latino community dealing with immigration status issues. This city is going to become a city that is not just a city in English, but a city that supports everyone who lives here. I'm going to support our Hispanic media, because I believe that the Hispanic press is powerful in making sure we share information and that it is appropriately disseminated to Hispanic New Yorkers. We have not done enough and we are going to do it.
Will we see Latino voices in your Administration, such as Councilor Ydanis Rodríguez and others who strongly support him in his campaign? Will there be Latinos in positions of power by your side in decision-making?
"For me it is very important that my Administration reflects the diversity of the city, and with people like Ydanis Rodríguez, whom I truly see as my friend, and partner in the Government, as well as Congressman Adriano Espaillat, the first Dominican in get to Congress, I'm going to make sure I get recommendations from them. Also from other Latinos who are part of my Administration, as well as I will hear recommendations from other organizations and groups, because we want to build a coalition in New York where all ethnic groups are, and specifically with the Latino community ".
How important will undocumented people be in a possible administration of yours?
"For me the immigrant community is very important. When one does an analysis of New Yorkers, one finds that even with respect to other groups that have left the city, the immigrant population is still here, providing us with their vital services. That is why I ask the state government to give relief to these undocumented migrant workers. It is important that we continue to be a true Sanctuary City and strengthen support for undocumented residents. We have to make sure that we do not have ICE (la migra) in any way, coordinating actions with any of our government agencies. We cannot allow immigrants to feel that they have to live in the shadows of the City. We must be a city that gives them access to health services, government services and that they feel comfortable living here. "
What would your first 100 days as Mayor be like?
"I have said it over and over again: our city was built on a foundation and on that foundation we have several pillars, but the foundation is based on one of those pillars which is security. Our city has to be safe. Increasing gun violence in Queens, the Bronx, Brooklyn, and other parts of the city will affect our economic recovery and prevent us from ensuring that we are a safe place for our families. So in my first 100 days I am going to deal with the issue of violence, so that our city is safe. And if we look at other pillars, we know that education is important. We are going to have a completely innovative way of managing education, economic development, motivating development, employment and making it easier to live in the city. We're going to help restaurants, many of them Hispanic, we have to deal with homelessness, really address mental health issues, and we're going to empower affordable housing. We come up with a real plan to facilitate construction and allow people to move into affordable housing. "
This all sounds great, but do you think that in four years people are going to be able to say, 'this guy really did what he said' and it wasn't blah blah blah?
"Yes, of course I do, because we are going to do it in a society. It is imperative that we work together to achieve the goals that we are all seeking. It is a society that we are going to use to achieve this. The communities will also identify their problems and the issues that are important to them and we will work on that ".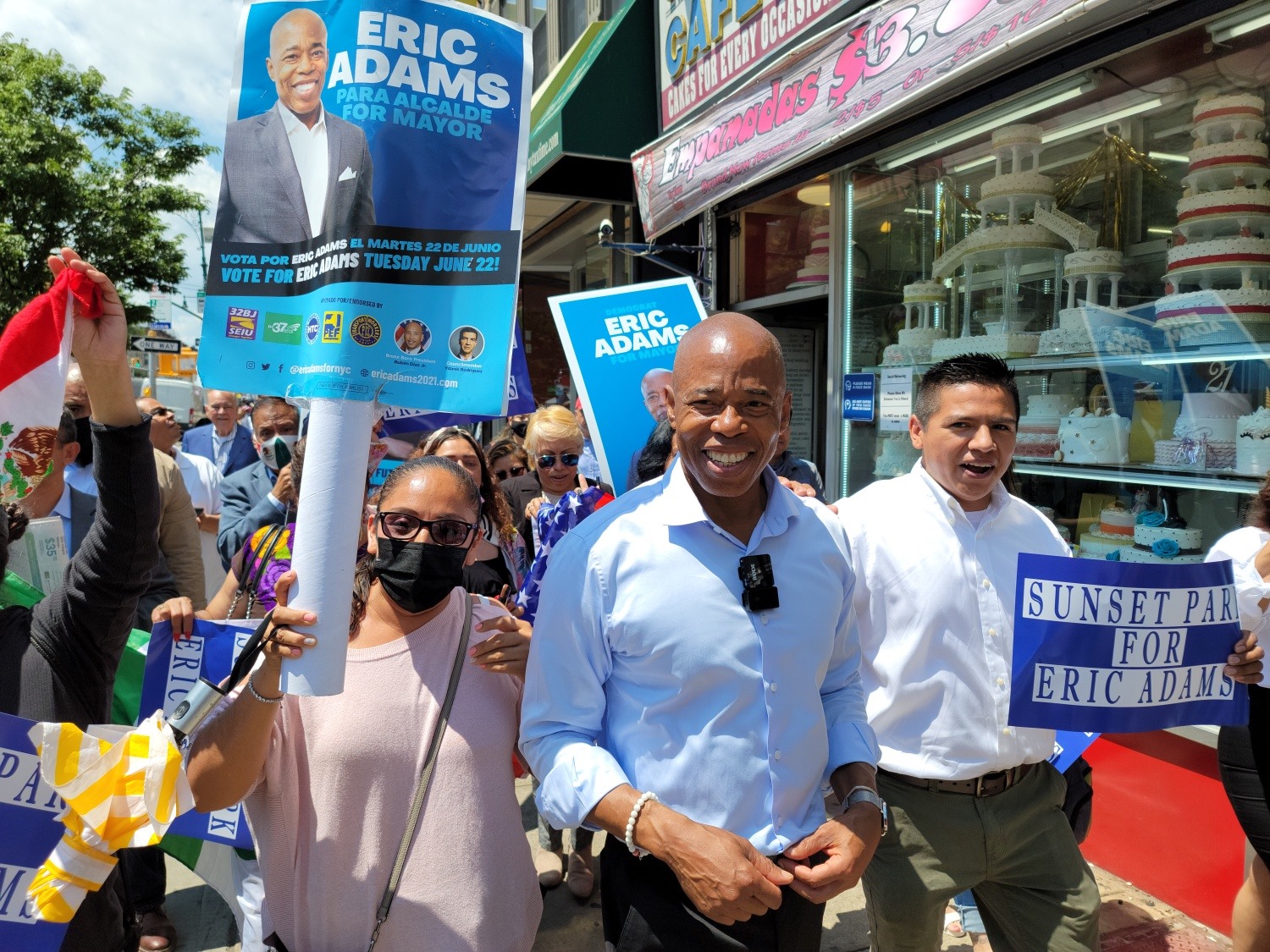 eldiariony.com
Eddie is an Australian news reporter with over 9 years in the industry and has published on Forbes and tech crunch.