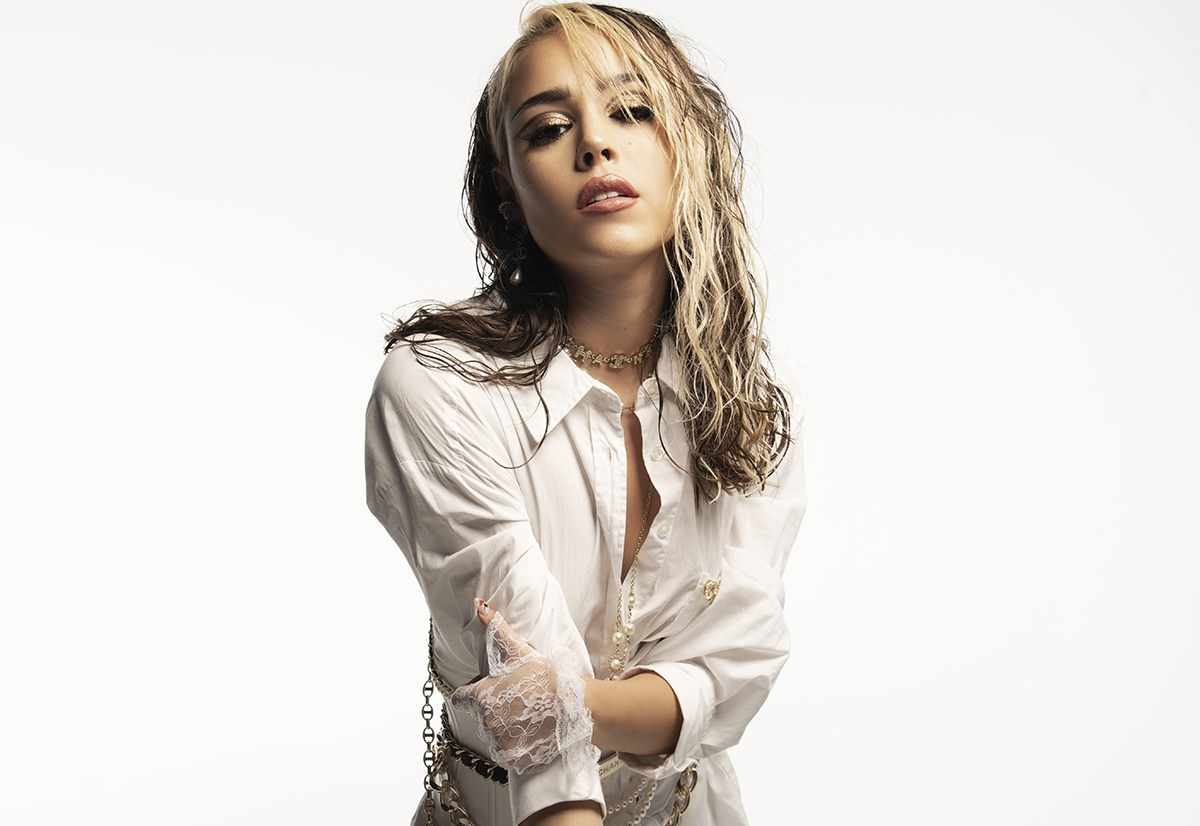 Bad choices, toxic relationships brought her down, but music pulled her out of the well and made her the strong and confident woman she is today. Yes, after 2 years of musical suspense and internal suffering, Danna Paola go back to music, with 'K.O.', where the singer and actress shows her vulnerability to do catharsis and confess to the world that she was wrong in love and a lot.
Although she is a person who has always preferred to keep her private life in that: private, experiences have led her to turn her truth, dumped on this album, into a success. Today, 'K.O' is in the TOP 10 of the sales charts of all platforms, of popularity and most listened to songs, something that makes Danna happy.
"It was two years of perfecting it, composing, experiences … It has been a gigantic journey and a very big catharsis for me, it makes me feel super proud"The singer tells us in an exclusive interview that we did via Zoom.
-How did you decide to do something so personal, where you share your vulnerability with the world… Here you completely undress from the most intimate?
"The first time I wrote a song it was due to a broken heart, for me it was very important to show, and I put each of my experiences into songs, not exactly out of heartbreak, and but it was important to dedicate a whole album to it, it was my return to music and I wanted to be 100% involved in everything. The decision was to want to share my feelings with my audience, and that they identify with the songs, that's why the order of the track, the story from beginning to end. Everyone at some point stops believing in love, and this album is that hearing aid. It is a gigantic revelation for me, a catharsis, so what better way than to share it ".
For Danna, 2020 was a revealing year, locked in like everyone else by the pandemic, she was able to find her best version in every way, personally closing the cycle of heartbreak and toxic relationships and professionally turning all this into this album:
"We are human beings, we are not robots and that is something that people suddenly forget. This 'KO' of the loves that have passed through my life, and stop suffering. Also this of finding myself, 2020 was an important year for me, I was able to discover many things on a personal and professional level, I was able to compose, finish the album, and I woke up giving and letting that feeling invade me and not hiding it, or putting myself a mask ", he confesses us.
-How was that Danna Paola from 2 years ago with bad relationships?
"I've always been a 'drama queen', I'm cancer, I'm super emotional. I am a completely different person, it is incredible how we evolve as human beings and how we learn as well … I do not regret anything at all, they are the things that made me the woman I am today … Today I had to go through these processes, okay allow you to hurt ".
That is why, in this detoxification process at the level of relationships, Danna Paola finds herself wanting something else:
"I seek to enjoy the day to day, to continue having the balance between work and my personal life, I have given a lot of value to what is important in life as such, to continue nurturing my personal relationships, my family and continue enjoying this. . Continue discovering myself as an artist, learning because I have a lot to learn. I am very excited about life, but I am very focused on the present, being well, taking care of myself ".
Danna's first promo theme, 'Shut up', It is a cry to not allow herself to be manipulated by anyone, to not allow another to decide for her and that is how she wanted to express it, from the personal but ensures that it is also a message to raise her voice for and for women who are victims of violence of all kinds, that's why they are dedicated:
"To all those women who have gone through situations that have shattered them, that make you lose your personality, your essence … To all those people who at some point have told you: 'quiet, you look prettier', 'don't comment' , 'You are not this', 'You are not enough' … It is an internal and external protest to raise our voices against all this gender violence that we experience, every day, any woman in any situation, no matter how small, is to lift the voice and say: 'You shut up, you don't shut me up' … We all have the right to speak, to express ourselves, to be who we are, no one has to tell us how to speak, how to dress, how to be … And all that is dedicated to this movement of raising your voice, and being able to love yourself and someone else precisely from respect ".
For Danna, one of the lessons that cost her the most was knowing how to say "no" and not feel bad. He says it is something he learned in the time he lived in Spain, when he starred in the series 'Elite': "In Spain they are super direct, there were several situations that I thought was personal. There I was learning to say no … From that very important word power of saying no, and that when a woman says no, it is no … Do not allow psychological damage either ".
For this reason, although it was difficult for her to understand the 'no', today for Danna it is her best tool in the face of what she wants and does not, today she feels it as a powerful decision:
"It was hard for me to understand it but it empowered me a lot… One thing that I have learned these years is to say no… Talking about what you need and what you don't want avoids hassles, detours other people, and you don't waste their time. To be able to say 'I don't want to' is a very great power, it is something very healthy for human beings to learn that I don't ".
To finish, Danna sends a message to everyone who listens to the album or any of the songs that are part of this story that closes her cycle of heartbreak, and that she seeks to help and touch souls.
"That I hug them a lot, because emotions make us unique as human beings … One should not allow oneself to be another person to please. I hope that each of these songs will serve you, make you drain, raise the flag to universal love, saying yes there are good people, yes there are good men … It is a roll of equity, it is respect in humanity ".
WATCH THE FULL VIDEO INTERVIEW:

eldiariony.com
Eddie is an Australian news reporter with over 9 years in the industry and has published on Forbes and tech crunch.