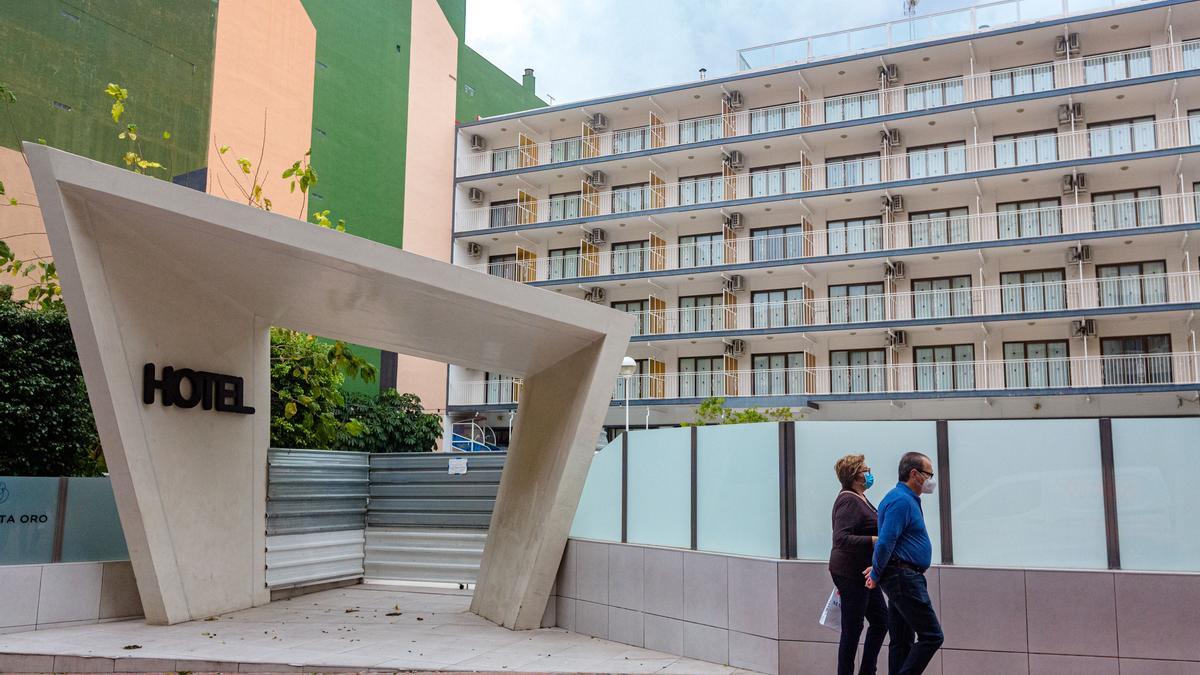 "Hotel is bought at bargain price." If the large hotel purchase and sale operations were announced in words, this could be one of the claims that would have burst with the greatest force in recent weeks on the Costa Blanca. Investment funds have landed in the province of Alicante to take advantage of the massive closure of hotels due to the covid-19 pandemic and be able to put their heads in their capital. This is corroborated by sources in the sector and, also, by the Hosbec hotel association, which highlights the notable interest of some of these funds, "more than in any other previous circumstance", in acquiring companies whose viability the new coronavirus is greatly complicating their viability .
The tourist industry, not in vain, is under "normal" circumstances the closest thing to a money-making machine. This has been demonstrated in the last two crises. In that of a decade ago, despite the cuts and the precarious situation in which the economy remained, families continued to go on vacation, which made tourism end up being an engine for recovery. In the current one, despite all the restrictions on mobility and the fear of contagion, the public maintains its desire to travel as soon as everything subsides. And, in addition, the hotels have a cushion that allows them to continue resisting as few could bear, despite the million-dollar losses that have dragged on since March, due to the small number of establishments that maintain their activity. One example suffices: to date, only a dozen of its about 150 establishments persist with the blind raised in Benidorm, which represents only 8 out of every hundred beds. Hence, hotels have become one of the priority objectives of these societies in the post-covid stage.
Very distant postures
"There is a lot of interest in funds, but few operations that are taking shape because the positions of sale and purchase are still very, very far apart," explains a hotelier from Benidorm. Or, as Hosbec's general secretary, Nuria Montes, maintains, "there are investors who come to buy at very low prices, when the hotel industry, despite having a bad time, is still not in a position to have to give anything away."
In what amounts would we be moving? Some offers that come from these funds, mostly from foreign capital but also national, would be raising prices of up to 30% downwards, which has led many entrepreneurs to close in band when in other conditions, due to circumstances, perhaps they would be willing to negotiate.
On the opposite side, there are owners willing to sell who are starting to turn to hitherto unconventional channels to advertise their accommodations. Thus, in a simple glance at real estate portals and internet advertisements, dozens of hotels and aparthotels for sale appear, both in Benidorm and other parts of the province, with prices ranging from 600,000 to 11.5 million euros. Although in most cases these are small establishments, with an average of about 20 rooms and an old floor plan, there are also advertisements offering larger establishments, with leisure areas and numerous services. From Hosbec they transferred their surprise when this newspaper ratified the existence of this type of advertisements but they maintain that this is not "at all" the usual channel through which this type of operation is usually carried out, so they doubt that some of these ads may be real.
Natural selection
In any case, although the sector does not believe that there will be major changes in the market, there are those who suggest that the crisis caused by the new coronavirus will cause the closest thing to natural selection that Charles Darwin promulgated: "There will be establishments that will disappear , old hotels, which have not been in a competitive situation for years, which will have no choice but to end up closing and reconverting urban planning ", something that, in the opinion of some businessmen, in the long run could even end up benefiting the sector.

www.informacion.es
Digsmak is a news publisher with over 12 years of reporting experiance; and have published in many industry leading publications and news sites.