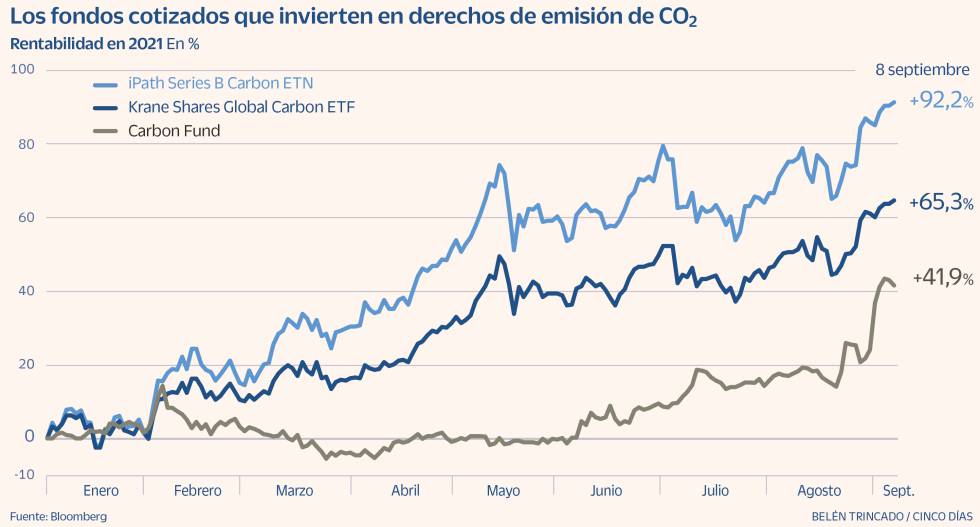 The theme of the summer in Spain and Europe has been the rising cost of electricity. There are several factors that explain the reason for the rise in electricity, but one is evident: the prices of carbon dioxide (CO2) emission rights have skyrocketed in 2021. Some exchange-traded funds have jumped on this train and have reaped returns of more than 91% so far this year.
The CO2 bond market began operating in Europe 16 years ago. To prevent countries from continuously increasing greenhouse gas emissions –which are generating a climate emergency–, it was decided to set maximum emission limits in certain highly polluting industries such as electricity. Each company has a maximum of CO2 that they can emit. If it happens, you have to buy allowances. By putting measures in place to reduce your carbon footprint, you can sell the emission allowances you don't need.
The cap and emissions trading programs have been in place for more than a decade, also in North America, but have languished due to low demand, volatility and limited liquidity. All of this has improved recently, and will continue as these programs become more established.
In 2021, with the strong economic recovery after the pandemic and the intensive use of more polluting energies (due to low gas or oil prices at the beginning of the year) the price of CO2 emission rights skyrocketed. If in September 2020 27 euros were paid per ton emitted, now 61.5 euros are paid.
Emission rights auctions are reserved for polluting companies, but in the secondary market these rights can be bought and sold. Traded funds as KraneShares Global Carbon, iPath Series B Carbon ETN or the New Zealand fund Carbon Fund They were created to try to replicate the evolution of the price of emission rights. In recent months they have seen hundreds of millions of euros arrive while doubling their value.
Individual investors cannot invest directly in the CO2 emissions markets, but they can do so through these exchange-traded funds (ETFs). The largest, KraneShares Global Carbon, has received an avalanche of money of more than 500 million dollars (420 million euros) in 2021, within a few months of its incorporation. Its revaluation so far this year has been 91.36%.
The main asset in which this fund invests, known as KRBN, is in futures on CO2 emission rights in Europe.
"Many countries are legislating for companies to reduce their carbon dioxide emissions, so there will be more demand for CO2 credits," explains Linda Zhang, CEO of Purview Investments in a report.
The objective with this type of market is that, as the emission rights become more expensive, companies choose to implement ways of producing and consuming more renewable energies. The problem is that, in the meantime, the electricity companies pass on to the final consumer the increase in the cost of emission rights.
Some analysts have pointed out that this type of way to try to decarbonize the economy is not efficient and leads to purely speculative investments by market agents. In addition to exchange-traded funds, there are also banks and alternative funds investing in these emission rights.

cincodias.elpais.com
Eddie is an Australian news reporter with over 9 years in the industry and has published on Forbes and tech crunch.