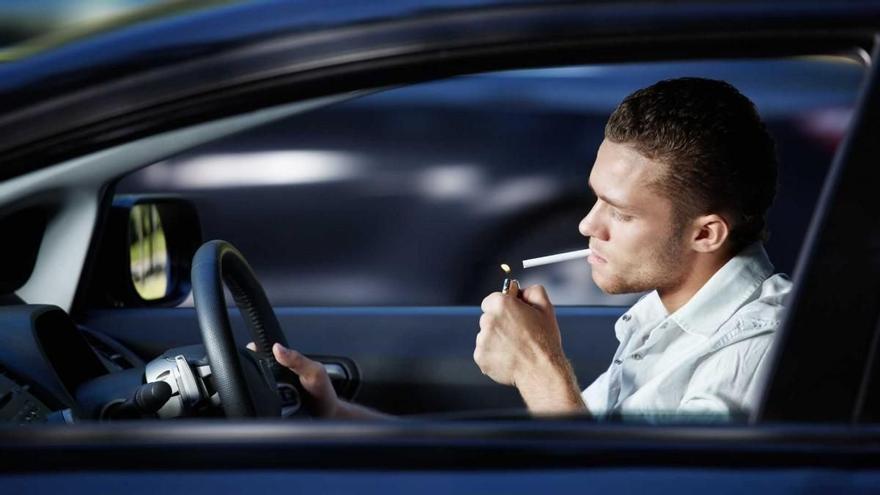 A third of traffic accidents are due to distractions, many of them due to mobile phone use, a behavior that DGT studies sanctioning up to 6 points. Banning smoking behind the wheel is not planned despite the data: lighting a cigarette causes you to drive blindly for more than 100 meters.
"Smoking while driving is a road risk factor", emphasizes the doctor Fernando Pérez Torralba, president of the Spanish Society of Traffic Medicine (SEMT).
The cigarette is distracting
And it is that tobacco consumption constitutes an element of distraction for driving vehicles; You just have to review the actions that are carried out when you want to smoke, from removing the cigarette from the pack, lighting it, leaving the ash in the ashtray or turning it off.
Too many movements, although they are generally made unconsciously, but they represent a time during which the driver has his hands full, warn from the SEMT, a scientific society that since 1998 is dedicated to the prevention of injuries due to traffic accidents.
"Is about raise awareness and sensitize drivers so that when handling that marvelous weapon that gives us as much freedom as the vehicle is, he does so safely, because if it is misused it is a deadly weapon for him, for his family and friends and for other road users, "says the doctor. Pérez Torralba.
The risk multiplies
According to various research studies, smoking while driving multiply by 1.5 the risk of suffering an accident.
Also, lighting a cigarette takes an average of 4 seconds. At 100 kilometers per hour we will have traveled 113 meters -an extension greater than a football field-, without full attention on the road.
"When you smoke, you cannot hold the steering wheel well with the hand that is holding the cigarette. And let's not say when you have to change gear. If at that moment you have to make an evasive maneuver for any reason, it is most likely that it goes against another car or it goes off the road ", warns this expert.
In a study carried out in 8 health centers in Zaragoza, in which 1,214 drivers between 25 and 65 years of age participated, on the association between tobacco consumption and "non-fatal" traffic accidents, it was found that the risk in no smokers was 7%, in smokers who do not smoke while driving, 12%; and in those who do smoke at the wheel, 17%.
To the distraction due to the very action of smoking and the concern about falling ash, we must add the effect of tobacco smoke inside the vehicle: on long drives with 2-3 smokers, visibility can be reduced by up to a twenty %.
In addition, it can increase the concentration of carboxyhemoglobin (COhb) by between 7 and 11%, a protein resulting from the binding of hemoglobin with carbon monoxide (CO) that is inhaled when smoking, and which also has consequences on perception visual, manual ability and reflexes, explains the doctor.
When it comes to smoking and driving, the question that arises is: How can a driver who is alone in his car be banned from smoking?
"On the road he does not go alone and if he gets distracted he can have an accident and kill two or three people from the car in front of him, who are not to blame for having been distracted by tobacco," says the president of the SEMT .
Other countries
Despite the data, the General Directorate of Traffic (DGT) It does not plan any measure in this regard, although sources from this body acknowledge to Efe that smoking while driving is "extremely dangerous", since it is a distraction that can cause accidents.
But how is it regulated in other countries?
Colombia is that the one with the most restrictive legislation, since it prohibits smoking to drivers under penalty.
In England and wales Smoking is prohibited for any passenger if minors or pregnant women are traveling in the vehicle, a prohibition that the SEMT, the Spanish Society of Primary Care Physicians (Semergen) and the Spanish Society of Pulmonology and Thoracic Surgery requested for Spain to the DGT years.
In Holland It is prohibited when the car is the workplace and in some states of United States like California, Kentucky and Virginia you cannot smoke with minors in the car.
In Austria the prohibition is if there are minors under 18 years of age in the passenger compartment of the vehicle, in Italy when there are minors and / or pregnant women and in Greece if they are under 12 years old.
To date there are no data on what percentage of the third of traffic accidents caused by distractions while driving can be attributed to tobacco.
And it is that in how many reports of traffic accidents does smoking while driving appear as a cause? And in how many friendly statements?
The SEMT has approached UNSESPA, the employer of the insurance companies, requesting this information without obtaining a response. The Bonus / Malus system does not favor the declaration, points out Dr. Pérez Torralba.
Years ago, some European insurance companies decided to lower the insurance premium of drivers who declared that they were not smokers by up to 10%, a measure that the SEMT demands that it be put into practice in Spain, in addition to the implementation of measures awareness about the risks of smoking behind the wheel

www.informacion.es
Digsmak is a news publisher with over 12 years of reporting experiance; and have published in many industry leading publications and news sites.