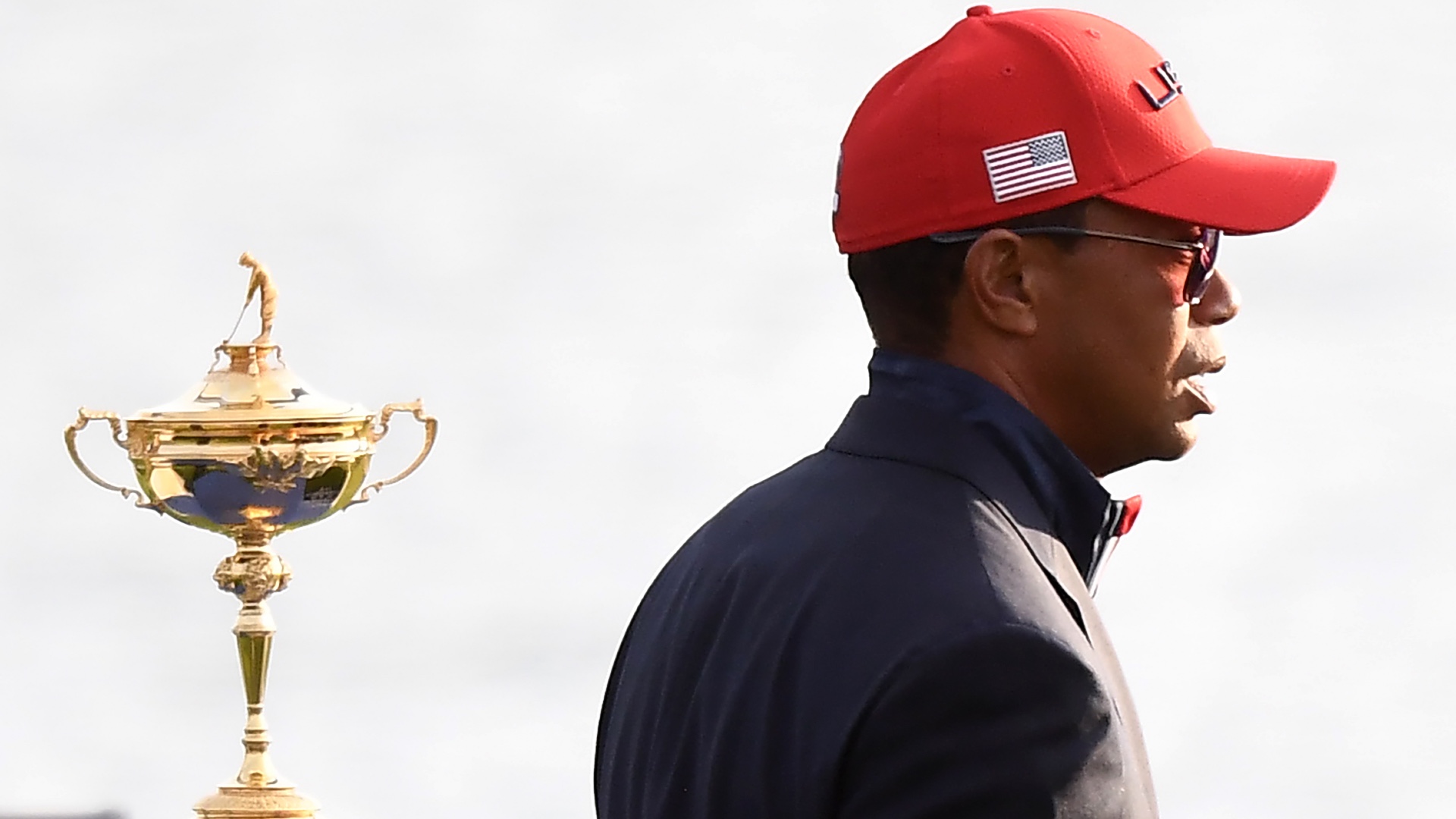 15-time Major Champion and eight-time Ryder Cup team member Tiger Woods will not be at this year's Ryder Cup as either a vice captain or a player.
Woods has not played professionally since the 2020 Masters Tournament, held in November 2020. This is primarily because Woods was involved in a severe car accident in February, in which he drove 84 to 87 mph in a 45 mph zone, lost control. and hit a tree, according to Los Angeles County Sheriff's Department. Woods is still recovering from his right leg and ankle procedure after the accident and is taking a break from golf. His return is still uncertain.
MORE: Details of Tiger Woods' Car Accident
As the Ryder Cup approached, questions arose as to whether Woods would have a role in leading Team USA off the field. It's hard for golf fans to remember a Ryder Cup without Woods' influence.
Here's a breakdown of Woods' current recovery state, along with what to expect from Woods during this year's Ryder Cup.
Is Tiger Woods in the 2021 Ryder Cup?
After the roster was revealed, Team USA captain Steve Stricker announced that Woods would not have an official role this year.
"I've talked to Tiger a lot," Stricker told Carl Paulson and Dennis Paulson on SiriusXM's "Inside the Ropes." "He's part of this Ryder Cup family; this time he won't be able to be an assistant captain just because of his ongoing rehabilitation to try to improve and get back to playing golf, and that's going well. He's progressing, he's doing well, the things are going in the right direction. "
So even if Woods isn't physically at the Whistling Straits this year, it appears the USA team is still looking to the veteran golfer for his advice. It's as easy as calling him or bringing him to a captains meeting to hear his thoughts. As vice captain in 2016, Woods helped the United States to a victory on the sidelines, their first as a team since 2008.
MORE: 2021 Ryder Cup Teams – Complete List of American and European Golfers
"He could be there physically with us or he could be at home on the phone with us," Stricker said. "He will participate, he wants to participate. He wants to be there for the boys. He's an incredible player, true, but I think he brings more to the table as a captain or as an assistant captain. It's weird to say that, but he's so invested in everything about Team USA, a lot of guys look up to him. And when he was an assistant or captain, he had time to be in everyone's back pocket. "
Regardless of Woods' involvement, it remains on the minds of golfers competing in the 2021 Ryder Cup. Six of the current team members, Dustin Johnson, Brooks Koepka, Jordan Spieth, Justin Thomas, Bryson DeChambeau and Tony Finau, played with Woods at the 2018 Ryder Cup. Woods also acted as vice captain in 2018. Spieth, Johnson and Koepka also experienced Woods as captain in the 2016 team.
These golfers know the impact Woods has on the Ryder Cup team, whether as a teammate, captain or mentor.
"We are going to rely on him for information and input because we want to include him," said Vice Captain Davis Love III. "He's always going to be a part of Team America golf. What does he bring to the team? Passion and energy. You can motivate these guys from afar. You can put them on the plane excited to go. He was only their last captain. He's played on teams with a lot of these guys, plays at home with a lot of them. He will be in your thoughts. "
MORE: Why isn't Patrick Reed on the Ryder Cup Team USA roster?
Tiger Woods Recovery Update
Woods has not publicly stated how he is progressing in his recovery from the 2021 car accident when he posted a picture on his Instagram of him on crutches. Otherwise, the comments remain somewhat general about his recovery.
In May, Woods spoke to Golf Digest about his recovery process and how difficult it has been compared to his past injuries.
"This has been a completely different animal," Woods said. "I understand more about the rehab processes due to my past injuries, but this was more painful than anything I have ever experienced."
MORE: Tiger Woods Discusses Injuries From Crash, Provides Up-to-Date Recovery Information
He seems to stay connected with his former Ryder Cup teammates, like Steve Stricker or Love, to update them on how he's feeling. Both Stricker and Love recently commented on how Woods appears to be recovering pretty well, but he doesn't have a timeline yet of when he will return to golf, if he can.
"We are all happy that he has come a long way in 6-8 months," Love said. "It's a shame that the Ryder Cup is probably not the right place for him to try to move at the moment. He's going to be part of that. "
From now on, Woods intends to host the Hero World Challenge in December.
Tiger Woods Ryder Cup record
Woods competed in eight Ryder Cups as a member of the team. Their overall record is 4-2-2 in singles, 4-9-1 in foursomes and 5-10-0 in fourballs.
Woods acted as vice captain during the 2016 event. He missed the 2014 Ryder Cup due to back problems, and he missed the 2008 Ryder Cup due to knee surgery.
| | | |
| --- | --- | --- |
| Year | Record | Champion |
| 2018 | 0-4-0 | Europe |
| 2016 | Captain | USA |
| 2014 | Not on the list | Europe |
| 2012 | 1-2-1 | Europe |
| 2010 | 3-1 | Europe |
| 2008 | Not on the list | USA |
| 2006 | 3-2 | Europe |
| 2004 | 2-3-0 | Europe |
| 2002 | 2-2-1 | Europe |
| 1999 | 2-3-0 | USA |
| 1997 | 1-3-1 | Europe |



www.sportingnews.com
Eddie is an Australian news reporter with over 9 years in the industry and has published on Forbes and tech crunch.