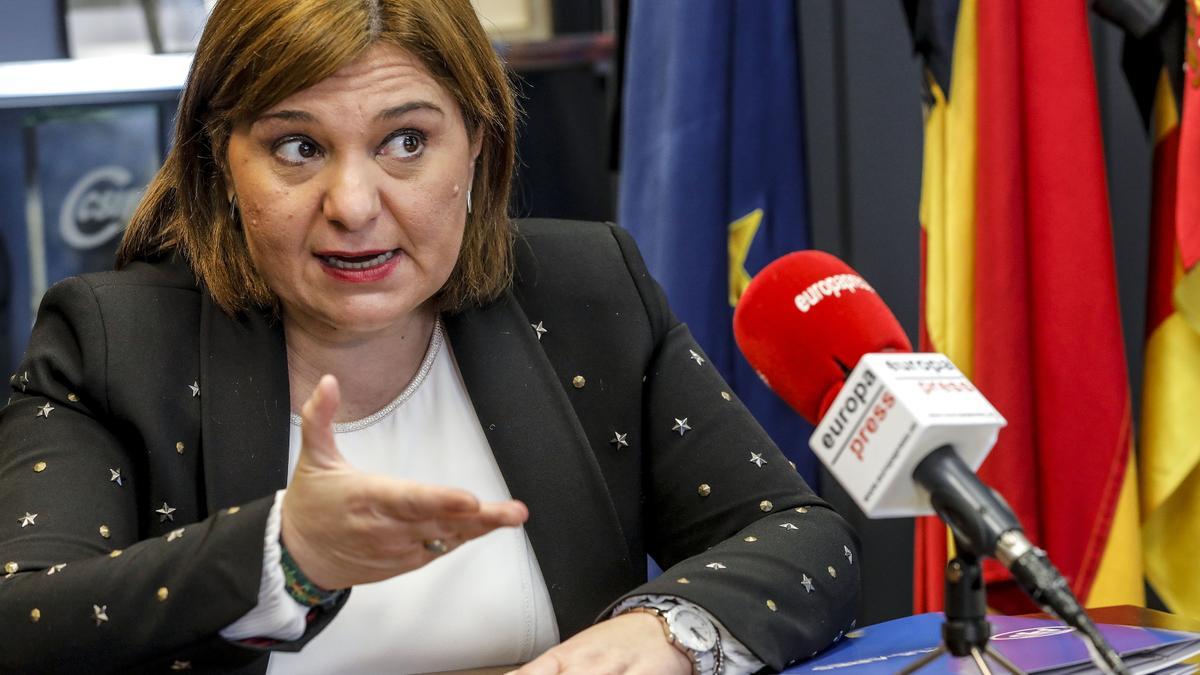 The president of the Popular Party of the Valencian Community, Isabel Bonig, has requested a commission of inquiry regarding the vaccination campaign in the Valencian Community and has wanted know if there are "members of the Consell, second or third line" who have received the injection, to demand responsibilities "whoever falls."
This is how the leader of the 'popular' Valencians spoke at a press conference that she offered this Monday after the PPCV's board of directors. Bonig has insisted on the idea of ​​the commission to "know the truth with transparency" and "correct errors so that they do not occur in the second phase of vaccination".
Therefore, the 'popular' leader has asked to know "the whole truth" and who has skipped the process, "not only politicians, also trade unionists, priests, everyone". He has also asked to know why some appeared in the Health lists, so, in his opinion, the best option is a "commission of inquiry where all responsibilities are purified."
Thus, he has insisted on asking for "light and stenographers" and has wondered why "if a vial is opened and there are six doses, the six people are not ready." For this reason, he has asked for "a bit of seriousness" and a unified criterion so that not each health department decides.
In addition, Bonig has denounced access to people's medical records, "private data that cannot be made public." "There is already a nurse who has denounced the Síndic de Greugues that they have accessed her file."
"This could also be seen in that commission because we want to know if someone has overstepped and committed a crime. If someone has skipped the protocol to pay for it and see what mistakes have been made. With the dismissal of a second position is not enough ", he asserted.
Regarding the vaccination plan, he has warned that "Puig's forecasts are not going to be fulfilled." "In October he said that the Valencian Community was prepared and we have suffered the worst third wave at the national level. It is not about announcing the place to vaccinate but the procedure and the personnel," he indicated.
"If it coincides with a fourth wave or if it is necessary for the Valencian public system to start operating and attend to delayed pathologies, personnel cannot be withdrawn for the massive vaccination fundamental to reactivate the economy. Puig still does not show us the reports. We want them to be able to vaccinate Pharmacists, veterinarians, Red Cross personnel, Army, they have to be legally qualified but they do not have it planned. We ask that you go ahead, qualify these people, prepare them and vaccinate them and when April arrives you have a team of professionals prepared to vaccinate without removing personnel. of the Valencian public system, "he said.
FAULTS
On the other hand, Bonig has shown his support "to the entire fallero sector, the magdalena and bonfires that demand aid." "Today the PP takes a motion on zero quota to freelancers for those who have seen their 2019 turnover reduced by 50% or more. Puig must lower taxes and not charge this entire sector. If there is no activity, there are no taxes. Aid direct in vein and not that plan Resiste que never arrives, "he added.

www.informacion.es
Eddie is an Australian news reporter with over 9 years in the industry and has published on Forbes and tech crunch.