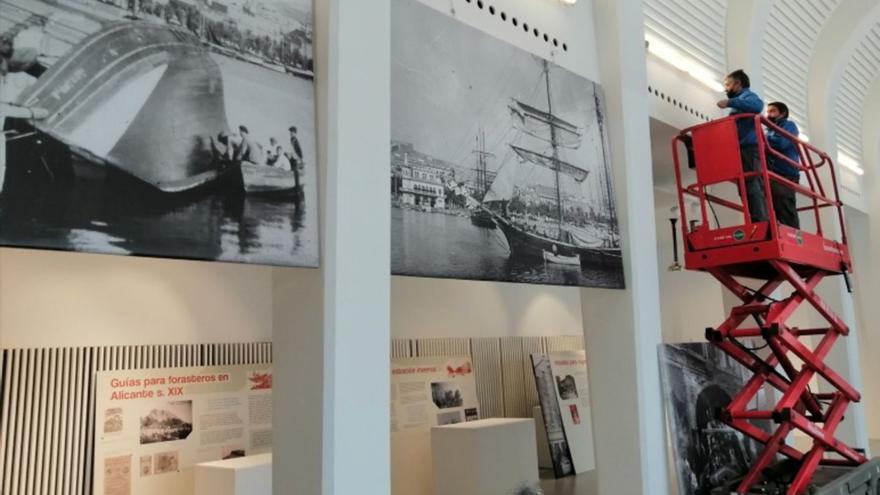 Unpublished photos in large format, in black and white, dated at the beginning of the 20th century, panels, the first pieces created to be sold to visitors as a souvenir of their stay in Alicante – which were small glass cups -, a Seat 600 with Roof rack and suitcases, a Vespa with a sidecar and a representative image of the Tren Botijo ​​locomotive are part of the exhibition History of Tourism in Alicante, which opens tomorrow in the Seneca Space of Alicante, where it can be seen until February 25.
The Department of Culture, managed by Antonio Manresa, supports this exhibition that takes a tour of events, daily events and relevant colorful aspects of the development of tourism in the municipality since the summer of 1858, the year in which Queen Elizabeth II visited the city and which meant the takeoff towards the popularity of the zone.
The exhibition has taken significant pieces from prominent entities and collectors in the province, such as the Commercial Museum of Novelda, directed byr David Beltrá and Verónica Quiles, or the Francisco Argilés de Guardamar Museum, which provides the vehicles. Also from the collector Pedro Picatoste, which has been collecting negatives of old photographs for decades, or from the Alicante Municipal Archive itself.
The museum discourse is structured with a tour of six areas in which the Espacio Seneca room has been divided. One of these sections has sand staging a beach, with three wooden huts, the kind used by bathers to change to the seashore.
One of the panels in the exhibition dives into the historical travel chroniclers and the pioneering use of the word "tourist". It is cited Vila y Blanco and his work Isabel II in Alicante, in which «we find the first references of the term tourist and the preparations of the stagecoach service, messengers and other carriages to travel through the interior. There are good inns, guest houses, inns, cafes, inns and inns ", as noted on the poster.
Special promotion in 1860
The second visit of Isabel II to the municipality, in 1860, prompted the City Council to take a series of initiatives: it summoned all the owners of inns, inns and guest houses to offer a special promotion of reduced prices for accommodation, meals and others. services for the first days of September. It was also decided to reduce the ticket and organize different attractions, dances, zarzuelas and bullfights for travelers visiting the city.
A three by four meter screen will project the informative videos made by the Municipal Tourist Board since its creation in 1994. The one entitled Come when you want was awarded with international prizes in Cannes and New York.
The team that would curate the exhibition is made up of Verónica Quiles, Inma Guilló, Elena Gomis and Pedro Picatoste.

www.informacion.es
Eddie is an Australian news reporter with over 9 years in the industry and has published on Forbes and tech crunch.