Of all the jumps that Super Mario has made – and there were all kinds, with some he even flew – the most complicated was the one that took him to three dimensions. A whole console was built, the Nintendo 64, around it, and in a delicate moment. In 1996 a new player, Playstation, had just entered the market, threatening the survival of classic manufacturers, such as Nintendo or Sega. In the end, the biggest loser was the latter and Mario became a hero. Not only did he save Nintendo, he laid the foundation on which all subsequent platformers later built and established the Italian plumber as the pop icon he is today.
Super Mario 64 turns 25 and does so in top form. Just sold an original game cartridge for $ 1,600,000, making it officially the most expensive game ever. And the watchmaking house TAG HEUER has elevated it to the Olympus of luxury, with a collection of watches with Mario on the dial. But despite enjoying this upward social mobility, Mario has not removed his bib. Nor has he forgotten where it comes from.
The plumber who wanted to be Popeye
In 1981, Shigeru Miyamoto, designer of Nintendo and dad de Mario, he wanted one of the company's first international titles to have characters recognizable all over the world as its protagonists. So stop Donkey Kong He tried to count on the Popeye characters but it didn't work out. Nintendo didn't get the rights, and Miyamoto made a copy-paste of pixels and turned Olivia into Princess Peach, Brutus into the giant ape Donkey Kong, and Popeye into Jumpman, Mario's original name.
"The number of colors and pixels we had was very limited. I challenged myself to achieve an iconic character with those restrictions ", Miyamoto recalled about the origin of the myth. "I drew a big nose and a mustache for the players to recognize a face. The clothes were red and blue to distinguish their movements. And the cap, so that no one would find it strange that his hair did not move when he jumped ".
It was a success. So the sequels were born as setas Toad. Mario was gaining definition, graphically and narratively. First he was given a name, then a brother, Luigi; later his Italian-American origins were invented to make it more attractive to the American and European public … The character was built in each installment. Of all the titles, the Nintendo 64 was the one that ended up defining it as we know it today. Miyamoto took up the baton again, after years of absence. And he did it with force.
"Mario 64 is a key point in the construction of a character that goes beyond the screen and becomes part of pop culture", explains Salva Fernández Rosa, co-author of the book The Nintendo 64 Encyclopedia. The expert maintains that the plumber is to video games what Mickey Mouse to the movies. "He must be the only character who can sustain that comparison."
Equating film and video games is difficult. The latter age much faster. In an ecosystem subject to technological changes, its aesthetics and playability fade in a couple of years. The games also face a specific expiration date. Every six or seven years the life cycle of a console ends and hundreds of games die with it. That is why it is difficult to create a game that is a reference for different generations. Yes Los Goonies could only be seen in Beta, Titanic on VHS and Kill Bill on DVD, probably none of these films would have the validity that it enjoys today.
The only way to keep a game alive is by updating it, adding more titles to the series, reboots, aftermath and remakes that include the graphical and playable improvements of the moment. But every jump to a new generation (of consoles and gamers) involves a risk. One misstep can destroy decades of work. The world of video games is full of broken avatars, from Sonic to Prince of Persia to Dino Crisis or (to a lesser extent) Crash Bandicoot. That is why the success of Super Mario 64 It is so important. It meant introducing the plumber to three dimensions at a time when video games were changing, from being something residual to becoming the most powerful cultural industry in the world.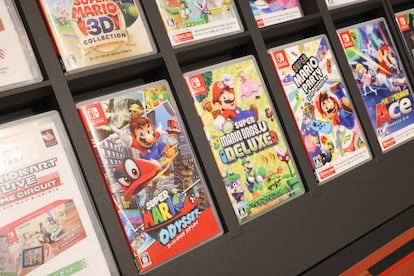 The freedom of 3-D
"The first time I played it was in a Mataró neighborhood store that had imported a Japanese Nintendo 64," recalls Fernández Rosa. "Kids of all ages were lining up to try it. It is the biggest impact that I have had as a player in my life. It wasn't just about moving in a 3D environment. It was about doing it with total freedom, to see as if the joystick it was pressed more or less strongly, the character walked or started to run. It was like being in the future ".
SuperMario 64 was a revolution in playability. In part it was due to the character's variety of actions. Mario, in his previous 2D games, could jump, run, accelerate or fly. In his premiere in the three-dimensional world, he wore more movements than a dancer from breakdance: running, jumping, double jump, triple jump, long jump, backflip, sideflip, wall-jump, ground-pound, paunch, hit, jump … More than 250 animations were designed for Mario, of which almost 200 were applied to the final result.
But what was revolutionary was not how Mario moved, but where. Two-dimensional video games were a side scrolling that was as flat visually as it was playable. The first three-dimensional ones offered a narrow and long corridor through which to move the avatar. In this context, Super Mario 64 offered freedom. The stages were huge and you could exploit them at will. There was no correct path or order of action. You could (and should) explore at your leisure. The video game became anarchic, creative and much more fun.
"What he did Super Mario 64 in 1996 it was completely upsetting the genre of platforms ", says Alex Pareja, co-author of the book About Mario, from plumber to legend and coordinator of the specialized website IGN Spain. "To show that the essence of those games could be transferred, which until now seemed to be confined to two dimensions, to these new environments, and with the quality that always went hand in hand with the character and Nintendo. Crazy".
Video games age fast, but Pareja defends the validity of Super Mario 64 a quarter of a century after its premiere. "It remains for many the best 3-D platform in history, from which all other iterations have derived. You will always find many in love with the game, even today when the years and how hard it is to control it are noticeable, "he says.
A command (and a world) to suit you
In 1993, Miyamoto mixed Shinto temples, foxes, and space adventures in the play Starfox, one of the pioneers in the (still cumbersome) use of three dimensions. The experience haunted him. Since then he has tried to transfer this concept to the Mario universe. "I wanted to create a small world, like model trains," he would later say. He tried to do it for the Super Nintendo but the machine was not powerful enough and the controller, with a four-button crosshead (up, down, left, right) excessively limited the commands necessary to move in a three-dimensional world.
So when Nintendo started work on creating a new console, Miyamoto outlined his flagship game. And that, at Nintendo, can only mean one thing. In 1993 the development of Super Mario 64, which occurred in parallel to that of the console itself. In fact, during the first six months of development, the creators tested what they were creating on a computer, since there was no Nintendo 64 where to put their game.
The control of the new console was created specifically to be able to move Mario in three dimensions. "They designed it with the analog mushroom, the rear Z button and the C button layout for the camera, among other things, so that Mario in 3-D could be as he was," affirms Pareja. "There is a close relationship between the concept of hardware Nintendo and what their games will be. So it's impossible to understand the Super Mario 64 revolution without understanding the Nintendo 64 revolution. "
The PlayStation competitors saw it clearly. That is why they launched a new command in the middle of the life of their console to adapt it to three dimensions. The dial sense, released in 1997, had a couple of joysticks mimicking that of the Nintendo 64. "That way they got Nintendo's advantage from being so crucial. Then they relied on the enormous number of studios and productions they had, "says Pareja. They did it with games like Spyro the dragon, a title that drank much of what was seen in Super Mario 64. He was the first of his many imitators.
Many have wanted to look like Mario but the great achievement of the character, Fernández Rosa insists, is that he has never wanted to look like anyone. "Characters like Sonic are not so transversal because of their design changes, their attempt to turn him into a more youthful character (and because, of course, the Sonic video games have not kept up with the Mario games). Instead, Mario has always been the same. He has never wanted to be styled or cooler. That is why it is difficult for you not to like this Italian plumber, because deep down he transmits a simplicity and a familiarity that everyone likes ".
You can follow ICON on Facebook, Twitter, Instagram, or subscribe here to the Newsletter.



elpais.com
Eddie is an Australian news reporter with over 9 years in the industry and has published on Forbes and tech crunch.