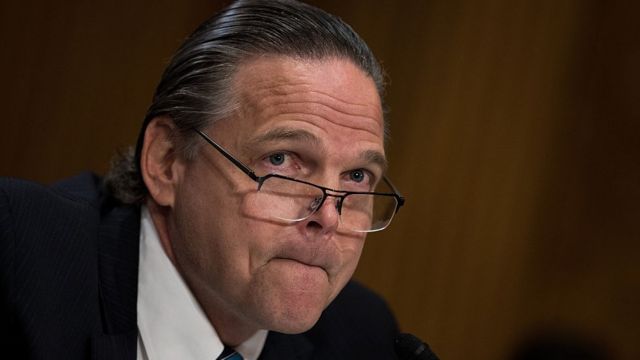 "I will not be linked to the inhumane and counterproductive decision of the United States to deport thousands of Haitian refugees and illegal immigrants to Haiti, a country where American officials are locked up in protected facilities due to the danger created by armed groups that control daily life." .
With that harsh criticism of his own government, the United States special envoy for Haiti, Daniel Foote, announced on Wednesday his immediate resignation from office.
In a letter to Secretary of State Anthony Blinken, Foote said he was leaving office disappointed and warned that US policy toward Haiti era "deeply flawed".
His resignation from the post, which he had held since July, came after the United States government last weekend began deporting some 13,000 Haitian migrants who were gathered by a bridge in a Texas border town.
These Haitians had set up a makeshift camp there, where they lived under temperatures of 37ºC while they waited for their chance to be admitted as refugees to the United States, along with smaller groups of Cubans, Peruvians, Venezuelans and Nicaraguans.
Local officials had faced difficulties in providing them with food and minimal sanitary conditions.
From Sunday to Thursday, The United States has already deported some 1,400 migrants to Haiti who were in that field.
In his resignation letter, Foote warned that Haiti was a "collapsed state" that "simply cannot bear the forced infusion of thousands of returned migrants who lack food, shelter and money without an additional and preventable human tragedy."
Asylum, not deportations
The images released in these days of US agents on horseback attempting to herd immigrants in Texas they generated great rejection by evoking comparisons with the time of slavery in the United States and with the mistreatment that the black population has historically suffered in that country.
Those images, captured by an AFP agency photographer, appear to show border agents on horseback using their reins against migrants and pushing them toward the Rio Grande that marks the border with Mexico.
Its dissemination increased pressure on the Biden government and sparked calls within the ruling Democratic Party itself for Haitians to be offered asylum and not deported.
Many Haitians left their country after a devastating earthquake in 2010. Large numbers of those in the camp in Texas had been living in Brazil and other South American countries, from where they moved north after failing to find jobs or legal immigration status.
This year the situation in Haiti worsened as more political instability was generated, following the assassination of the president in July; and a deadly earthquake in August.
Foote said that Haitians need "immediate assistance" and criticized that the United States and other countries are interfering in the politics of that country.
"What our Haitian friends really want, and need, is the opportunity to set their own course.", wrote.
A spokesman for the State Department thanked Foote for his work and assured that the United States remains "committed to supporting safe, orderly and humane migration throughout the region."
Almost 19,000 migrants, mostly Haitians, are in Colombia, waiting to cross into Panama on their way to the United States.
Now you can receive notifications from BBC News Mundo. Download our app and activate them so you don't miss our best content.

www.bbc.com
Eddie is an Australian news reporter with over 9 years in the industry and has published on Forbes and tech crunch.