09:07
Lap 2/53 The virtual safety car ends, Giovinazi is in the pits doing a job and struggles to escape, repeatedly in anti-lock, but now he is back in the race.
1 Ricciardo
2 Verstappen
3 Norris
4 Hamilton
5 Leclerc
6 Sainz
09:06
Here we go!
Lap 1/53 The lights go out fast and Ricciardo enters the first chicane! Verstappen has his car at the right angle to try and stop that, but he couldn't and Hamilton is at Verstappen's level. But Verstappen fights back, Hamilton slides, comes back fourth, Giovinazzi turns, there will be no safety car, Kubicka loses his front wing, there is a virtual safety car, and it's just another standard outing!
09:04
Gasly will depart from the pit lane, while Tsunoda remains there. Not looking great for AlphaTauris (of this world).
09:01
Hamilton uses hard compound tires. That's a big risk given the Mercedes starting problem, but they might think the former is out of reach, but this will help you get the latter.
08:57
Monza looks absolutely itstoday sensational, my storage room in north London is less so.
08:56
Ah dear, Tsunoda's AlphaTauri is being pushed off the track and into, I imagine, the garage. Hopefully there aren't any major issues, but you only have four minutes to resolve them.
08:54
Ricciardo is very relaxed, listening to tunes and getting into his dusty orange car. This is a great afternoon for the Honey Badger, but he will act like it's another day at Scalextric.
08:52
Bolt shares a moment with Vin Diesel, who has given him the rich reward of being yelled at by the Sky reporter … who later calls him "Son". My God.
08:49
Usain Bolt is on the track and lets us know that Hamilton is ready. He likes fast cars and Cristiano Ronaldo, he tells us. More news as I receive it.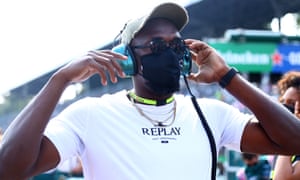 Updated

08:48
Lando Norris is a confident young man and expects today a podium saying that the team is prepared for any eventuality.
08:48
There is something so beautiful in the green of the Italian flag I just learned is called fern green (bright white and fiery scarlet are its neighbors).
08:46
We see some beautiful drone shots of lovely Italy and a quick step. In the stands, someone is holding a red flare.
08:40
Daniel Ricciardo hasn't been in the front row since 2018, And since he doesn't exactly need points, we can be sure that he will give everything at the start, not for victory, not for a place.
08:38
Christian Horner is not very concerned about what Hamilton said on an easy victory for her man Verstappen. At this circuit, he wants to get up front and settle in, so he is wary of McLarens' acceleration, but will be happy to lead into corner one.
08:37
Gasly seems to have a mechanical problem and while he was always scheduled to start from the pit lane, that's a problem for him. Ah, but everything seems to be fine.
08:35
On TV, they think Hamilton will start with the softs, but we reiterate the need for better control of the initial thrust, not only a driver problem but also a mechanical one.
08:29
George Russell's brakes may come on; he's parked on the side of the runway waiting for help.
08:27
There is something wrong with one of the AlphaTauri cars, around which people seriously huddle.
08:26
The beginning is always huge But it will be especially so today because with so few opportunities to overtake, reaction speed counts as a great opportunity for something to happen. Hamilton has been struggling with wheel spin so his ability to control that – or not – will be a major factor in the race.
08:11
Preamble
Good afternoon everyone and welcome to what a jazzer at an Italian Grand Prix should be. Max Verstappen leads the drivers' standings and is on pole, but if there is one thing that he and we have learned, this season and over the years, it is that Lewis Hamilton can win from anywhere.
That seems especially tricky this weekend, even Hamilton admits it should be "an easy win" for his rival. Still, the few overtaking opportunities in it might give us more of the needle we crave, and if all else fails, at least we're guaranteed to hear Il Canto degli Italiani, the undisputed and enjoyable song of the summer. Yesiiiiiiiiiii!
Lights off: 3:00 p.m. M. Local, 2:00 p. M. BST
Updated


www.theguardian.com
George is Digismak's reported cum editor with 13 years of experience in Journalism