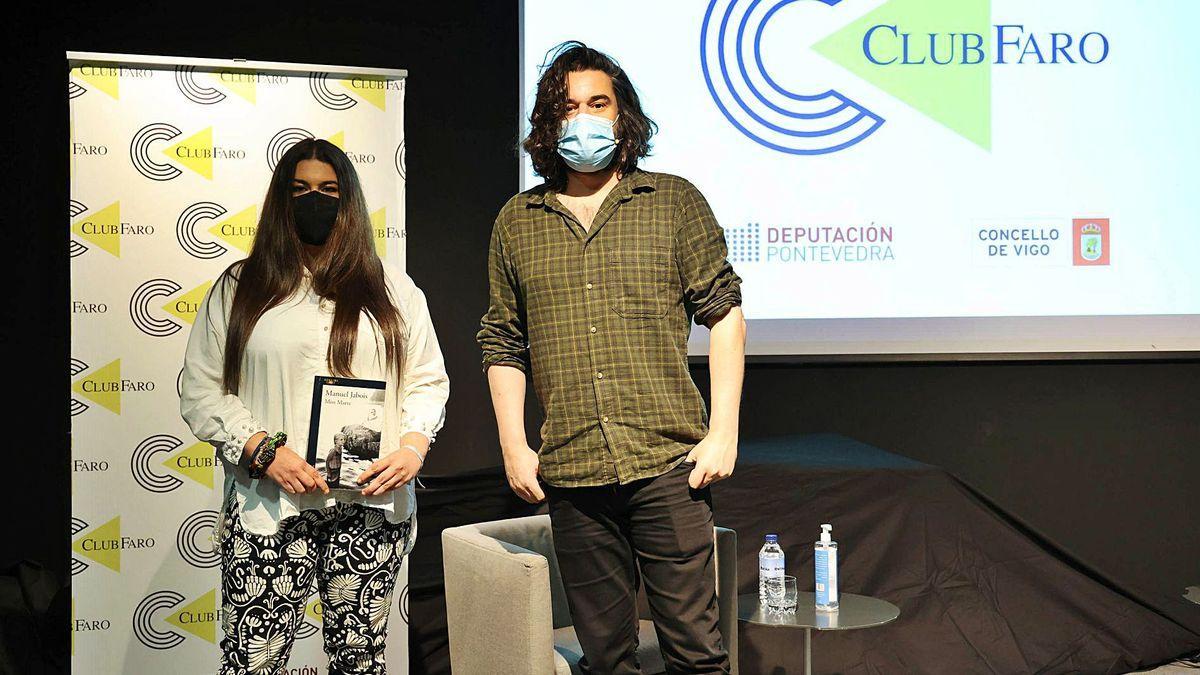 "Obvious questions, by not asking them, leave us without information, without data. It is better to live with a false certainty than with doubts, especially in these times when you can become conspiranoic or flat-earthers ". This was stated this Monday by the journalist and writer Manuel Jabois in the colloquium talk of the FARO DE VIGO Club celebrated in the setting that served to present his latest novel, 'Miss Marte' (Alfaguara), an emotional thriller set in an imaginary town on the Costa da Morte that begins with the disappearance of a girl during her young mother's wedding. The journalist Guada Guerra introduced the Galician author and asked him questions about journalism, pious truths, lies, summers of youth and other issues present in his novel.
Jabois remembered his childhood and adolescence in Sanxenxo, when his parents rented rooms to tourists and every year he received new vacationers who joined his gang and he had to fire in September, "when there was no Facebook or WhatsApp." That is why he imagined a protagonist, Mai Lavinia, who does not leave when autumn arrives, she stays in Xaxebre, the fictional town of the novel – "I called it that because it has two Xs and Sanxenxo already can't pronounce it" -. As a teenager he was "permanently dazzled by people who came from outside, I was very inquisitive, that's why I became a journalist", He confessed.
She chose a small town for her novel, with few characters – the gang of young people who welcome the magnetic newcomer to create an appropriate atmosphere in which Berta Soneira, a journalist who arrives 25 years later in town to find out what happened to the unsolved case of the minor's disappearance.
Jabois, who confessed to having difficulties to stop writing, explained that this novel, the first with a plot that he has written, was the result of an exercise, that of the first chapter, in which he considered making a narrative that would catch the reader, that It was impossible for him to want to know more. Late in the story, her editor asked her what had happened to the kidnapped girl. "I had forgotten, but as a good journalist who works with closing time on top, I had a lot of fun moving forward in each chapter, which ended with an enigma. My editor told me that she put an elephant in a bathtub and that I had to remove it, something complicated given the size of the elephant ".
Asked about what happens when cases of disappearances of children fall into media oblivion and if it is always better to uncover the truth, Jabois said that he preferred to know what happened to a missing son. "I understand that Marta del Castillo's parents want to see the remains of their daughter, whom some murderers say they have killed, because you have the slightest doubt that they are lying." Continuing with this type of event, he recalled that on the way by train to Totalán, to cover the information about the little boy who fell into a well, he wrote one of his most famous columns published in 'El País', where he claimed, inspired by a talk he had with a friend, that "there are more horns in a 'good night' from bed watching TV with your partner than in two sex with an unknown person". He recalled that this article set the networks on fire and "even theses were made about him", although he distanced himself from those opinion columns of which there is "a lot of pure" and assurances. "I don't have those assurances; I like to argue without knowing that I am right, if I am I do not argue ".
The journalist and writer from Sanxenxo, who described himself in his past as a teenager and young man in "golden mediocrity" ("My father told me not to be the smartest or the dumbest in the class"), spoke of the eternal summers of youth, of how we tend to "idealize ourselves, not the past", of the "'it is said', 'it is told', which has done the most damage to journalism because they are used to expand without data", of his nightmares with shipwrecks and of the pious truths, "those that are told to someone to satisfy him at the moment although you know that in the long run they will hurt him," he commented.
Fascinated by the fine line that separates insanity from eccentricity
Fascinated by the fine line that separates madness from eccentricity, "as long as the disease does not worsen", Jabois resorts in his works to the figure that is situated "between lusco and fusco, at that moment in which by the light of day you do not know if it is dawn or dusk ". And he applies it to his characters – he already did it in 'Mala herba' – because those kinds of people arouse his interest. "It is like the cursed writers, who arouse both fascination and rejection." As a journalist, you feel privileged to have the freedom to choose the topics you write. "I do an article about Isabel Preysler and I am so comfortable, I prepare an interview with a neurosurgeon and I am interested, in the same way that tomorrow I may write about Real Madrid." He maintains that it is dangerous to put ideas before affections and refuses to adjective his chronicles. "During 11-M I was accused of being cold; I don't think I have to tell the reader that the attack was ruthless, "he says. He lets out sharp and round sentences that he sometimes attributes to his characters. "We all ring for something at some point in life and they almost always turn us off with a slap like an alarm clock" is one of them. On "Only motherfuckers don't like Rocío Jurado", Expressed by the protagonist of her latest novel, clarifies:" I like Rocío Jurado, but I'm not so drastic. "

www.informacion.es
Eddie is an Australian news reporter with over 9 years in the industry and has published on Forbes and tech crunch.