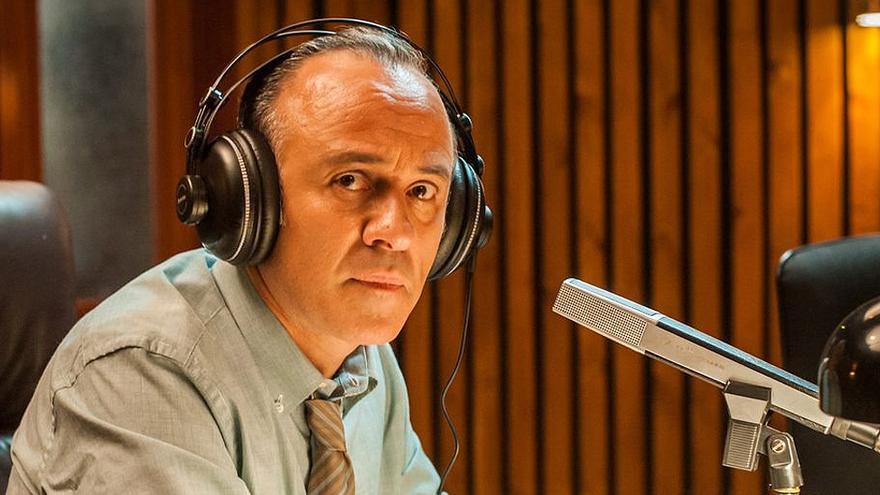 I still listen to various programs, just as I read various newspapers. I hear 'Game time' in the COPE, 'Sports Carousel' in the SER and, as a good fan of Racing Club de Ferrol, 'Galicia in goals' of the RG. Right now, actually, I'm more interested in the Second Division and Second Division B than the Champions League. I really enjoy listening to the shows on those computers.
– And was it to listen to José María García? Although 'Reyes de la noche' changes its name (here he is Paco Maldonado) and aliases (now El Cóndor), the reference is clear.
-It was, it was, just like José Ramón de la Morena [presunta inspiración del personaje encarnado por Miki Esparbé, competidor de El Cóndor en la misma franja horaria]. That way of doing journalism is no longer common. Those were times when the sports journalist had incredible power and became an opinion leader. I liked that way of doing it, although I have to admit that it was violent. I think right now there is a longing for that authenticity. Not all that should come back, but I, at least, miss that charisma.
-Your character defines Marga Laforet's (Itsaso Arana) confession program as "a cunt talking to morons." That kind of misogyny, is it satire? Or rather Spanish neorealism?
I would say that above all it is satire. But it is true that at that time there was an incredible machismo. Those attitudes are still present today, badly enough. We have not changed that much either. The world of women has advanced, but it is costing them a lot.
-In the series we see men smoking at work and publicly boasting of their conquests and desires. Would you say this is a kind of patriotic 'Mad men'?
-It would seem fantastic if someone thought of such a good series watching ours. The tobacco thing was a constant in the media, including television, until not long ago. For those of us of an age, the memory of 'La clave', José Luis Balbín's program, is indelible. Everything was full of smoke. They smoked and drank. Or let's remember Fernando Arrabal drunk on the table in 'El mundo por montera'. That became a scandal!
-In your previous television comedy, 'Shame', there were traces of posthumor. 'Kings of the night' could not be more direct. But in both cases he played a rather mean man. Why is this character class appealing to you?
-It's not premeditated. They are projects that have been arriving. 'Shame' spent nine years in a drawer before Movistar + arrived and rescued him. It was a really irreverent series. I have a hard time cataloging it. In fact, I was surprised that they let us get through to a third season. Nor do I know if those characters are so similar. Several journalists have told me and I'm not sure.
– Perhaps they are alike, for example, in their eagerness to project a security that they do not have?
-In the case of the Condor, security is maximum and with it everything is taken ahead. I'm not so sure with 'Shame' Jesus. Not even shooting the last episodes I knew what to think of that character; whether he took himself seriously or not.
-The platforms have achieved that Spanish series and films are seen around the world and receive global attention previously unimaginable. Is it an exciting time?
-It is definitely a most exciting moment. And that it has arrived just when we needed it most. Good series and movies have always been made in Spain, but production has now taken on an enviable muscle and has made us a reference for other countries.
-A few years ago we saw him in the adaptation of 'Assassin's Creed'. Have you been tempted for many international projects?
-There have been some offers, but what happened here was so interesting that I didn't feel like going out. That must have caught me twenty years younger. Also, I'd rather be the head of a mouse than the tail of a lion.
-In cinema he has mostly done comedy, but for a few years he has also shone in dramatic roles. Even today we act surprised when an actor specializing in comedy embroiders it in a drama. Isn't comedy something really difficult and that gives you resources?
-Comedy is the most difficult thing. An actor skilled in it will have many resources to make drama. Nor is it necessary to look towards the American or British school. Alfredo Landa did all the landismo and suddenly he was unmarked with 'Los santos inocentes'. José Luis López Vázquez was an icon of uncovering and later he made 'My dear young lady' or 'The cabin'. In my case, all the comedy that I have done, even the one that later I can see and consider lazy, has served me later to face major projects.
-Since 'The minimal island' it has become a regular presence in 'thrillers'. Have you been surprised to end up being almost an emblem of this genre? Or was he looking for it?
-I didn't expect it, but I love it. Nor do I know if I am still an emblem, but what I did, like 'Bajocero' recently, has had an impact. I am passionate about crime novels, actually. And before I got into acting, I considered being a criminologist and a private detective. Carvalho's universe marked me a lot. Along with comedy, thriller is the genre in which I am most comfortable.
-Of your more than thirty films, is there one that you think deserves other consideration? A semi-secret gem.
-There is a 'tv movie' that I did a few years ago, 'Las manos del pianista', directed by Sergio G. Sánchez, who interests me a lot as a scriptwriter and director. It was based on a novel by detective Ricardo Cupido, the brainchild of Eugenio Fuentes. It was a very well done 'tv movie'. I also think that 'El olivo', by Iciar Bollaín, deserved better luck in theaters. Later it has been seen a lot on television, but in theaters it did not have the deserved reception.

www.informacion.es
Eddie is an Australian news reporter with over 9 years in the industry and has published on Forbes and tech crunch.