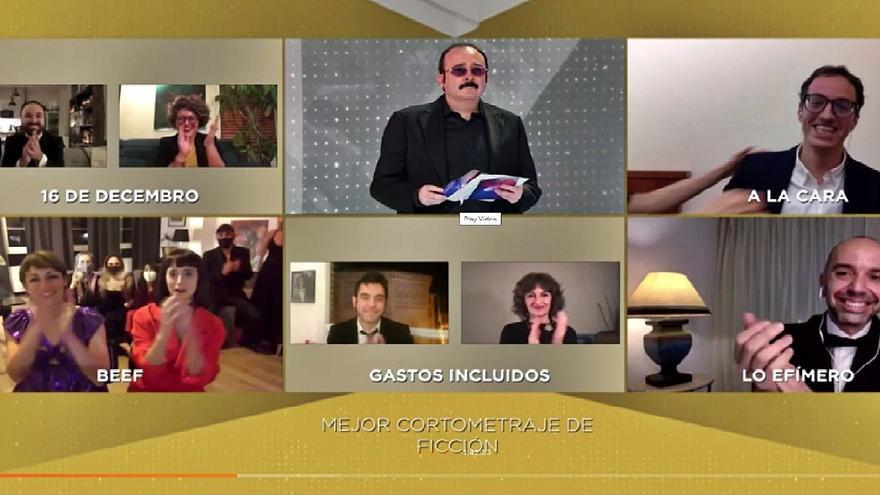 Javier Marco, Alicante film director, published his short film To the face in 2020 just before the start of the pandemic. Awarded at the Goya as best fiction short, the film speaks of the hatred that prevails on social networks.
Goya Award for the best fiction short in a year marked by the pandemic and being so hard on culture. How does it feel?
Winning the Goya for the best fiction short has been quite a rush in this tough year. With To the face we aim to the sky and we have obtained the award. It is true that we did not expect it, since the other shorts were also very good. Anyone could have won, but we were lucky to be us. This Goya means giving more visibility to my work, to the short films and we will achieve our goal: that it reaches everywhere.
How did the idea of ​​embarking on the adventure with "A la cara" come about?
We wanted to talk about hatred on social media, about the tension and insults that are launched under anonymity, which makes it so easy for haters to threaten or criticize. We have focused on threats to famous people, that people think that by seeing them on television they already know them and can criticize them, when they really do not know who they are. It is not easy to insult someone if you have it in front of you. We did not want to judge the hater but to try to understand why he does this kind of thing and if he understands the pain he causes.
What does it mean to you to win an award like this?
For me it has been a pat on the back, a way that life has of telling me to go my way, that things are going well. We have been in the world of feature films for many years and this has been the icing on our cake. Winning this award will help our futures. Having a job is the best thing that can happen to us in moments as hard as those we are living in the pandemic. Culture needs a dose of strength.
When can you have the Goya in your hands?
If you are from Madrid you can pick it up personally and if you are from abroad, I think they can send it to you by mail. I currently live in Madrid, and I will go to the Academy and return with him on the metro, it will be a unique experience. I will put the mask on him taking into account how the Madrid metro is.
After this breath of fresh air, what other projects do you have in mind this year?
On April 7th I launched myself into the world of feature films and we started shooting Josefina. We will do it in five weeks with the wonderful Emma Suárez and Roberto Álamo. This is a story that we are very excited about. Don José works in prison and a woman goes to jail every Sunday to visit her son, it is a drama with comedy overtones. On the other hand, I would love to go back to Alicante, being able to record there is a dream for me. You always want to go back to the place where you have grown.
With "A la cara" we see the realism that your stories give off, has it been difficult for you to find your style?
As a creator, I have found a style that I believe in and this has cost a lot. It is difficult to find the way. When you find actors who also believe in your way of working, words are unnecessary. I always work with Belén Sánchez-Arévalo and her scripts are tremendous, they are made for me. Together with the great interpretation of our professionals together with the creation with all the art, sound and photography departments. We realize that cinema is a team effort, and with a good team everything will work out.
Is the world of cinema tough?
Having a job in the world of cinema and making a living from it is difficult, but you don't know how rewarding it is to do something you like. So there the difficulties dissipate a bit. Hopefully we can continue to win prizes that make us known. All this exposure makes producers interested in you, they ask you if you have scripts out there. Recognition gives work. In the end, celebrations like the Goya are a showcase for current projects, because without them future ones don't come.
A virtual gala, the least seen in the last 15 years
The delivery of the Goya 2021 Awards, presented by Antonio Banderas and María Casado, with a screen share of 15.6% and 2,482,000 average audience viewers, has been the least watched Gala in the last 15 years.
The golden minute was recorded at 10:43 p.m. with more than 2.7 million viewers watching the gala, representing 15.5% of the screen share, when the nominees for the best fiction short film were announced.
The Goya Gala also on La 1 in 2020 had an average audience of 3.6 million viewers and a screen share of 26.1%.

www.informacion.es
Eddie is an Australian news reporter with over 9 years in the industry and has published on Forbes and tech crunch.