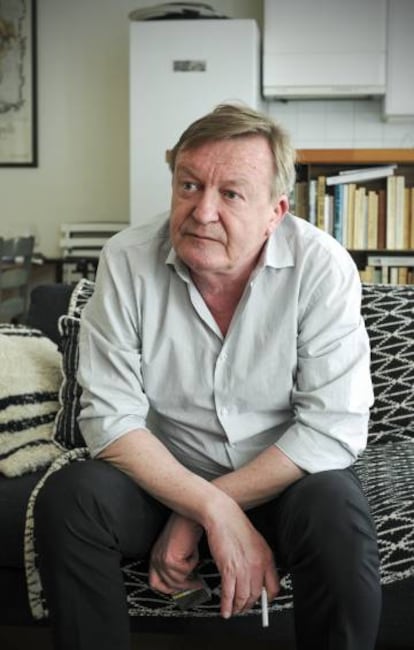 I remember that of the monumental Borges, by Bioy Casares, highlighted Rodrigo Fresán in The remembered part a brief dialogue that, perhaps because of its laconicism, I have never finished seeing closed, which has left it wrapped in a certain mystery: the enigmatic background that I look for so many times in what I read. One should write about the first steps of a writer, said Bioy. Yes, answered Borges, but do it by exaggerating a bit.
And so far their dialogue. And also the mystery. Why should we exaggerate? Why don't excessively exciting things happen to a writer, worthy of being narrated? That is what is often said out there, but there are lives that deny it. Without going any further, I am thinking of the book by Jean Echenoz that María Teresa Gallego Urrutia has recently translated for Nórdica: Jérôme Lindon. In the Spanish edition they have added a subtitle, The author and his publisher.

Jean Echenoz, that addiction in perpetuity
The book, at the time, was a rare and unexpected piece within Les Éditions de Minuit. Unexpected because death is not usually expected too long, and Echenoz's text emerged in 2001 as a heartfelt tribute to its editor, Lindon, who died in April of that year. And it was a rare piece because it narrated, with short sentences and admirable minimalism, the vicissitudes surrounding the first and disconcerting steps in turn-of-the-century Paris (with two cameos by Beckett, the star of Minuit) by a newcomer narrator.
What Echenoz subtly reflects in his short and delightful book are the relationships between him and Lindon throughout the 20 years they worked together. The character of the writer Echenoz is a shy, scared guy, prone to wonder, who has seen his first novel rejected by all the Paris publishers and who to his surprise one day receives the call from the publisher he values ​​the most and who at the same time instills more respect and terror because its editorial is the most austere and rigorous, and also the most conservative of the essences of true literature. Minuit seems to Echenoz the least appropriate place for them to be interested in his evicted novel, and the opposite happens: it is the only place where they are interested in it.
The relationships between him and Lindon make up a hectic story of encounters and disagreements and it is thoroughly denied that the life of the writer is so dull
From the first conversation, the relationships between him and Lindon compose a fast-paced story – nothing more difficult to assemble than an editor with a writer, they defend different interests – of encounters and disagreements, and it is thoroughly denied that the life of the man is so dull. he writes, confirming that only beings without imagination think that others lead mediocre lives. Echenoz is not exactly bored discovering the genius of his editor, who when he died in April 2001 inevitably closes the dialogue between the two in a denouement that reminds me of those who are so fond of lovers of stories that are never just delivered. everything. Of course Jerome Lindon it is the story of a dialogue that no one will ever be able to finish explaining, perhaps because the relationships between Echenoz and Lindon begin in us when we finish reading them.

elpais.com
Eddie is an Australian news reporter with over 9 years in the industry and has published on Forbes and tech crunch.