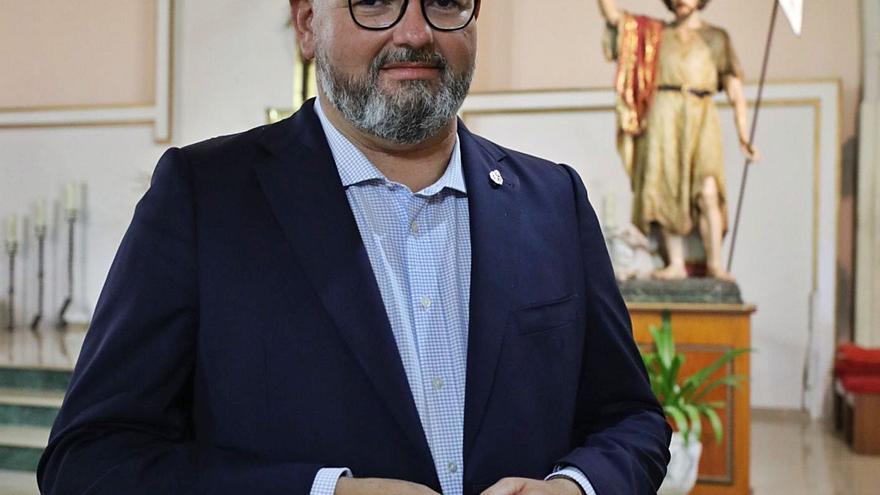 How were your beginnings in Holy Week?
I started with about 12 years in the brotherhood of the Gallo, and I was there until I was 16, when I became part of the brotherhood of Flagelación y Gloria. My cousins ​​and friends were there, and it attracted me because it was the brotherhood that at that time was giving another air to Easter, with a series of activities, such as the proclamation, which began before the Junta Mayor. Also, when I was 17 years old, the Salesians, the brotherhood of Cristo del Amor, was formed in my school, in which I became an older brother.
What does this celebration mean to you?
Holy Week is my life, I don't remember what I did before joining the brotherhood. I am one of the few people who are part of various brotherhoods, and I have always held positions of responsibility, which is why I live Holy Week all year round.
Do you have any special memories of Holy Week?
Thousands … But one of them is when I remember my grandmother sewing the eyes of the hood at the last minute on Holy Monday afternoon because some arrangement had to be made for my sisters or for me. My grandmother was in charge of removing the vestas, and I always remember that moment, which reminds me of her.
What led you to take the step to preside over the Greater Board?
Some say that it has been an almost natural step. For 12 years, although not in a row, I have been vice president. Added to the fact that the people who preside brotherhoods and brotherhoods cannot appear, it reduces the number of people. Many people thought of me, and they came to propose it, like Gaspar Agulló himself. They encouraged me to take the step and I accepted.
Was this idea going through your head a year ago?
No. A year ago we were immersed in our day-to-day work. I thought there were other people who would take the step, but in the end, with the arrival of the pandemic, this issue was cleared up.
What would you like to do these years?
We have to reinforce the role of the Junta Mayor at the service of the brotherhoods. The main board deals with the area that transcends a brotherhood itself. It has to help and play a very important role in the diffusion and promotion of Holy Week. Take it to schools, to parishes … We must be more present in other areas of the city throughout the year. We also have to fill the time between summer and Christmas with activities to attract more people to Easter. In short, open ourselves to others and make ourselves known so that there are people who go from watching the processions in the street to participating.
Can it be a way to nurture the brotherhoods and end the crisis of brotherhoods or costaleros that some entities suffer?
In the same way that we have to take action abroad, we also have to do work with those responsible for the brotherhoods, to give them tools with which to work on the sense of belonging. So that when, for example, a costalero ceases to be one, the people on the street will not swell. In Elche we have very few Nazarenes, this figure is almost testimonial, and we must promote it. It is a job that from the Junta Mayor we have to do to help the brotherhoods.
Despite the fact that there are entities with few brothers in Elche, new brotherhoods continue to be created. What do you think?
It is good that there are still people with the concern to create a brotherhood and participate in Holy Week. But we have to help correct the lack of confreres in some entities. There are some with a waiting list and others that have problems. We must work on the concept of permanence.
Will there be changes to the processions?
The Junta Mayor only organizes the processions of Palm Sunday, Good Friday and Alleluia. In the rest we coordinate schedules and itineraries. In Elche we have very dignified and very well organized processions. A very great job is done to make that happen.
Would you like more brotherhoods to participate in the general procession on Good Friday?
The Good Friday procession is one of the hallmarks of Holy Week in Elche, the oldest. In fact, we continue to call other processional transfers, since before they were considered transfers in order to participate in the Good Friday procession. In the eighties we had a double procession, morning and afternoon, and then the phenomenon occurred that several brotherhoods decided to focus on their day and leave on Good Friday, which caused a bleeding that many years ago managed to stabilize. Now we have a very dignified Good Friday procession with a large audience. The last time this topic was discussed, the possibility of joining any brotherhood was opened, but now this is stabilized. It is still a feature of Holy Week in Elche, which is heterogeneous, in which people from all places, with very different styles, come together. That is neither good nor bad. It is the way we do things, and it sets us apart.
Taking into account the evolution of the covid. Will processions be held in 2021?
Holy Week may be celebrated in the churches, but the prospects for the processions are negative. The health authorities are already pointing to the horizon of the Bonfires, and Holy Week goes before. Holy Week brings together thousands of people, and that is now unfeasible, but it is an issue that the brotherhoods and brotherhoods have very clear. With pride I can say that the brotherhoods and brotherhoods are clear that the first thing is sanitary conditions, that it is the moment of health. What we do hope they will have are acts of worship and activities.

www.informacion.es
Digsmak is a news publisher with over 12 years of reporting experiance; and have published in many industry leading publications and news sites.