Nomsa Maseko
BBC News, Johannesburgo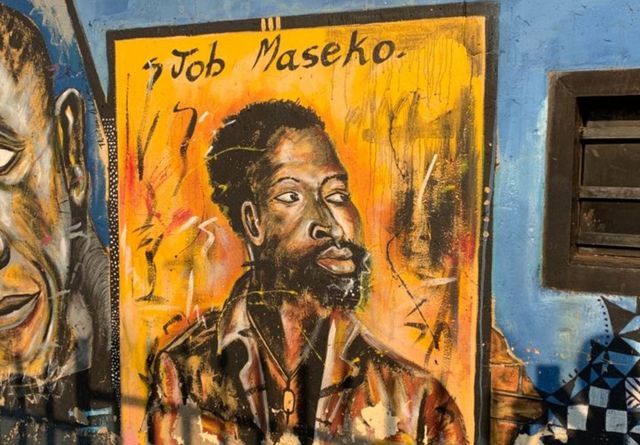 Job Maseko, a South African WWII hero, was denied the highest military decoration because he was black.
That is what a group of activists denounces and what has pushed his family to launch themselves in search of posthumous recognition for him.
Despite being considered a war hero, Maseko died poor in 1952.
Deadly run over by a train at the age of 36, his exploits were in danger of being forgotten.
Ten years earlier, when I was a prisoner of war, used an improvised explosive to blow up a German freighter at anchor in Tobruk, Libya.
Back in South Africa, his treatment was far different from that of white veterans, reflecting the racist policies of the time. Some believe that discrimination is evident in how its value was recognized.
He received the Military Medal for his "meritorious and courageous action", but activist Bill Gillespie believes that did not get the Victoria Cross, the highest decoration, for being black and has launched a campaign to receive it now.
"Pain and pride"
Maseko's family supports the initiative.
"I am very proud of what he did, but at the same time I feel sorry for him. We believe that if he had been a white soldier he would have received the highest distinction," his niece Jennifer Nkosi Maaba told the BBC, while laying flowers on his grave .
Some 80,000 black South Africans served in the Native Military Corps (NMC). After the war they were given bicycles and boots, and sometimes a suit, as a reward. White soldiers received houses and land.
South African authorities were reluctant to praise Maseko's action as "they represented the possibilities for empowerment through military service that the state wanted to reduce," says historian Suryakanthie Chetty.
NMC members did not receive firearms, but could carry traditional weapons and serve as non-combatants, being habitually used as workers, guards or medical personnel.
Maseko himself served as a stretcher for allied forces in North Africa, where on more than one occasion he rescued wounded men under heavy enemy fire.
The destruction of the ship
But in June 1942 he was taken prisoner when his commander surrendered to the Germans at Tobruk. There, he was forced to work unloading tasks at the docks.
Using what he had learned working in the gold mines in South Africa, on July 21 Maseko filled a small can of gunpowder and placed it near some gasoline drums in the hold of a ship that would sink after the explosion, according to the official account that accompanied the awarding of the Military Medal.
"He displayed ingenuity, determination and total unconcern about the possibility of being punished by the enemy or injured in the explosion that set the ship on fire."
"He deserves more than a pair of boots and a bicycle for bravery … he deserves the Victoria Cross because his courage taught the world the prowess of the South African army," says Nkosi Maaba when asked about the action his uncle took. out 80 years ago.
Gillespie believes that the color of his skin caused the authorities to veto him from the award of the highest decoration.
"I'm absolutely sure. The Military Medal they gave him was just a consolation prize", declares the activist, son of another South African fighter in World War II.
As JS Mohlamme wrote in the Magazine hthe history militar of South AfricaNeville Lewis, an artist serving the South African state during the conflict, said Maseko was "recommended" for the Victoria Cross, but being "just an African," he was awarded the Military Medal instead.
Alan Sinclair, curator of the National Museum of Military History, whose headquarters prominently features a portrait of Maseko, also believes he should have received a higher decoration.
"The sad reality is that black South Africans who volunteered for the military just like their white peers were treated unfairly. Personally, I think Maseko should have the Victoria Cross," Sinclair told the BBC.
But according to Keith Lumley, who heads the Victoria Cross Foundation, which is dedicated to preserving the memory of those who received this distinction, there may have been other reasons why Maseko was not awarded it.
"There is no question that the work he did sabotage the ship was exceptionally dangerous and would probably have called him to death if he had been caught," says Lumley.
"However, it does not seem to reach the level for a Victoria Cross, because no one witnessed it. Although there is no doubt that he did what he did … no one saw him do it. I get the impression from what I've read that the Military Medal was a reflection of their actions. "
Neither does the UK Ministry of Defense, which South Africa allied with during World War II, contemplates revising the Maseko award.
While recognizing the value of all South Africans who served in the war, "we cannot look back at the decorations because we are not in a position to confirm the circumstances or compare the merits in cases that took place so many years ago"a spokesperson explained to the BBC in an email.
A statue for Job
Gillespie's efforts to get the Ministry to change its mind suffered a setback when the British Parliament rejected a request for consideration of the matter on a technical issue. It was rejected because this type of initiative cannot ask for someone to be awarded an award.
Gillespie remains convinced that Maseko's gallantry should be more remembered.
"We are busy removing statues, but what if we put one in for Job Maseko? That way he would be remembered forever."
Lumley offers some hope, noting that Teddy Sheean of the Australian navy was awarded the Victoria Cross in November last year for an act in 1942 after 50 years of lobbying by his family.
"In the case of Job, I will not say that he has not earned the Victoria Cross, but more work is needed to find those extra details that would make his award appropriate."
But in Kwa-Thema, the black populated area of ​​Springs where he was born, Maseko's legacy lives on. A road and an elementary school are named after him and there is a large mural with his portrait.
Beside her grave, her niece is logically pleased with the renewed attention her story is capturing.
Looking at her headstone, Mrs. Nkosi says proudly, "Your memory remains, uncle. Keep resting in peace."
Nomsa Masek He is a distant relative of Job, but has not participated in the campaign launched by his close relatives.
Now you can receive notifications from BBC Mundo. Download the new version of our app and activate them so you don't miss out on our best content.

www.bbc.com
Eddie is an Australian news reporter with over 9 years in the industry and has published on Forbes and tech crunch.