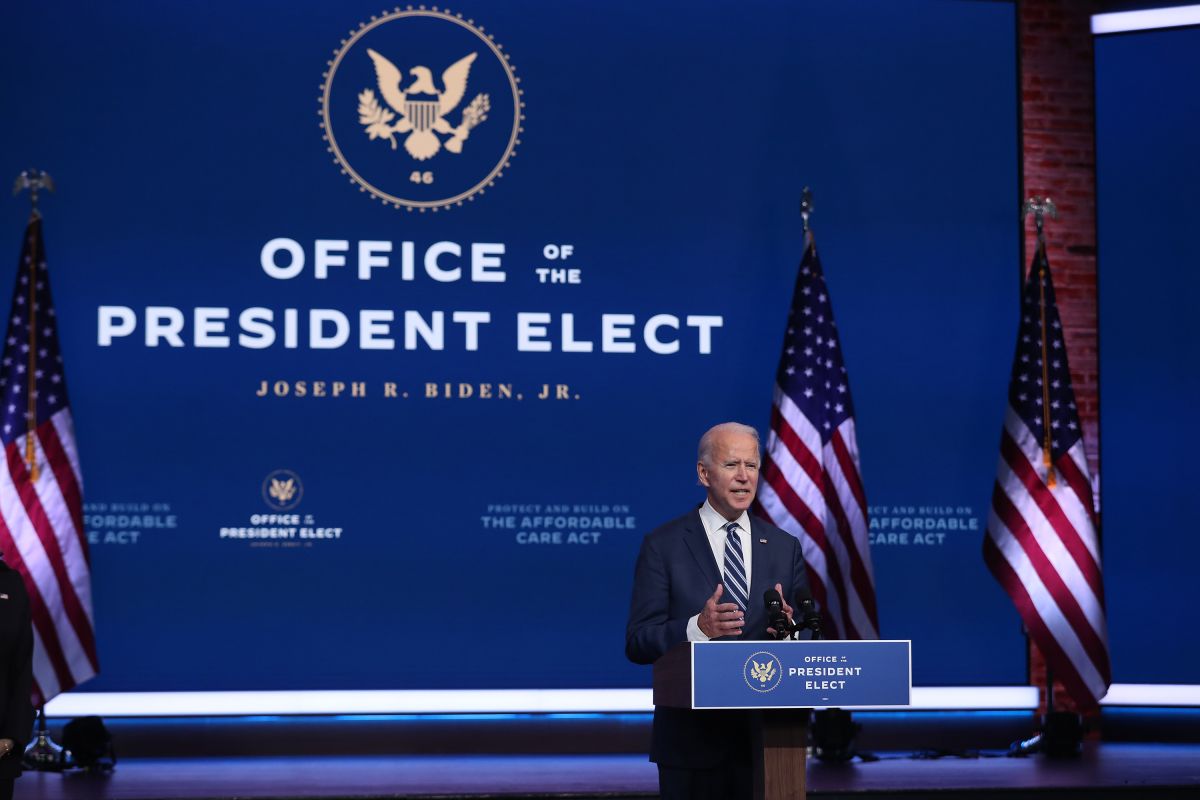 US President-elect Joe Biden is still surprised by the reaction Donald Trump by failing to concede his defeat in the presidential election.
Biden called Trump's refusal "shameful," although he is confident that there will be a proper transition during the change of government.
"I just think it's embarrassing, to be very frank. It won't help the president's legacy (Trump)"Said Biden, who continued to invite unity among Americans during his first press conference after being proclaimed the winner.
Trump's blockade
His press conference took place exactly four years after former President Barack Obama received Trump in the White House and committed to a "fluid" transition process, a tradition in US politics that the current president has broken.
Trump's defiance, however, goes beyond the symbolism of not welcoming his successor in the Oval Office: Since he does not recognize the election results, his government is not cooperating with Biden's team to ensure that everything is ready for his inauguration on January 20.
Specifically, Biden's environment has recognized that it is concerned that the General Services Administration (GSA) has not yet certified the victory of the former vice president, because that prevents his team from accessing resources and government agencies to prepare for the transition.
His campaign is even considering suing the GSA to unblock the process, according to various media, but Biden tried to minimize the issue and assured reporters that his team has enough resources to develop the plans without obtaining that certification. "We are going to do exactly what we would be doing if he (Trump) had acknowledged" defeat, he said.
Latinos in a work team
His transition team on Tuesday appointed a list of about 500 experts in different aspects of the government who will help him – him and those he chooses to form his cabinet – to prepare to start governing in January.
That group – of which more than half are women and 40% are African American, Latino, Asian American, LGBTQ + community or people with disabilities – will be able to begin coordinating with federal agencies only if the GSA finally certifies the victory of Biden.
The elected president insisted that Trump's obstruction will also "not have many consequences" in his own preparation for arrival at the White House, even though it is preventing him from accessing classified intelligence information.
Biden, who knows the government's workings well after his experience as vice president, argued that although it would be "useful" to access these data, he could not act on any of them until he came to power.
He anticipated that he hopes to appoint at least a couple of members of his future cabinet before the Thanksgiving holiday, November 26, and predicted that Republicans in Congress will end up recognizing their victory.
"For now, there is no proof of any of the claims the president has made or Secretary of State (Mike) Pompeo "Biden insisted. The Trump campaign has filed lawsuits in several key states to challenge the outcome of the November 3 election, and has alleged without proof that fraud has occurred.
Almost all of Trump's environment privately recognizes the uselessness of the lawsuits, because they would need to demonstrate fraud not only in one, but in multiple states, to turn the results around and cover the gap between the 214 delegates that he now has in the College Electoral and the 270 he would need to be reelected.

eldiariony.com

Digsmak is a news publisher with over 12 years of reporting experiance; and have published in many industry leading publications and news sites.