Joe Biden vowed in a speech last September to be the most "pro-union president leading the most pro-union administration in American history."
Biden's position is about to receive its first major test as several of the nation's top railroad unions appear poised to strike at the end of the week, placing Biden in a vise between the organized labor interests he swore to uphold and a recovering economy that has arguably saved his party's chances in the upcoming midterm elections.
On Monday, two of the nation's top railroad unions—BLET (Brotherhood of Locomotive Engineers and Trainmen) and SMART TD (International Association of Sheet Metal, Air, Rail and Transportation Workers)—told CNBC they would refuse to accept any deal with their members' railroad carriers unless quality-of-life issues like vacation, sick days and attendance policies were addressed.
For the economy, the ripple effects could be devastating. Roughly 1.1 million jobs nationwide are tied directly to the railroads, a 2018 study by Towson University's Regional Economic Studies Institute found, generating more than $7.7 billion in wages.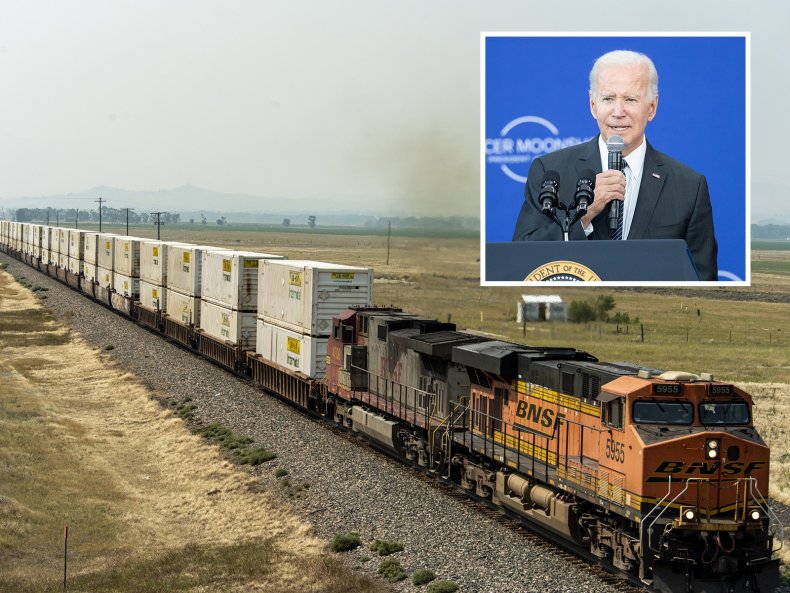 But a failure to reach a deal also symbolizes the lengths to which many railroad workers have been pushed amid persistent downsizing efforts by the railways, which have reduced crew sizes on numerous lines around the country to bolster profit margins.
Some lines, in contract negotiations, have suggested the possibility of using automation technology in an attempt to reduce crews to a single person, prompting legislative efforts by some railroaders to push for mandatory two-man crew provisions in state legislatures.
Many workers have reported long hours with little time to rest, setting the ground for unsafe working conditions. Many have little family time. Others, little time to obtain medical care.
If the concessions are not met, the nation's approximately 116,000 Class I railroad workers could strike, idling thousands of trains and bringing roughly 40 percent of the country's long-distance trade routes to a standstill at an anticipated cost of nearly $2 billion in lost trade daily, according to a recent analysis by the Association of American Railroads.
On Sunday, SMART President Jeremy Strong and BLET President Dennis Pierce sent a joint statement to members charging the railroads with warning shippers of a potential embargo on certain goods starting even before the Friday deadline in an effort to force a concession from workers, calling it nothing more than "corporate extortion" by a cohort of highly profitable railroad companies.
"This completely unnecessary attack on rail shippers by these highly profitable Class I railroads is no more than corporate extortion," the union leaders wrote. "Our Unions remain at the bargaining table and have given the rail carriers a proposal that we would be willing to submit to our members for ratification, but it is the rail carriers that refuse to reach an acceptable agreement.
"The railroads are using shippers, consumers, and the supply chain of our nation as pawns in an effort to get our Unions to cave into their contract demands knowing that our members would never accept them."
The threat posed by any disruption in goods is enough that the White House and Congress are getting involved in mediating a deal, the Washington Post reported Monday, with Transportation Secretary Pete Buttigieg closely involved in the discussions.
Meanwhile, unions have kept pressure on the Biden administration to side with them, not the railroads. As of Monday, more than 14,000 railroaders had sent letters to Congress asking them not to intervene in negotiations, accusing the railroads of using "bad faith tactics" in getting Congress to side with them.
"All I am allowed to do is live for work or get fired," the form letter reads. "My spouse is tired. My kids are sad. They want and deserve to have more time with me. I am not asking for much, but I do not deserve to be bound to a program that allows me to only have one [theoretical] scheduled day off a month."
Newsweek reached out to the White House as well as the Union Pacific and BNSF railroads for comment.
George is Digismak's reported cum editor with 13 years of experience in Journalism