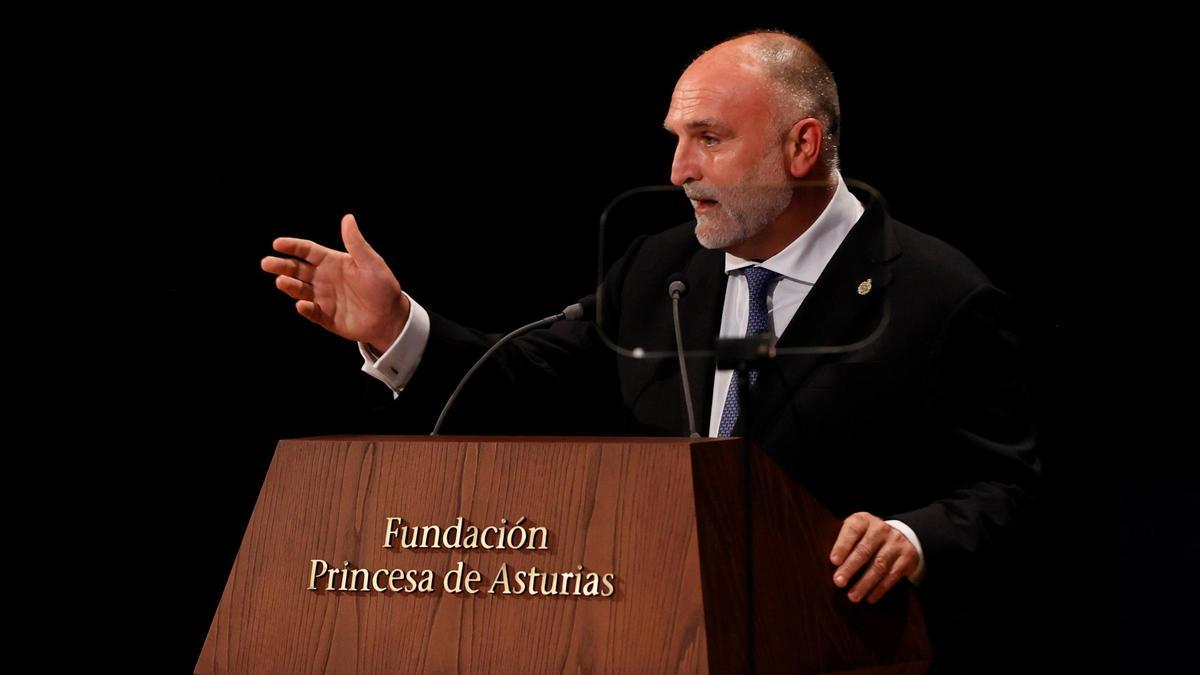 "Our future depends on the world eating better", Chef José Andrés, 2021 Princess of Asturias Award for Concord, said on Friday, who warned that still "there is too much hunger"and" a lot of work to do ".
During the ceremony of delivery of the awards that bear the name of the heir to the Crown, which she has received for her work at the head of World Central Kitchen (WCK), the cook has influenced his speech – "with a culín of cider it would be easier", he joked when taking the floor – in the urgency of feeding the planet" with hope "and of" building longer tables ".
"The world faces a better path if we come to understand and make our own the power of food ", has shown the Asturian, settled in the United States, where he has raised a gastronomic empire.
José Andrés has affirmed that the environment can be saved and try to end hunger ceasing to waste 40 percent of the food that is produced.
He also explained that health should be improved and money saved if children and the elderly are provided with nutritious and healthy meals on a daily basis, while at the same time being convinced that stability and peace can be brought to different parts of the world. world, but only if you first make sure "that families have food on the table."
The chef has told the story of the NGO that he has led for eleven years, an organization that "feed the hungry and encourages communities thanks to the power of food "and that he has led aid missions to more than a dozen countries.
"We have acted in hurricanes, tsunamis, forest fires, earthquakes, volcanoes and the pandemic, providing more than 60 million meals", has assured.
As he recalled, after his arrival in Washington where he opened his first restaurant almost thirty years ago, he realized during a volunteer job that "People don't want our alms, they want our respect."
"Humanity, people without a voice and without a face, those people who look like shadows in the fog need people to take care of them, "pointed out a son of nurses who saw, as health workers have done during the pandemic, exceed the limits of duty to help others.
José Andrés has also assured that he feels a "immigrant of the world", a group that "builds bridges" and understands that "higher walls should not be erected to keep us apart."
In his speech, the chef had a special memory for the people of La Palma, "that should not be forgotten at this time ", an island to which your organization has traveled and to which it will donate the financial endowment of the Princess of Concord Prize.

www.informacion.es
Eddie is an Australian news reporter with over 9 years in the industry and has published on Forbes and tech crunch.