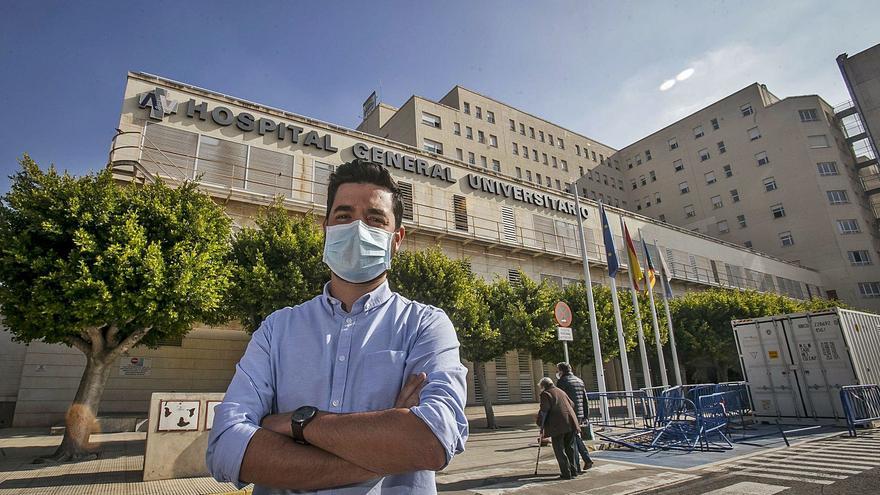 It was in March. I stayed at home for a week, as they told you on the emergency phone, that if you had a fever, take showers and ibuprofen or paracetamol … I was getting worse for eight days until there came a point when my GP told me to go to the hospital because he was starting to get wheezing in his chest. I went to the Emergency Department of the Alicante Hospital, they did the screening and a chest plate. They showed her to me there because she was very sick, she had bilateral pneumonia. They did a PCR, which came out positive, with a separate bacterium that I had in my lungs and quite annoyed. I do remember, because I have gaps, that they already came the first day to assess me from Intensive Care because my oxygen was bad.
He came to be in the ICU …
I was in the ward for one day and at night, from what I can read in the reports, because I don't remember many things due to the medication and the fever I had, they decided to lower me to the ICU, they sedated me and intubated me and I was 10 days, with the respirator , in an induced coma and I don't remember anything from those days.
Have you had any previous lung or health problems?
I had no previous pathology, I am not asthmatic, I do not have hypertension or obesity, nor have I been a smoker. I had no antecedent or any pathology that made me suspect that in case of infection it could be that serious. Until the last day I continued doing sports. At the University I have been federated for paddle tennis teams.
It exemplifies how a healthy young person can catch a serious covid.
Without pathologies and young, I reached a quite critical state, to the point that when they wanted to wake me up from intubation they had to try three times because the first two my body did not respond. If the body does not react well, you can have cardiac arrest and problems. At the third time they could wake me up. Over time, doctors and people at the hospital have told me that I was very, very, very critical, on the verge of death. I don't want to investigate a lot because it affects me psychologically but it does make you see that even when you are young and believing that you are in the prime of life, you are fragile. The virus does not understand that you are 20 or 30 years old.
What would you say to the young people who continue to make bottles or get together without a mask?
It makes me sad. I don't know if it is misinformation, ignorance, that they do not give it enough importance or that they are tired of what they consider to be losing freedoms. But this goes beyond. The moment you get infected, you see how serious you are, because you realize it, even if you lose consciousness. But they are unconscious. They should look, if not for themselves, for the people they can live with, whom they can infect. You can take this light but also spread it to a close person who does not live it the same.
Is it a lottery?
Yes, although they can be believed strong and healthy. You can get it and it may be that out of ten times only one is serious but it can happen to you. You can end up in an ICU. And the worst is experienced in the ICU and you may not leave. And it is not worth it for not holding out for a few months, even a year, wearing a mask and being prudent. You can have a full life without having to get into a bottle, to stay in a flat with friends. This is no longer for the issue of fines and legality, but for health and life. It can touch you and there is no going back. Regret, whether it touches you, or you've passed it on to your father, will haunt you. Some friends believe that they could spread it to a relative who died and the remorse is for life. He was a person with previous pathologies and the man did not leave the house. They could only take him home, he couldn't get it by going out. You did not kill your father, it was the virus, but it is something that will accompany you. However, many young people see it as something intangible.
How would you raise awareness?
To reach young people, ICUs, faces, audios, which do not come out, should be taught. We have very thin skin, that stroke of reality is necessary. Do not make up. Show pictures, not just data. That a young person does not see even if an influencer or a reference says it. Show what is really happening. Anyone who goes to an ICU very badly has to have the heart not to flinch. Your mentality changes, your skin cramps, and you don't want to end there or your family to end. I know this because I have been there and I have heard people dying, trying to revive them, and I relive that at night. They do harsh traffic campaigns but the covid ones are decaffeinated. Young people must be reached with their means. A 17-year-old boy does not read the BOE.
And the deniers?
There are things that one can doubt or have uncertainty as if one vaccine is better than another. But I do not understand the reluctance that the virus exists, that people die from this and there are consequences. You see people of 40 or 50 years, who are also young, with loss of mobility in their arms, stroke, thrombosis. They cannot deny a truism. There is no political or governmental interest here, you just have to come to a hospital and see what there is.
What are the consequences?
The analytics and tests are correct but my body does not work the same. Doctors do not explain it either because I am not the only one, there are many with the same consequences: very fatigued and tiredness that after a year is not overcome, a little memory loss and mental lapses. At work you have a hard time staying focused. But in my case I have been very lucky not to suffer any serious sequelae even though I had many critical points. Then there is the psychological factor. The priority is to pay attention to something physical that can kill you but psychologically crushes a lot.
«They were the hardest days of my life, which I owe to you»
Letter of appreciation from the young patient to the staff of the General Hospital of alicante
«I am still without words to express what I feel. He was admitted on March 26 for a bilateral viral pneumonia with bacterial superinfection along with covid-19. My health was at the limit, without strength or oxygen. They were in the ICU for 13 days, 10 of them intubated, doubly sedated. They were the hardest days of my life. Life that I have at this moment thanks to you. I will never be able to forget the applause received when leaving the ICU, applause that each and every one of you deserves. I owe you my life. I felt fear, uncertainty, loneliness, pain, and you are a ray of light in all this process, those who give you confidence and strength to fight against the virus. Thank you for your work and dedication (so unfairly little recognized), to the doctors, nurses, orderlies, assistants, cleaning, kitchen, everyone. You have been my guardian angels in a place as complicated as the UCI, angels of which I feel the sadness of just knowing their eyes (behind the PPE). A hug, guys. José Carlos had his family in Albacete when he fell ill and his partner stayed at the door of the hospital.

www.informacion.es
Eddie is an Australian news reporter with over 9 years in the industry and has published on Forbes and tech crunch.