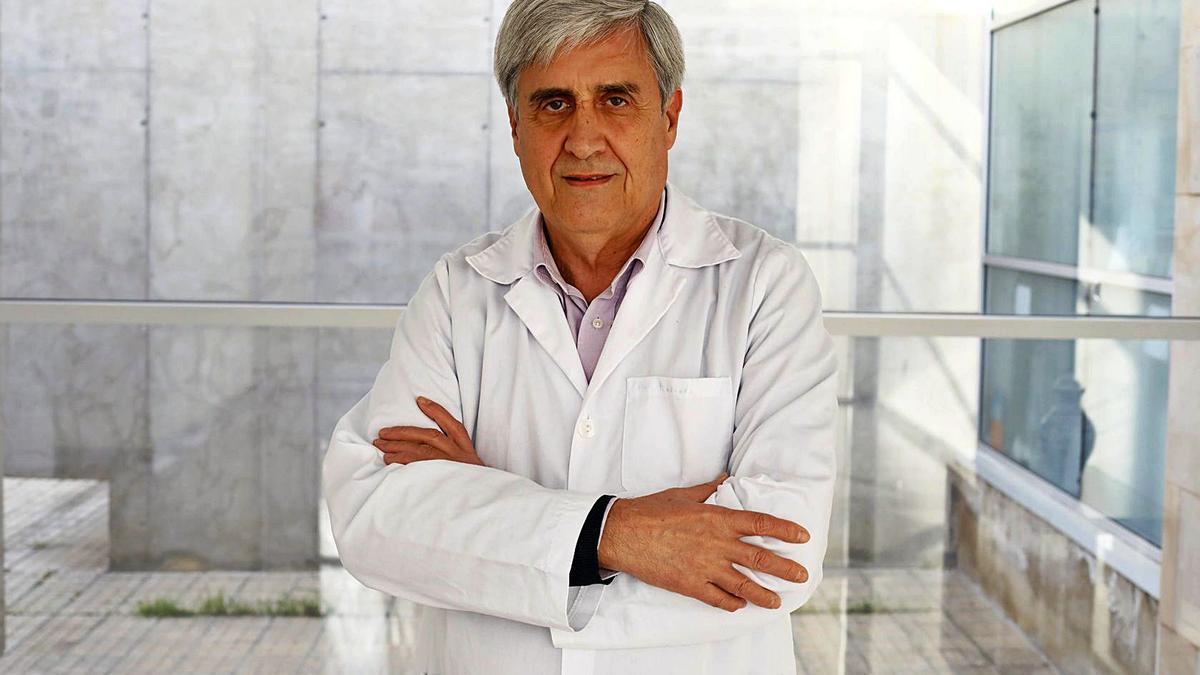 At what point in the wave would you say we are?
Well, unfortunately not very favorable. We are in the middle of the fall wave that has already been announced. The figures in some communities are very worrying. The Valencian Community is better than others, but you cannot trust it. And something that is more worrisome apart from contagions is the situation of the health system, some communities are on the edge.
Do you think the peak is near?
This peak has already surpassed the first. What we have to see now is whether the measures adopted in the autonomous communities produce the expected results. Madrid, for example, is already falling because drastic measures were adopted. I believe that we will not reach a much higher peak, it should go lower in most places. But you have to be cautious because this virus spreads very fast. It usually coincides with a change in weather, in Alicante you have not yet been very cold, so you must be careful when it starts. The role of aerosol infections makes it essential to ventilate so that particles do not concentrate in closed places.
The same thing has happened in Europe, have we trusted ourselves at the same time or are there other factors that favor the spread of the virus in different countries?
I think the main reason is the change of climate, which causes us to be more indoors. If family and friends gatherings are added to this, risk factors accumulate.
What measures do you consider the most effective for containment: perimeter closures, "curfew", social constraints …?
I think that a combination of all, which is what seems to be working. Now the debate is when an autonomous community is in a very hurry and wants to ask for home confinement. It is what helps the most to stop infections.
Are we heading for another home confinement?
Each autonomous community will decide it, but in the Valencian Community I don't see it at all at the moment. However, in communities where the measures do not deliver the desired results, there are not many more options. Although if there is confinement it will not be like the one we suffered in the first wave, it will be softer. It must take at least two or three weeks to take effect and the damage to the economy is significant. At the moment the ministry is in favor of waiting to see the effect of the measures and it seems reasonable to me.
Will there be more peaks in winter?
Now I am cautious in the forecasts. In the end, the chain of transmission of this virus can only be contained with two tools: distance measures, masks and hygiene, avoiding crowds, perimeter confinements, time limits, and vaccination. It is necessary to achieve that between 60-70% of the population is immunized. I am convinced that we will have it by the beginning of next year. Thus at least a new wave could be avoided in spring. The duration of immunity and the necessary doses will have to be seen.
Do you think that every year we will have to be vaccinated like the flu or will we be able to end the covid?
With the massive degree of expansion that this pandemic has had, I believe that the virus will stay in reservoirs and attack when it can. Influenza A has already become seasonal and the same will happen with this.
Will its origin ever be known?
I hope the Chinese will tell us one day if they can find out, but now they are more focused on avoiding cases. We need to know to avoid conspiracy theories, which are short stories. There is no doubt that coronaviruses have animal origin and in this case it comes from the bat; This is known, but it remains to be determined how the human infection occurred.
Recently, in Denmark they had to kill millions of minks also due to coronavirus.
Yes, I lived it here before on a farm in Teruel, where 92,000 minks had to be slaughtered. The return journey from humans to animals has been demonstrated in felines and mustelids, such as mink. Since minks live on farms it can spread quickly among them. I have 150 samples of mink with coronavirus, which were infected by workers. In the case of Denmark, they believe that it is a strain that can re-infect humans. And it probably is, but we don't know yet if this is possible.
Are there many more coronaviruses likely to cause another pandemic?
There are four coronaviruses that have already adapted years ago, the common cold, SARS and MERS, but there are coronaviruses in cats, birds, sheep, goats, cows, and pigs. What happens is that they have not shown evidence of transmission to humans. Climate change and the destruction of natural systems favor the appearance of new pathogens that can be dangerous.

www.informacion.es

Digsmak is a news publisher with over 12 years of reporting experiance; and have published in many industry leading publications and news sites.