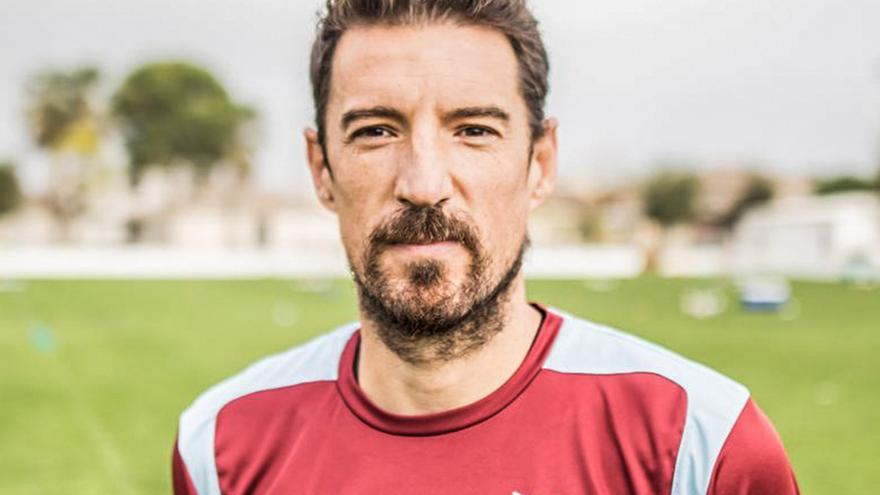 Toché, who was nicknamed that way in Santomera mixing his name and how strong he was already as a teenager, does not get used to the silence in the fields, but continues to his own, to what he has always done. He adds two goals in four days and is "happy" at Orihuela, the club that has done the most because he fulfilled his dream of returning home. And yes, he is excited to return to Rico Pérez.
Q In a pandemic, interest is mandatory: how are you?
A Very good, luckily.
Q You have entered your 19th season as a professional, are you aware of this? What do you feel?
A No, really. There are many … But I feel very good, happy, excited. This year, everything has changed for me, I have returned to live in Murcia, and it is different because I have been away from home since I was 15 years old. In sports, adapting to the team and looking, as always, to score a lot of goals.
Q Of all those you received, why did you opt for the Orihuela offer?
A I was very clear that I wanted to go home because, when you have children, you give priority to other things. And of all the clubs in the area that showed interest, Orihuela was the one who insisted the most, the one who put the most effort and the one who convinced me the most. Now I know I was right.
Q Why?
A Because they have treated me very well from day one, because they kept their word regarding the project that they presented to me, because we have a team to fight for everything with people as excited as me and very committed. They want to do things well and that is seen on a day-to-day basis.
Q You debuted with Atlético B in 2002 and spent two years in Segunda B, does the category look anything like 18 years later?
A It catches me so far, that the biggest difference is personal because I arrived very young and a lot has happened to me since then. Now I try to enjoy every day, to motivate myself in a different way, to help the team's goals with goals and, hopefully, it will be a good year for me and for the club.
Q What does the Toché of now have that that Toché of before did not have and that it would have been very useful?
R Self-knowledge. When you are young, you don't know how to be regular. Now yes, now you know when you are at the limit, when you have to stop, which is key to avoiding many injury problems that I had then. Now I know how to take better care of myself, also nutritionally. You know more about everything.
PA his age, does a footballer look at the category in which he plays or congratulate himself for being able to continue making a living playing?
A My main illusion was to continue. Last year [en el Burgos] I finished it half and did not want to end that bad feeling. I wanted to enjoy a full year, help from my seniority, contribute my experience to the project and, at the end of the course, see if I have enough left for more. I only think about that, that we finish as high as possible.
Q Do you keep track of the goals you have scored in your career?
A No. Yes, I know that in Cartagena and Oviedo I made very good records, but I don't know the total.
Q I tell you: 167. What does the record tell you?
A Good. We hope to add many more. I've always been good at scoring goals and it's one of my characteristics as a player.
Q If you were forced to relive one game over and over again, what would it be?
R My first goal in the Champions League with Panathinaikos [en 2012] the day I made my debut in the Champions League. It was very special. But I would also like to relive the goals with Cartagena in the derbies against Murcia, the goal with Oviedo in the derby against Sporting … They are all special.
Q Your first goal in the Second Division was signed as a Herculaneum, is it special to return to Rico Pérez?
A Yes. I would have liked to give more of myself, but I arrived in Alicante after a year stopped due to an injury in the crusader. I could not contribute many goals [5] and I had that little thorn because I would have loved to return to the fans all the affection they showed me. I didn't play a lot (with Mandiá), but I have great affection for the team and for the people.
Q This summer, your name rang out loud as a candidate for 'nine', how close were you?
R My relationship with Carmelo [del Pozo] She is very good, he took me to Oviedo and we chatted quite often. He knew that I wanted to leave Burgos, that I wanted to come to my land, we had some conversation about it, but the reality was that that position was already covered so the possibility never became real at all.
Q Do you learn to live with the pressure of scoring or do you never get used to that?
A Pressure always exists, in fact, I think it is a motivating factor. What you should never do is obsess. A scorer does not forget to score, he can have better and worse streaks, but you have to know that the goal comes sooner or later.
Q Two goals in four games, an extraordinary average …
A The truth is that we are not a team that turns to the attack and generates many chances. We defend very well, we are very well positioned, but that limits the chances and, although I don't have many, yes, my numbers so far are good.
Q The philosophy that prevails in the 2ªB benches does not help them.
A When the goal is too far for you, everything is more difficult, so now the goal numbers of the forwards are not as good as they were in the past. Today's football is more tactical, it defends itself less happily than before and it is more difficult to make chances. The figure of the false striker has even been created … it is another time and you have to adapt.
Q Seeing what they have, what is outside, what is the site of Orihuela this season?
A The main thing for us is not to set goals for more than a week from now. A very good squad has been built, with outstanding players in all positions, but it will be football that we do that tells us where we are going to finish. We have started well, which is very important and this week we have a good test for us at Rico Pérez. We are trained to win in all fields.
Q Personally, after such an important career, what are you most proud of when you look back?
R The three promotions to First [con Valladolid, Numancia y Deportivo]They are unforgettable moments because they are unforgettable for you and for the city that lives them with you. Also, years that did not end with promotion, but we did everything to make it happen, as happened in Cartagena and Oviedo.
Q Without an audience, who is the favorite in this derby?
R The Hercules, without a doubt. He has a clear goal, he's made to move up, and he's going to have to endure that pressure all year long. The spark that people put forth will be lacking, but tension will not be lacking.

www.informacion.es
Digsmak is a news publisher with over 12 years of reporting experiance; and have published in many industry leading publications and news sites.