"I request immediate arrest of Josefa Lacalle as well as her husband, León de Huelves, and placed at the disposal of this court for extremely serious acts," reads a 1939 telegram embedded in the summary of the couple's summary trial. His file for "aid to the rebellion" [el delito del que los golpistas acusaban a los leales al Gobierno republicano] it occupies 521 hyperbolic pages. He, a lawyer, affiliated with the PSOE, had presided over the People's Emergency Jury in Ciudad Real, a kind of court that at the outbreak of the Civil War imposed fines on "the disaffected of the Republic." She had worn the nun's habit.
Julián López García, professor of anthropology and director of the International Center for Memory and Human Rights Studies at UNED, discovered the summary in 2013 in the General Defense Archive and will publish a specific investigation. He assures that nothing like it has ever been found. "I never saw, among the hundreds of summary trials that I have analyzed, such a quantity of religious writings, nor such well-constructed defense documents, but neither reports as devastating as those that the Falange Information Delegation prepared against her."
Josefa and her older sister, Angela, had been orphaned when the former was 11 years old. The chaplain of the Asylum for Orphan Girls in Béjar (Salamanca), their hometown, as well as 15 other nuns and priests, explained to the judge that both showed "deep-rooted Christian feelings" from a young age; that the oldest became a religious and Josefa, who also had a vocation, "left for the novitiate that the congregation has in Hortaleza, Madrid, where she wore the holy habit"; that, due to "her willingness to study", she studied teaching and "on summer vacations", when she returned to the convent, "she did not go out with girls her age because her greatest joy was being next to the nuns." The summary describes her arrival in the town where she was to act as an interim teacher: "Demonstrating her ardent faith for the dogmas of our religion, she entered the parish of Almodóvar del Campo on her knees. [Ciudad Real] from the door to the main altar ".
"He taught girls the delights of sensual love"
A few pages ago, the report from the Falange information service in Ciudad Real presents a radically different Josefa: "She became a girlfriend and with a marked flirtation, (…) giving herself to as many men as she wanted. She became the lover of a deputy to the Socialist Cortes and about thirty other boys from Almodóvar, (…) they celebrated orgies. (…) Once the Movement started, it was always characterized by Marxist ideas, inclining the spirit of her husband to commit murders, (…) denouncing his former lovers, most of whom were taken for a walk ". "The sentences her husband imposed on the Popular Emergency Jury always seemed small to her and she always showed her singular predilection for the fascists of Almodóvar to be all murdered (…) She boasted of atheism (…) Defender of free love, lover of almost all red leaders, taught girls the delights of sensual love. Immoral to the last degree, inveterate, the qualifier that best suits her is that of a vulgar whore, extremely dangerous and staunch enemy of the national cause ".
That "extremely dangerous" woman was 1.40 centimeters tall. There is no photograph of him, only the description of the summary itself, which adds that he had "black hair, an aquiline nose, a small mouth and straight eyebrows." She was not an atheist, and neither was her husband, who during his law studies in Madrid had been part of the Association of Catholic Students. The file includes the statement of the priest who was resorted to to baptize clandestinely, "at a time of full persecution of the sacraments," their only daughter, María de los Dolores, born on August 24, 1937.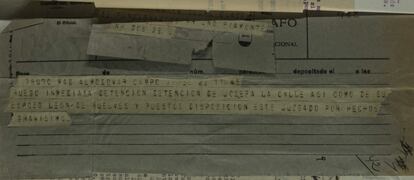 In successive statements before the judge, Josefa denies all the charges. She claims that it is not true that she induced her husband to commit murders "since he did not commit any"; that he has not had "any lover" and therefore has not been able to "report them"; that "the boasts of atheism" are false; that he never preached Marxist theories or free love to childhood because he did not know them and because his students were "five years old". He does admit to being a member of the education workers union.
Leon, dismissed for soft
The summary presents León de Huelves sometimes as a puppet in the hands of Josefa – "He did nothing without the prior advice of his wife, a prominent Marxist who acted behind the scenes, instigator par excellence"; "She married knowing that she had several lovers" …— and others as someone with an "insatiable criminal instinct" who "never saw his thirst for blood satisfied" and "released detainees [a los acusados en el jurado de urgencia] so that they would be assassinated "by militiamen when they left. In his statements he also denies all the charges and since he is a lawyer, he also sends a multitude of writings to the judge requesting the practice of proceedings, confrontations with the complainants – several of them had gone through the emergency popular jury that he presided over – and proposing witnesses in your favor. León explains that the body he presided did not issue death sentences, it was only empowered to impose fines and that most were not paid and that, in fact, he was dismissed and sent as an investigating judge to Vélez-Rubio (Almería) because "the political parties considered that it softened the penalties ".
The document shares with other very summary councils the vagueness of the accusations of those processes without guarantees where the military elected the judge, the prosecutor and the lawyer of the defendants, who did not speak with their clients and used to be an officer without legal training – "No I know the accused, but it is public that "; "seems to be"; "By references"; "He believes her capable of doing it"; "Infinity of people"; "Presumably" …—. León and Josefa are not accused of committing murders, but of being "moral authors" or "inducers" of them. On page 16, his fatalities are "32 people of order and addicts to the Glorious Uprising"; on page 93, "many, cannot be determined"; at 142, "several thousand, 3,000 approximately"; at 183, they drop to "35."
Religious hideout
However, the summary includes testimonies to the contrary, from religious and "right-wingers" from different provinces who claim that marriage saved their lives and helped them as much as it could. Neighbors of Vélez-Rubio report that their house was "a hiding place for those who felt any fear of persecution and that they housed two nuns from the convent that no one dared to pick up for fear of Marxist reprisals." This is confirmed by the pastor of Vélez-Rubio – "I stayed at his home"; "They avoided imprisonment, persecution and in some cases death" -; the local court clerk, who claims that he saved a military man "who had been killed by two sons"; by one of those denounced before the popular emergency jury that presided over – "He treated me with all consideration, not allowing my imprisonment and being acquitted" -; a neighbor of Pedro Muñoz "detained by the red committee" or a man presented by the mayor of Trujillo (Cáceres) as "of excellent moral, religious and political conduct", who relates that, upon learning that her son had been tried and Sentenced to death for "espionage", the couple offered him and his wife to take refuge in their home, and while they made up their minds they sent them "food every ten days".
None of those statements served them. Nor the writings of León, warning that his wife was ill and had had "mental problems." The coroner who examined her said it was all "hysteria." Josefa died blind on November 29, 1943, in the Ciudad Real prison after having passed through the Ventas (Madrid) prison. León was sentenced to death on December 4 and executed at 6:55 a.m. on August 4, 1944 in the same city. They were both 34 years old.
The surprise of his grandson
That girl who had been baptized in hiding, María de los Dolores, grew up with Josefa's sister nun in a religious school, as her mother and aunt had done. Later he married and had two children. One of them, Juan Navarro, 55, tells EL PAÍS, very excited, that he did not know the story of his grandmother. "We always believed that she had died in childbirth with my mother. My great-aunt did not tell my mother anything, we believe it was to protect her, but I know that she did everything she could to save her and knowing her it is impossible that she would harm anyone. We did know more about my grandfather, León, because his sister Carmen, who also took great care of my mother, did tell us things and because my father looked for documentation about him in the eighties. We know, for example, that he was naive, because they encouraged him to flee to France or Mexico and he refused because he said that he had done nothing wrong and they could not accuse him of anything ".
Josefa's daughter became a teacher, like her mother. Juan is a lawyer, like his grandfather.
"New Evas, new witches"
The anthropologist Julián López explains that "in the trials of Franco, as in those of Stalinism or any dictatorship, no justice was pursued and that is why there can be no truth." Remember that many complaints concealed "wishes for revenge or exemplarity", and that others were often attacked to protect oneself. "In the recent doctoral thesis of Alfonso Villalta Between lines. The summary trials of the Spanish postwar period ", He adds, it is related how the Information delegate of the Falange de Ciudad Real between 1939 and 1941, José Luna [autor del demoledor escrito contra Josefa], was denounced for false reports ". It also highlights the different language of the summary trials of women: "The idea is to convey the idea that they were new Evas, new witches who incited their husbands to do evil, dissolved male nobility, behaved little or nothing. nothing feminine and they practiced sex in a way that was far from the canon dictated by Judeo-Catholicism. Thus, they are often described as promiscuous, not obedient. " "In that sense", he adds, "if Eva is like the antithesis of the Virgin or the nun, Josefa was very good for the representation of the investment: after wearing the habit, she would have dressed the militia jumpsuit; after having married God, she would have joined many men … ".
The draft of the democratic memory law establishes that the sentences of courts martial, as well as the sentences and sanctions "dictated by political, ideological or belief reasons" during the Franco regime will be annulled.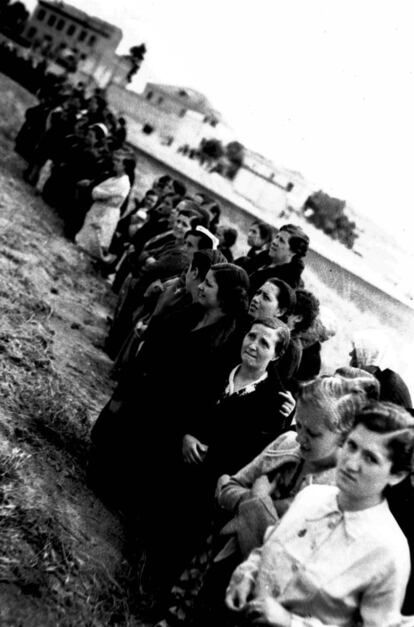 elpais.com
Eddie is an Australian news reporter with over 9 years in the industry and has published on Forbes and tech crunch.