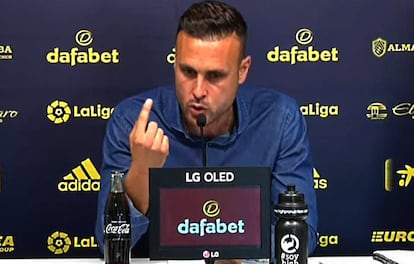 Juan Cala, defender of Cádiz, has offered a telematic press conference on Tuesday morning to give his version of what happened in the match against Valencia last Sunday, when his teammate Diakhaby and the Valencian team left the Ramón de Carranza for an alleged racist insult by the Andalusian defender. Cala gave his version in this way: "There are two options. Either he made it up, or when I turn around and say 'leave me alone' he understands what he thinks he has heard. When he comes to me I try to explain that I have not told him that. I never said 'black shit' to him. I explain it up to two times. What comes next is a circus. It is Gabriel Paulista telling the camera something that his partner has told him and urging his colleagues to get inside ".
Cala's version differs radically from that expressed by Diakhaby himself a few minutes before the press conference offered by the Cádiz central defender. "There is a play where a player insults me and the words are 'black shit," said the footballer. Diaka, who said he was "calmer", offered a nuance that had not yet transpired in this entire story. "One of their players asked us if we would return to the field if Cala excused himself," he revealed. That detail, according to the French central, reinforces the version of the insult, which Cala and Cádiz deny. Diakhaby, who will return to training this Wednesday with his teammates to prepare for the match against Real Sociedad, hopes "that LaLiga will do things, find solutions to have tests and that everything is seen and clarified."
Valencia, through a statement, also expressed its opinion about what the footballer said. "Valencia deeply regrets the statements of the Cádiz player, Juan Cala, in which 48 hours later he denies that he uttered a serious racist insult to our footballer, Mouctar Diakhaby, during the match played this past Sunday at the Ramón de Carranza. Juan Cala has lost a great opportunity to accept that mistake and apologize to the person affected. Instead, he has attacked the player himself and other members of Valencia, "the letter states. "Valencia totally believes in its footballer and reiterates its full support for him. After the threats of Juan Cala in his press conference on Tuesday, April 6, the Club, its president Anil Murthy and his player Mouctar Diakhaby keep intact their deep conviction to fight where necessary and until the end for the good of the football ", it is added.
Cala judicial actions
In his long appearance, Cala claimed to be the victim of a public lynching without waiting to hear his version. In his view, his presumption of innocence was totally shattered. For this reason, the Cádiz player announced legal action against the president of Valencia, Anil Murthy, who claimed in a video that Cala had uttered a racist insult to his player. "I never said 'black shit' to him. I would have liked to sit with Diakhaby in a room and explain it to him, but a tremendous lynching has been mounted against me. I have been judged and trampled on ", clarified Cala, who affirmed that there is no racism in Spanish football. "I can say it very clearly. There is no racism in Spanish football or among the players. I have been in many changing rooms with Chinese, black, South American colleagues … and everyone knows how I am. You can count on me first to activate a protocol against racism, but as long as there is evidence. What has been done to me is very bad for this country ", added the Andalusian footballer. Cala stressed that he had collaborated with Kanouté in his foundation and that he had traveled with former soccer player Benjamin to Equatorial Guinea to participate in solidarity projects in the African country. In addition, Cala actively collaborates with friendship associations with the Saharawi people. "In my 16 years as a professional no one can accuse me of being a racist," he said.
Cala clarified that his intention was to speak with everyone at the end of the game to explain what happened, but that it was the president of Cádiz, Manuel Vizcaíno, who urged him to do so when the club itself decided, marking the times the entity. "I have known the president for 25 years and he told me that he had already been publicly tried and convicted, so it was better to wait and speak when we decided. I have been accused without proof, my presumption of innocence has been stepped on. I wanted to leave because I am innocent, but I am a club worker and I have to adapt to what they tell me, "Cala clarified. "My family has had a very bad time, although now they are calmer. I have received the support of many people and that of this family that is Cádiz and all my colleagues ", he added.
The defender explained, from his point of view, the behavior of Valencia at Ramón de Carranza. "Everything was a circus. There are many contradictions. I did not speak to anyone from Valencia and I did not hide. Valencia gets inside. Then he comes out accusing the referee and the referees have denied what they said. I think there are many contradictions in their behavior, "he said.
From the investigation carried out by LaLiga of all the audios and videos of the match between Cádiz and Valencia, the insult that Diakhaby claims to have received from Cala has not been heard so far. However, the investigation in the search for evidence continues.
You can follow SPORTS in Facebook and Twitter, or sign up here to receive our weekly newsletter.



elpais.com
Eddie is an Australian news reporter with over 9 years in the industry and has published on Forbes and tech crunch.