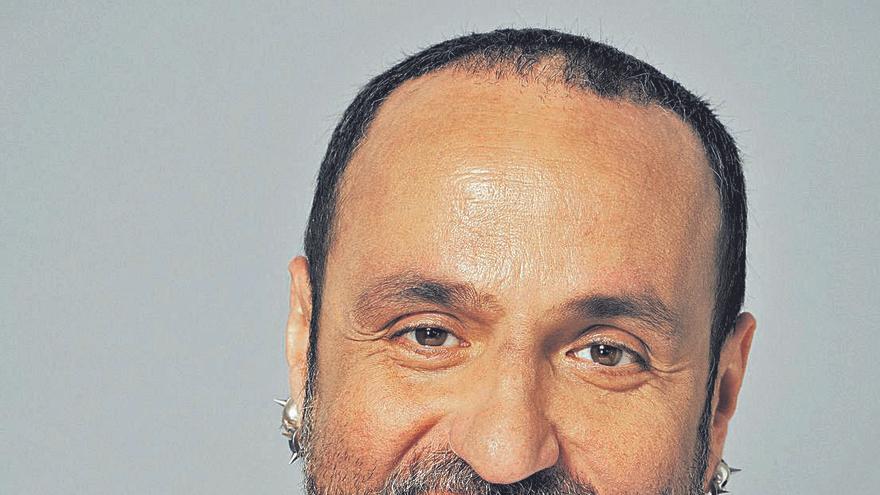 She's in her best moment?
Yes. After everything we have gone through during confinement, the energy with which I have started again has been renewing and, on top of that, receiving the L'Oréal Award for the best collection at Madrid Fashion Week … It was the first what he did for Angel Schlesser: it was to arrive and kiss the saint.
Wouldn't you have been more excited to win it with your own sewing firm, Maison Mesa?
Well no, what I would have liked is to have the money in my pocket (laughs). That I would have loved.
Until when will you be able to hold two workshops?
You can always have two signatures, what cannot be maintained is the high level in both, of course. I hope to be coupling them harmoniously. What stresses me is not the two collections, but the two fashion shows, the two presentations, the two catalogs … Creating comes out alone, but the rest weighs.
And haven't you considered making one collection a year, instead of two?
Many times. And in these times, more. In my personal brand, which is Costura, temporary collections do not make much sense, because they are not based on trends. And at Schlesser what we are not going to do is either Prefall or Cruise, collections every two months, because that in the end is doing 'prompt fashion' and I think that is not the way.
In June 2020 you took over the Schlesser workshop, what is your assessment?
It has been a wonderful year, but it is from now on that we will see the real result. And the first indices are very good, although with the framework of the economic situation that we live …
Schlesser manufactures all its production in Spain. Is sustainability important?
Sure, but understood from three legs: honesty in the product, equality of genders and status and ecological fabrics. We must promote smart consumption and balance, do not buy so much low cost and yes, higher quality garments that last longer. We are making clothes for the market, to enrich ourselves and not for people.
Another of his creative criteria is inclusion: for years, his shows have featured real women of all ages and sizes …
My models, back in the 90s, were like this: the short, the fat, the mature, the transsexual … and then they laughed at me, but I design for a real and confident woman. The luck is that now it can be done from a big house and the message reaches more people. Beauty and style are not pigeonholed into an age range or a size 36. In my last show, last April, there were the 90s model Cristina Piaget, the presenter Francine Gálvez, the actress Cayetana Guillén-Cuervo, the Olympic jumper Ruth Beitia or the finalist of 'Maestros de la Costura' Yelimar Moreno.
Why did it take you so long to open your own workshop, Maison Mesa, in 2017?
At first, my proposal was too personal: I have been doing fashion shows since the 90s, but in a very underground way. We formed a community of artists called Laboratorio and we were even prohibited from selling our work. We wanted to be out of the commercial circuit to maintain our essence. I had to leave it when entering Agatha and her wonderful and absorbing universe. After 15 years there, my body asked me to get out of my comfort zone and I opened Maison Mesa. At 24 months, Schlesser's proposal arrived, which has fed me during the pandemic. Without weddings or events, I would have been ruined.
At Maison Mesa he was much more transgressive than at Angel Schlesser.
Well, it's more the wrapper than the candy itself, I'm not that much either. When you work for someone else, you try to contribute to an already created label. I am very respectful of the past of the houses in which I have designed, because I was also a fan before entering.
And wouldn't you have liked to go outside of Spain, for example to London?
Oops! I would have ended up committing suicide, like poor McQueen. I love Spain, the sun, the people, my house… I don't change it for anything. Although there it would have been easier, of course, because in England or the United States there is more consumer power on the part of minorities. Here we penalize the difference, although we begin to open up.
Have you met Angel Schlesser?
No, and I would like it because I am a fan and I love meeting people. We have met in Cibeles, but since he is so reserved, I have not had the opportunity. The time will come. What if I understood your departure? Well, like that of Purificación García. It is what it has to sell your firm to an investor.
What has been the best and worst of your more than 25 years in the world of fashion?
The best thing is that I have had the great luck to work in the brands that I have loved, such as Jesús del Pozo or Agatha Ruiz de la Prada. And in all of them they have always let me do it, they have not clipped my wings. Worst? That you have to sacrifice part of your personal life.
Who are your great teachers?
I am passionate about fashion, with madness and devotion. And I am also attracted to extremes, such as Del Pozo or Agatha, great masters of color. It would start with Balenciaga and end with Oteyza and Ernesto Naranjo, more current. And that, only within our borders …
Do you remember a 'dirt, swallow me' moment in your career?
It's hard for me to remember, because I always see the glass as half full. But I remember a time when I cut a very expensive fabric with rhinestones badly and I went crying to Jesús del Pozo. He started laughing.
What politician or politician would you wear?
Let me feel like it, a few, but if they ask me, anyone, and I'm happy to do it. I don't veto anyone.
If you hadn't been a designer, where would we find him?
In a flower shop: traveling the world to discover them, sharing emotions … I would have loved it. I also really enjoy teaching: I spent many years at the IED and I loved it. And I have fallen in love again with the stage costumes: now I am putting on the play 'Expulsion', by Dani Pannullo, which will be released in September.
Happiest moment of your life?
Everyone! I have thousands …
What do you least like to do?
To lie. I hate it, it is very unpleasant and it costs me a lot.

www.informacion.es
Eddie is an Australian news reporter with over 9 years in the industry and has published on Forbes and tech crunch.